For holiday job-seekers, Christmas is coming early this year. With a national unemployment rate of 4.2 percent, experts are predicting a hot job market for seasonal hiring, and holiday part-timers might score the biggest bonus of all once the seasonal frenzy wraps up: A permanent gig.
"We do see a growing percentage of employers keeping workers on and using holiday hiring as a way to evaluate workers that they then keep on," said Peter Harrison, CEO of Snagajob.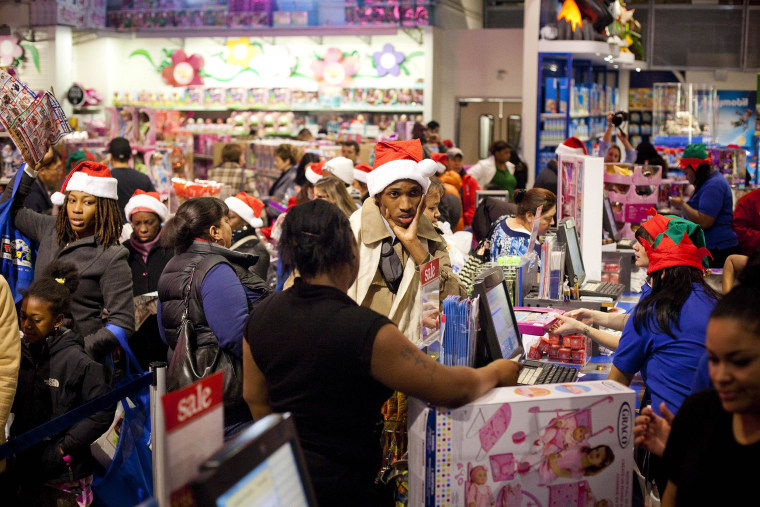 This has advantages for both employer and employee, said Andy Challenger, vice president at Challenger, Gray & Christmas. "For employers, it's a great way to give people a test run," he told NBC News. "It's a three-month interview in some ways," while workers have a chance to evaluate the benefits, culture and opportunity for advancement afforded to full-time workers.
Better wages, better perks
A recent CareerBuilder survey found that 43 percent of employers plan to hire full-time, permanent workers in the final quarter of 2017, a jump of nine percentage points over last year; nearly three-quarters expect to raise salaries. "The pay is up, and that's what we've really seen," said CareerBuilder senior career advisor Michael Erwin. "There really is competition to get this talent in."
Retailers using seasonal hiring as a de facto farm team for their full-time employee base gives workers a boost as employers their best face forward with higher pay, bonuses for everything from employee referrals to hitting sales targets.
"Retailers over the past couple of years have had to develop a tool kit," said Frank Layo, retail strategist with Kurt Salmon, part of Accenture Strategy.
Layo added that since employers are reluctant to raise pay if they can woo workers with non-monetary perks, seasonal retail employees might see a host of other, smaller perks like giveaways or "friends and family" discounts. "If somebody feels like they're a part of the brand, they're included and management respects them… the people who can do that without wage increases are in the catbird seat," he said.
But for many retailers, the reality is that they need to boost wages to shore up their seasonal staff.
"One area where we've seen wages continue to rise is for front line workers like store managers and cashiers," said MaryJo Fitzgerald, career trends analyst at Glassdoor. "We're also seeing wages rise for truck driver and warehouse associates… which indicates a demand in the market."
This demand has increased to the extent that some retail brands are even offering part-time workers benefits, Erwin said.
"You will see employers competing — they're going to be going out and promoting the benefits of working for them, [and] benefits on top of pay are going to attract a higher quality" of candidates, he said.
"Overall, you see employers using perks more, whether it's more flexible schedules, food at work, or sick days and vacation time," Harrison said. "An interesting uptick is the number of workers who are looking for benefits within the last 12 months," he added, an indication that robust demand for workers could finally be putting job-seekers back in the driver's seat.
Half a million new workers
Challenger, Gray & Christmas's annual Holiday Hiring Outlook found that last year, seasonal retail employment increased by 641,000 during the final three months of the year, nearly 10 percent lower than in 2015.
This year, those numbers are expected to tick up slightly, Challenger said, while the fact that these numbers aren't higher reflects longer-trend labor market strength. "So much hiring is going on during the rest of the year," he said.
The National Retail Federation reports similar findings: The trade group predicted that retailers will hire between 500,000 and 550,000 seasonal holiday workers this year, compared to 575,000 last year.
But while hiring might have slowed down, what has accelerated is retailers' time frame. Employers are starting earlier this year for two reasons, experts say: The "Christmas creep" that has retailers competing for consumers' holiday dollars has shifted to earlier in the calendar year.
"Companies realized this year people were going to be spending more money and start earlier," Erwin said. "You used to ramp up for Black Friday, but Black Friday is starting now."
And the changing nature of the skills retailers need today has intensified the pressure employers are already experiencing from a tighter job market. As traditional retailers invest more in their e-commerce operations, fewer of the jobs they need to fill are in their brick-and-mortar stores. Instead, hiring managers are focused on filling positions in its warehouses and shipping facilities.
Related: Who Are the Winners and Losers in this Job Market?
"That's the primary driver of growth for most retailers at this point. Even if it's not the lion's share of their profit, it's the growth vehicle," Layo said.
"There's still going to be a spike in temporary hires needed in stores," Challenger said, but added that more job-seekers might find themselves driving a forklift than manning a cash register. "The number is probably going to be down in-store because the entire industry's going through such a major transition," he said, with home delivery and ship-to-store key areas of retail brands' investment. "Retailers are cutting brick and mortar jobs, and they're hiring in the back."
The upshot is that while many people tend to think of retail jobs as stopgap, part-time or pre-career employment, that's not the case anymore, Erwin said. Since the growth of e-commerce demands a higher-level skill set and technological proficiency, seasonal workers who excel over the winter holidays could find themselves not just with a job, but a potential career.
"If you don't feel like you're a good fit for a retail position, this might be the way to go," he said.