A new bill aims to dismantle the powers of the Consumer Financial Protection Bureau, the independent watchdog that protects consumers and investors and has saved Americans almost $12 billion since it was created six years ago.
Supporters say the Financial CHOICE Act will undo the regulatory burdens that have harmed financial service companies and provide Congress with much-needed oversight. But consumer advocates insist the bill would eliminate the CFPB's independence and greatly reduce its ability to regulate.
Republicans in Congress are focused on eliminating regulations — including many put in place by the 2010 Dodd-Frank Wall Street Reform and Consumer Protection Act following the financial crisis that peaked in 2008. The Financial CHOICE Act, which passed the House Financial Services Committee on a 34-26 party line vote last week, is the first attempt to do that.
The CHOICE Act would do more than reduce financial regulations enacted under the Obama administration. It also targets the CFPB, the regulatory agency created by Dodd-Frank to police the financial marketplace.
Among other things, the bill would:
Strip away the agency's authority to regulate large banks and payday lenders
Remove its power to prosecute companies that engage in unfair, deceptive or abusive acts or practices
Eliminate independent funding from the Federal Reserve Bank and give Congress the power to set the CFPB's budget
Allow Congress to kill any major financial rules proposed by the agency; both houses would have to give their approval within 60 days
Stop public access to the CFPB's database of more than 1.1 million consumer complaints.
Consumer advocates argue that the bill would cripple the CFPB's ability to protect consumers and give special interest groups a way to influence regulation of the financial system through the congressional appropriations and approval process.
"The bill neuters the CFPB and would leave consumers more vulnerable to financial scams, hidden fees and costly gotchas that can undermine their financial security," said Pamela Banks, senior policy counsel for Consumers Union (CU), the policy arm of Consumer Reports. CU has launched a petition campaign to kill the bill.
However, the American Bankers Association, a longtime critic of the CFPB, told the committee in a letter the bill would "bring some clarity to the agency's mission and operations."
What is the Consumer Financial Protection Bureau?
The CFPB's mandate is to enforce consumer protection laws. It has regulatory authority over most businesses that sell financial products and services, including banks, credit card companies, mortgage lenders, payday lenders, auto loan lenders, debt collectors, and credit bureaus.
During its first six years on the job, the CFPB has returned almost $12 billion dollars to 29 million consumers and imposed about $600 million in civil penalties. The bureau has gone after abusive practices by debt collectors and credit bureaus, as well as predatory lending to military families. A few examples:
It recently ordered the three major credit bureaus – Equifax, TransUnion and Experian – to pay $26 million in restitution and penalties for misrepresenting how the credit scores they sell are used.
In January, it required CitiFinancial Servicing and CitiMortage to pay an estimated $29 million in penalties and refunds for failing to tell struggling homeowners about programs that could help them keep their homes.
Its investigation into Wells Fargo uncovered the bank's illegal practices that led to millions of people having accounts opened in their names without their knowledge or permission. Late last year, the CFPB ordered Wells Fargo to pay full restitution to the victims, a $100 million fine, and change its business practices.
The CFPB has also written rules about payday loans and prepaid debit cards, both of which are now in jeopardy.
"Those who talk about weakening the Consumer Bureau are missing the importance of the work we are doing to stand up for individuals and families all over this country," CFPB Director Richard Cordray told lawmakers last month. "Nobody should want to return to a system that failed us and produced a financial crisis that damaged so many lives."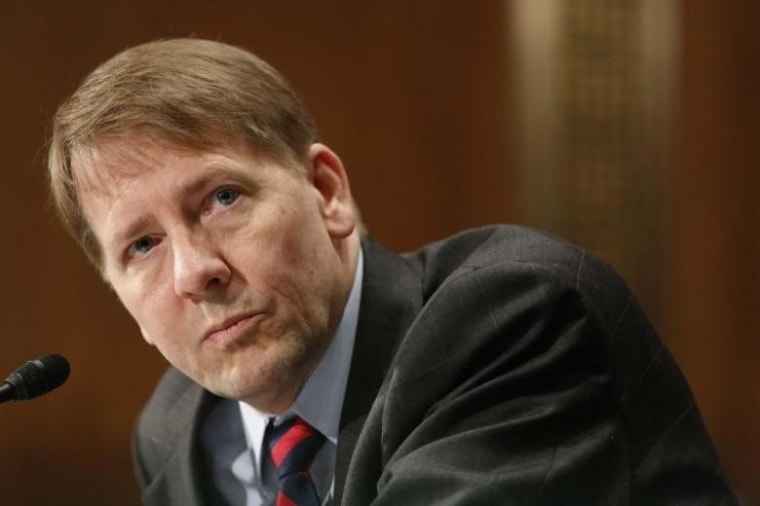 What the Financial CHOICE Act Would Do
The CFPB was deliberately designed to be an independent watchdog — free from congressional oversight or funding — that would protect consumers, investors and the economy with regulations and enforcement actions.
Rep. Jeb Hensarling (R-Texas), chairman of the Financial Services Committee and author of the CHOICE Act, has been very open about his disdain for the agency and its first and only director, Richard Cordray.
Hensarling called the CFPB an "unaccountable and unconstitutional" agency that has "abused or exceeded its statutory authority." His bill would eliminate the CFPB's independence and greatly reduce its ability to regulate.
"It's about checks and balances," Hensarling said at a committee hearing in April. "American consumers need competitive markets and a 'cop on the beat' to protect them from fraud and deception. They don't need Washington elites trampling on their freedom of choice and picking their financial products for them."
Hensarling claimed the CFPB's actions have hurt consumers by driving up interest rates for credit cards and auto loans, and making it harder for some people to qualify for a mortgage.
"Why are Republicans lining up to roll back the rules on Wall Street and make it easier for financial firms to cheat people?" said Senator Elizabeth Warren.
Sen. Elizabeth Warren (D-Mass.), who helped create the CFPB, called the CHOICE Act "an immoral choice" that is "an insult to working families." Warren said it would make mortgages, student loans and small business loans more costly.
"I read this bill and I think — why? Why, just eight years after the worst financial crisis in more than 70 years, are Republicans lining up to roll back the rules on Wall Street and make it easier for financial firms to cheat people?" she said in testimony to the House Financial Services Committee.
The CFPB's rules have not made it too hard for the nation's banks to lend money or to make a profit, Warren testified. Access to consumer credit and small business credit is at historically high levels and banks of all sizes posted record profits last quarter, she told the committee.
The Conservative Viewpoint
To Conservatives and Republican lawmakers, the CFPB is a rogue agency with unlimited powers, not accountable to Congress or even the president. They believe it has unfairly punished companies and created burdensome rules that have hurt businesses and consumers.
A coalition of conservative groups supports the CHOICE Act, including Americans for Tax Reform, Americans for Limited Government, Tea Party Nation, Freedom Partners, and the Competitive Enterprise Institute.
The CEI isn't pulling any punches. A recent post on its website is titled: Abolishing the CFPB Would be Good for Consumers — and the Constitution.
"The Consumer Financial Protection Bureau has certainly provided some relief from bad actors. Whether that's enough to justify its existence, I'm very unsure," Iain Murray, CEI's vice president for strategy, told NBC News. "At the very least we need to have the CFPB under some sort of oversight."
Murray believes the CFPB was set up under a false premise — that people need protection from financial products the same way they need protection from consumer products, like a toaster that catches fire.
"The trouble is that loans aren't toasters," he said. "If a toaster's faulty, it's faulty for everybody. If a loan is faulty, it may be faulty for some people, but it might be exactly what other people need in their circumstances. CFPB has a one-size-fits-all mentality baked into its philosophy which is inappropriate for an industry like the financial services industry."
Consumer Groups Warn of Dire Consequences
Consumer advocates and Democrats in Congress praise the CFPB for eliminating deceptive and abusive practices that have harmed consumers and hurt companies that play by the rules.
Ed Mierzwinski, consumer programs director at U.S. PIRG told NBC News the bill is "very dangerous."
"First they gut the CFPB's ability to protect the public, and then they take away its broad authority to defend the law, so we're appalled," he said.
Mierzwinski wants members of Congress to remember that they created the CFPB after the second biggest financial collapse in history in order to protect consumers in the future.
"The banks, payday lenders and debt collectors don't like the idea of a regulatory agency that works for the people and not for them. They manipulated the old regulators. Now, they're running scared of the CFPB," he said.
The House is expected to pass the Financial CHOICE Act, but it faces an uncertain fate in the Senate.
Herb Weisbaum is The ConsumerMan. Follow him on Facebook and Twitter or visit The ConsumerMan website.