Move over "man cave," and meet the "She Shed."
As women report feeling worn out at home and stressed out at work, they're turning to new ways to escape — in their own backyards.
Across the country and around the world, women are transforming their backyard potting sheds and structures into "She Sheds."
From a restored metal shed in Sarasota, Florida, that cost $500 to the "room of glass" in rural Oregon, the She Shed trend is building in popularity.
Author Erika Kotite wrote a book on the movement: "She Sheds: A Room of Your Own" — documenting everything from the restored 10-by-25-foot "La Casita" in Dallas, Texas to the "Sewing Sanctuary" in Chichester, England with walls covered in quilts.
"This is a place they've designed that is just theirs, that they can do with it whatever they want, and I think that really is a modern woman's prerogative," Kotite told NBC News.
She would know; she built a shabby chic shed from a kit in Santa Cruz with her sister-in-law over a few weekends.
"This is a pretty no frills shed," said Kotite, gesturing to the bright purple accents and windows she found second-hand.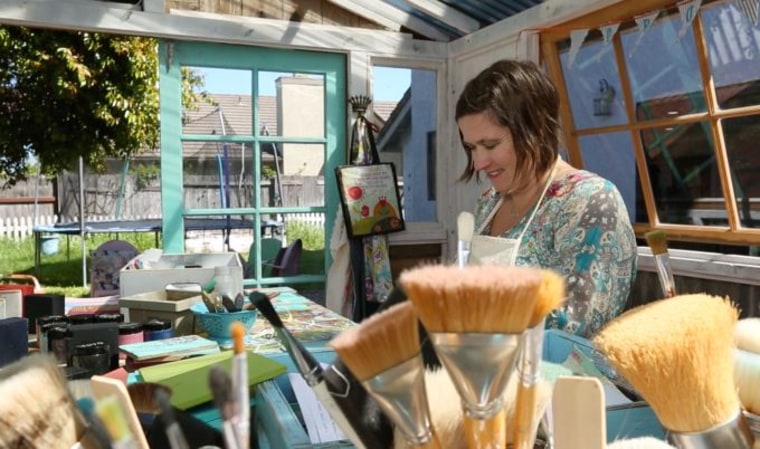 According to the Centers for Disease Control, 16 percent of women aged 18 to 44 reported feeling "very tired" or "exhausted" most days — compared to just 9 percent of men in the same age range. And, 37 percent of women said they feel tense or stressed out at work, according to the American Psychological Association.
Jenny Karp is a wife, mom of three children, and small business owner in San Luis Obispo, California. She built her backyard She Shed with a local shed designer and builder, using recycled and salvaged materials.
"This is my little shed, my little escape. My little vacation," said Karp, who uses the shed for her paint business and art projects.
Related: A High-Tech Tiny Home for the Minimalist Crowd
"I come out here and cut and make a big mess, and then close the doors and go inside and make dinner, and it's all just in here," said Karp. "It's nice to be able to have a space that's just mine."
Kotite says she was drawn to She Sheds because sheds are often thought of as masculine in character. "But function can be beautiful," said Kotite.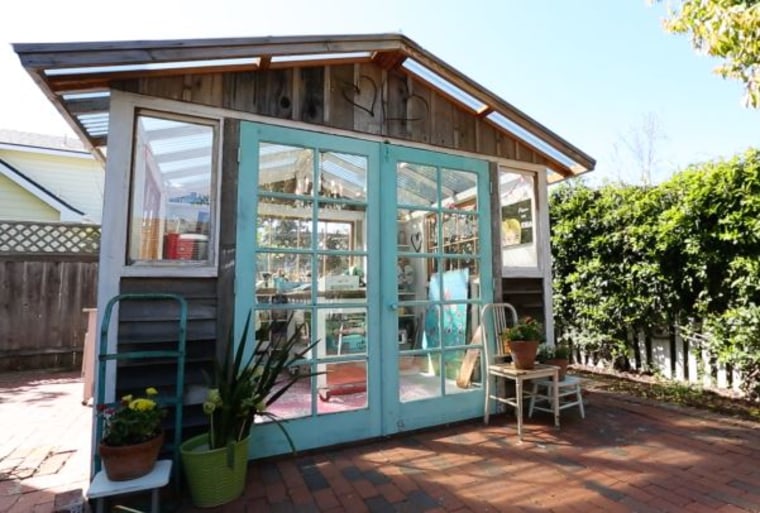 For Karp, it's not so much an escape as it is a way to stay grounded. "I feel like I'm a better mom, 'cause I can come out here and do my thing and — and then be a mom, too," she told NBC News.
Home improvement stores like Lowe's and Home Depot are also cashing in on this trend — offering DIY kits and even professional crews to build customized She Sheds.
In Atkinson, New Hampshire, Kim Manning built an "Equine Shrine" to house all her horse equipment. "But then it evolved into something much more personal," said Manning. "I think it really defines who we are really deep down in our core, more so than our job, perhaps."
Now, she uses the space to meet her girlfriends, and even pop some champagne in privacy.
"They definitely are appealing, I think, to human beings," said Kotite. "Human beings who are overexposed, over stimulated, have too much technology going on. Have too many commitments. It's a retreat."