Congress has reaffirmed your right to post truthful negative reviews about a product or service provider — even if you signed an agreement that bans you from doing so.
The Consumer Review Freedom Act, passed last week and now headed to the White House, prohibits companies from having non-disparagement clauses in their contracts or terms of service. These so-called "gag clauses" are designed to discourage customers from posting honest reviews that criticize the company — and punish them with a fee if they do.
Related: Hotel's Gag Clause Led to 3,000 Bad Reviews
Case in point: The Union Street Guest House in Hudson, New York, received widespread media attention in 2014 after telling couples who booked a wedding there they'd be charged $500 for every bad review posted by their guests. The online policy read in part:
"Please know that despite the fact that wedding couples love Hudson and our inn, your friends and families may not. If you have booked the inn for a wedding or other type of event . . . and given us a deposit of any kind . . . there will be a $500 fine that will be deducted from your deposit for every negative review . . . placed on any internet site by anyone in your party..."
After the social media backlash, the owner issued a statement saying the policy was "intended as joke."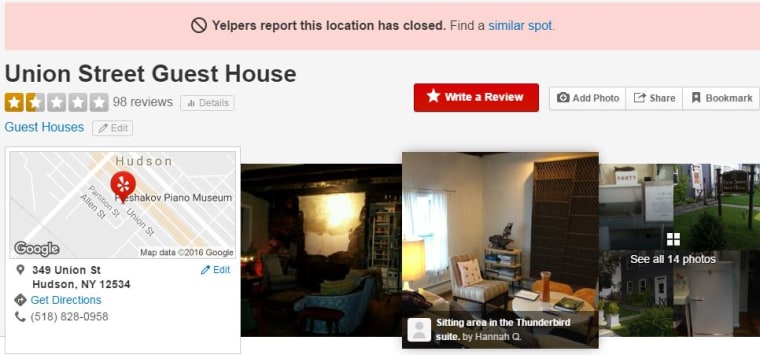 But lawmakers take the practice very seriously.
Sen. John Thune of South Dakota, the lead sponsor of the Senate version of the Act, praised his colleagues for passing this legislation unanimously, saying "By ending gag clauses, this legislation supports consumer rights and the integrity of critical feedback about products and services sold online."
The bill, if signed into law by President Obama as expected, empowers the Federal Trade Commission and the states to enforce it, by taking legal action against companies that continue to use non-disparagement clauses.
An Uptick in Gagging Orders
Bradley Shear, an attorney in Bethesda, Maryland, who specializes in social media and privacy matters, has seen the use of these clauses grow dramatically in recent years. Shear told NBC News he blames "unethical lawyers" and "unethical online reputation management companies" who came up with this way to stifle negative reviews.
Related: How to Detect a Fake Online Review
"Congress decided it had to step in and resolve this before it got any worse," Shear said. "You have the right to post truthful negative experiences online and Congress is saying that right cannot be taken away from you, even if a company has required you to sign something that takes away that right."
The Better Business Bureau considers non-disparagement clauses to be contrary to its mission of "an ethical marketplace where buyers and sellers can trust each other." The BBB Code of Business Practices prohibits Accredited Businesses from using them.
Freedom of Speech
Yelp had pushed Congress to pass the Consumer Review Freedom Act and the company is pleased that it did.
"While these clauses aren't everywhere, when people hear about them, it does create a chilling effect and that's something we've been concerned about and were very glad that Congress has taken steps to eliminate," Laurent Crenshaw, director of public policy at Yelp, told NBC News.
"At the end of the day, fair and honest commentary — whether it's positive or negative — serves to inform both consumers and, if taken properly by the business owner, can actually help them to improve their business practices, as well."
Related: Do Racially Tinged Yelp Reviews Impact Gentrification?
TripAdvisor, another site that relies heavily on consumer reviews, is also pleased to see this bill pass. Brad Young, the company's assistant general counsel, said Congress solved a problem created by "some unscrupulous businesses" that have tried to curb their customers' freedom of speech.
"TripAdvisor strongly believes in the right to write," Young told NBC News. "Some companies, rather than trying to provide great service, have instead tried to silence their critics in an effort to improve their online reputations and that's something that goes against everything we stand for."
Consumer Lawsuits
The first gag clauses started appearing in 2007, when some doctors began using them. Now companies that sell all sorts of products and services are using them to stop negative feedback.
In 2014, a couple from Utah received widespread media coverage when they won a lawsuit against a company that had billed them $3,500 after they posted a negative review. The problem started in 2008, after John Palmer ordered two small items from KlearGear.com for $20. The desk ornament and key chain never arrived and his wife, Jennifer, criticized the company on RipOffReport.com. Almost two years later, KlearGear billed the Palmers for violating its non-disparagement clause which read, in part:
"In an effort to ensure fair and honest public feedback, and to prevent the publishing of libelous content in any form, your acceptance of this sales contract prohibits you from taking any action that negatively impacts KlearGear.com, its reputation, products, services, management or employees."
The Palmers were told to take down the review or pay the $3,500. They refused, sued the company and in June of 2014 were awarded $306,000 in compensatory and punitive damages.
Earlier this year, a Dallas pet-sitting company sued a couple from Plano, Texas for $1 million after they wrote a one-star review on Yelp.
Michelle and Robert Duchouquette had hired Prestigious Pets in October 2015 to watch their two dogs and pet fish, Gordy, while they were on vacation. In their Yelp review, the couple said the dogs were fine, but Gordy's tank looked murky, and there were billing problems.
"The one star is for potentially harming my fish; otherwise it would have been 2 stars," the review stated.
The company sued the Duchouquettes, accusing them of defamation, business disparagement, and a breach of contract — violating the non-disparagement clause. In court documents, the company said the sitter never agreed to clean the fish bowl or change the water.
In August, the lawsuit was dismissed. At the time, the company, which has a 4.5 star rating on Yelp, said it was considering an appeal.
Earlier this year, Yelp responded to this case by launching a new type of Consumer Alert that now appears on the review page for Prestigious Pets.
"This business may be trying to abuse the legal system in an effort to stifle free speech, including issuing questionable legal threats against reviews. As a reminder, reviewers who share their experiences have a first Amendment right to express their opinions on Yelp."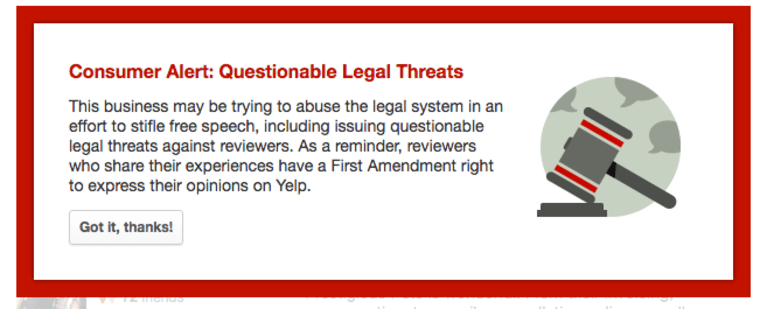 This consumer alert also shows up on the Yelp page for a moving company in Florida and a dentist in New York City.
Paul Levy, an attorney at the non-profit consumer group Public Citizen, helped defend both the Duchouquettes in the Prestigious Pets lawsuit and the Palmers in the KlearGear case. He's greatly concerned about the "chilling effect" non-disparagement clauses and the resulting legal action have had on free speech.
"Non-disparagement clauses forbid truthful criticism and that's bad for consumers and it's bad for businesses that do a good job and don't need these abusive clauses to protect their reputation," Levy said.
Levy wants consumers and business to understand that the Consumer Review Freedom Act does not permit a free-for-all. It will only protect honest and truthful comments.
Companies can still take legal action against someone they believe has libeled them or disparaged them in some way by making false statements.
Herb Weisbaum is The ConsumerMan. Follow him on Facebook and Twitter or visit The ConsumerMan website.