You're getting plucked by Big Chicken and you don't even know it, according to a recent class action lawsuit filed by Maplevale Farms, one of America's top food distributors, and other food distributors.
Americans spend a total of $90 billion each year on chicken, everything from Sunday dinners to chicken tacos to McNuggets. That's about $1100 for a family of four, and -- if recent allegations of industry-wide price fixing are true -- about $330 of that should still be in your wallet each year.
UPDATE: Tyson CEO Denies Chicken Price-Fixing Allegations
"It's skinning a little bit from everyone," said Tim Ramey, an analyst at Pivotal Research Group, a stock research firm, commenting on the allegations. "When it's a big commodity like chicken, it turns into big dollars."
Fresh Meat
Tyson, America's largest poultry producer, revealed last week that it had been subpoenaed by the SEC in connection with an investigation.
The company says it believes the probe stems from the 2016 Maplevale lawsuit brought about by the nation's poultry buyers, who allege the chicken suppliers "conspired and combined to fix, raise, maintain, and stabilize the price of Broilers" — chicken raised just for eating. These birds are 98 percent of the chicken market.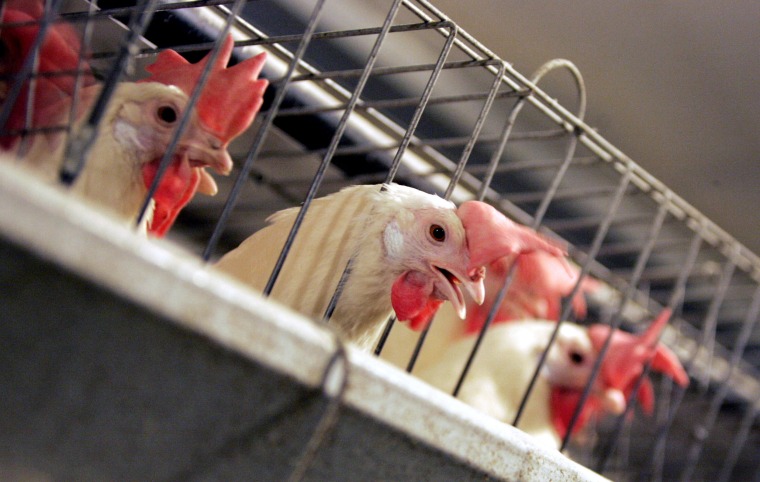 The Maplevale suit, now known as in re Broiler Chicken Antitrust Litigation, contends the nation's poultry firms -- including the "Big Four," Tyson Foods, Pilgrim's Pride, Perdue, and Sanderson Farms -- have colluded to rig the chicken market for over a decade, propping up poultry prices and bankrupting small family farms.
Earlier this month, Tyson CEO Tom Hayes touted his company's "fifth straight year of record results" noting that 2017 had started "with record earnings, record operating income and record cash flows." After beef, chicken is the largest contributor to Tyson's sales.
By controlling the supply, the chicken industry was able to turn what had always been its boom and bust cycle into a stable market with "record profits," according to the Maplevale suit.
In other markets, price fluctuates with supply. When gas inventory is high, you pay less at the pump. And vice versa. But imagine if you just paid $3 per gallon all year long?
Granular Data
Modern technology means you don't need a weekly conference call to set prices and production levels. That's what the broiler industry did in the 70s, until they were sued by the Department of Justice for colluding to fix prices.
Now you can just use data.
Poultry plants run by the large poultry companies voluntarily submit very specific information to an industry tracking service called "AgriStats." By putting in their information they're able to compare prices and efficiencies.
It's supposed to be anonymous but if you know enough you can tell who is producing what, the suit alleges.
"This permits the defendants to share, on a weekly and/or monthly basis, their confidential production and pricing information, including forward-looking production information, which is easily forecasted on broiler breeder flock data that is reported and shared," according to the complaint.
Christopher Leonard, author of The Meat Racket, may be the only outsider who has seen a copy of AgriStats. He says it's basically a 500-page Excel spreadsheet.
"This is an industry I've covered for 15 years, it jealously covers its secret. I was stunned to see the level of detail they were sharing with each other," he said. It goes all the way down to the calorie count in the feed. Even the number of egg laying hens, a sign of future production.
That data in particular, said Leonard, "is vital to coordinate supplies and keep prices high."
The industry disputes the claims of collusion using AgriStats. In the motion to dismiss the defendants asserted, "Agri Stats was in business long before the alleged conspiracy period, and it provides services to the turkey and swine industries in addition to the broiler industry."
But if a supplier steps out of line, the others "can eat your lunch if you don't cooperate," said Peter Carstensen, a law professor at the University of Wisconsin and a former Justice Department antitrust lawyer who has researched the industry.
In another method of control, most individual chicken farmers work under a contract supply system where they take on debt to build grow houses and only are allowed to raise the chickens the company delivers to them. The company also supplies the feed. When the chickens mature, the company sends a truck to come pick them up.
Some of these chicken producers voiced their complaints to USDA officials at a field workshop in 2010 that the big chicken companies had them in a stranglehold.
"You either sign it [the contract] or you don't receive your next flock," said Sandra Pridgen, a North Carolina chicken farmer, at the time.
"And when you have that kind of debt load over you, of course you're going to choose to sign the contract. You feel that there's no other option when you owe, you know, a half a million dollars or a million dollars," she said.
The view was echoed by Kay Doby, a former chicken farmer from Cameron, North Carolina, during the same workshop. "The threat is put before you, if you do not do this, they're not going to bring you any more chickens to grow out. This is extortion, plain and simple."
After Doby testified before Congress in 2007 about poultry contract issues, Pilgrim's Pride let her go. Now she raises goats.
According to the Maplevale suit, suppliers have other mechanisms to cut and enforce production levels, including slaughtering chickens prematurely, destroying eggs, shipping chicks overseas, providing inferior broilers to farmers, to slowing, mothballing, or permanently closing processing plants.
"All the moving parts are there for a successful cartel," said Carstensen of the plaintiffs' allegations.
The Pecking Order
Chicken suppliers dispute the accusations of collusion as a "conspiracy theory" in their motion to dismiss and have vowed to fight them in court.
Tyson is cooperating with the SEC, said spokesman Gary Mickelson in a statement. He also said the lawsuit's claim of conspiracy is "implausible."
"Chicken production grew during the time when the plaintiffs claim the poultry companies were conspiring to lower output," he said.
"USDA data shows broiler chicken prices during the time cited by the plaintiffs were often lower than when conspiracy allegedly began. In fact, prices fell by more than 12 percent between January 2008 and December 2015."
The problem is, it's not just about end prices. It's that prices held steady or fell slightly even as the cost to feed chickens fell dramatically.
Since 2008, wholesale chicken prices have risen nearly 50 percent while the cost of feed has gone down 20 percent.
"If in fact prices have been manipulated by control of supply, the consumer doesn't know they've gotten a bad deal on chicken prices because the general trend has been down," said analyst Ramey. "It's the spread between chicken and grain. You could argue chicken is 30 percent overvalued relative to corn."
A Bigger Illness
Admittedly, it can all sound very in the weeds. And why should you care? Would your life be that much better if a whole chicken at the supermarket was $2.50 instead of $5? Is anyone going into foreclosure over a platter of wings at Hooters?
But poultry's problems are just a symptom of a bigger illness. Consolidation rarely benefits the consumer. And it's rampant.
In a 2016 survey of 1,000 mergers, an economist at Northeastern found 80 percent lead to price increases. A third of them lead to increases of 10 percent or more.
Carstensen blames the past several administrations for a weak appetite for antitrust enforcement.
"When you allow, as our government has, significant increases in concentration based on an assumption that this is going to increase efficiency more than it will increase the risk of anticompetitive behavior... it's just not the way the world works," he said.
Additional reporting by Emma Goss.