Valentine's Day is almost upon us, and consumers are shopping like crazy for the big day, with the NRF reporting that they'll spend $18.2 billion around the lovers' holiday.
The NRF cites jewelry, an evening out, flowers, clothing, candy, gift cards, and greeting cards as the categories that make up the multi-billion dollar pie. That all sounds like pretty conventional stuff, but rest assured eccentrics, oddballs, and lovers of novelty: Cupid has plenty of fun gift options for you!
"Until just a few years ago, Valentine's Day gift seekers were limited to buying the traditional mass-produced cards and chocolate unless they purposely sought [other types of products] out," said Brent Shelton, online shopping expert at Fatwallet. "Online shopping platforms like Etsy have made it much easier to find personalized and custom gifts tailored to individual people. It provides consumers with a dual feel-good: helping small business and receiving something truly unique and thought out."
Here's a look at some of the more original and even eccentric gifts out there for your special someone.
Ironic Wine Glasses, Beard Kits, and Funny Undies
When you're in your early 20s, there's nothing quite so adult feeling as going to a wine shop with your sweetie and picking out a bottle of red that costs more than $7. Surely, you should commemorate this pinnacle moment by gifting this oversized wine glass — it can hold an entire bottle — that reads, "This is how you adult," available at Spring for $9.99. Perhaps you could add a humorous twist to the bottle with some of these punny labels available in sets of four starting at $15.99 on Jet.com. "Wine not?"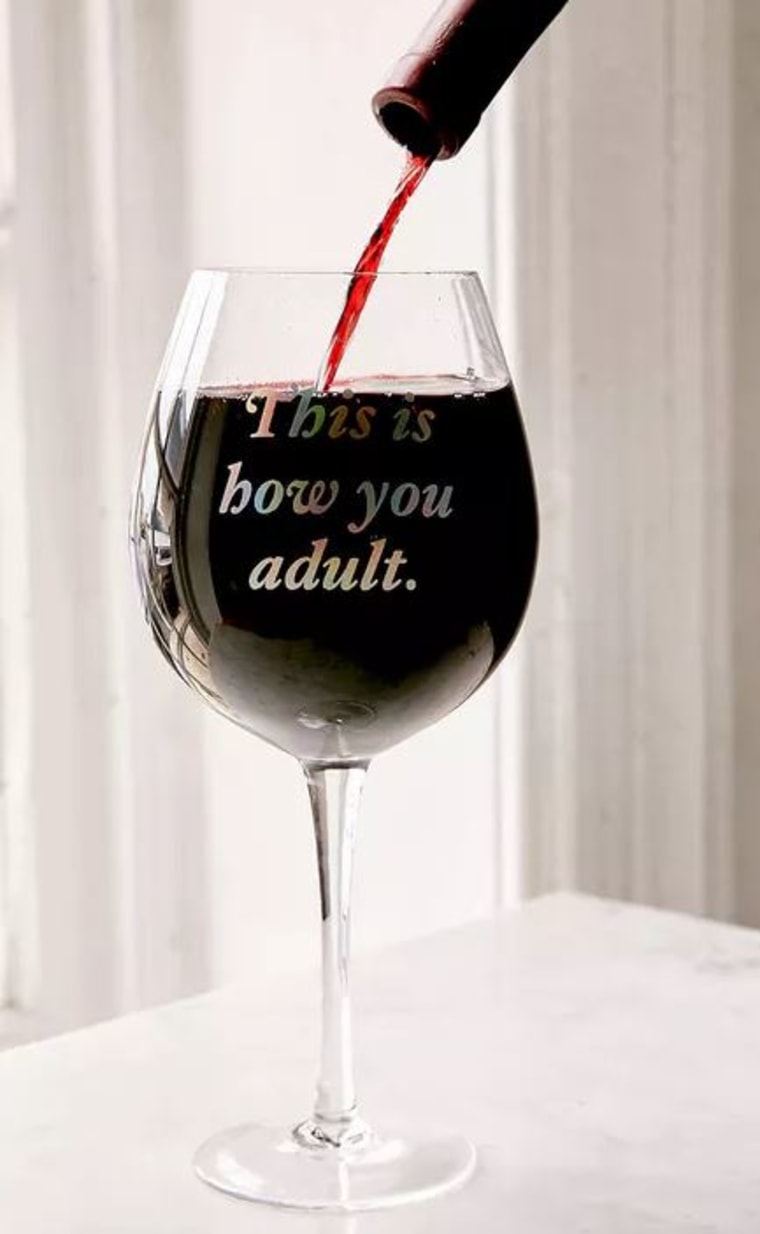 As so many men realize, maintaining the perfect beard or mustache is no small feat. Help him keep that precious facial hair in impeccable shape with a beard care kit. On Amazon, the Ultimate Beard Kit by Maison Lambert has a five-star rating. It will set you back about $65, but if this stuff it's all it's talked up to be, your guy may just reimburse you.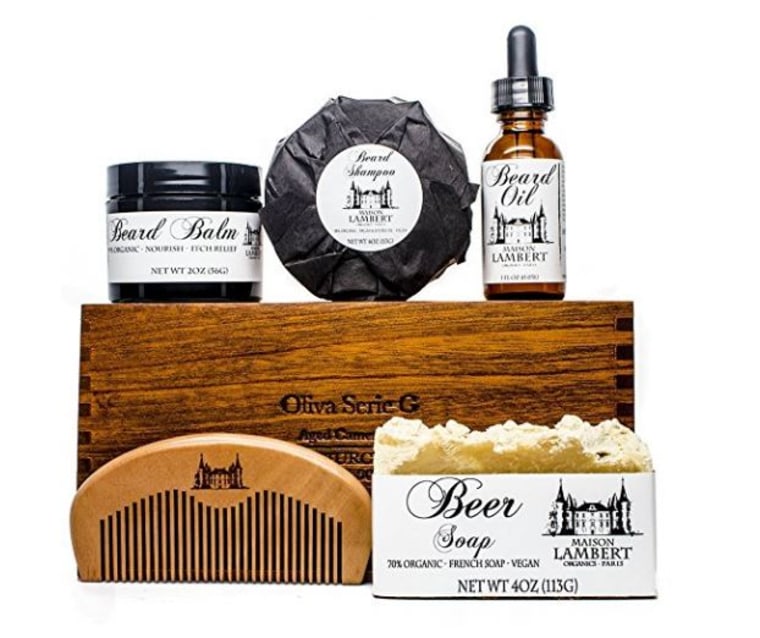 Not every girl desires lacy lingerie — so if your lady is a Star Wars fan, check out these coyly suggestive Chewbacca undies available on Etsy from the shop HappyHankie, for $9.75. If your sweetheart was one of those who took to the street during the recent Women's Marches, she may like these panties which pay homage to the hugely popular Facebook group (and soon to be actual book) Pantsuit Nation, and sell for $10 from Etsy vendor UnderstatementsShop.
Speaking of our bottoms, check out this Valentine's Day-appropriate toilet paper, available from JustPaperRoses.com for $15.62. For something that will literally be flushed down the toilet, that's ridiculously expensive, but the look of weirded-out surprise on your darling's face should make it worth it.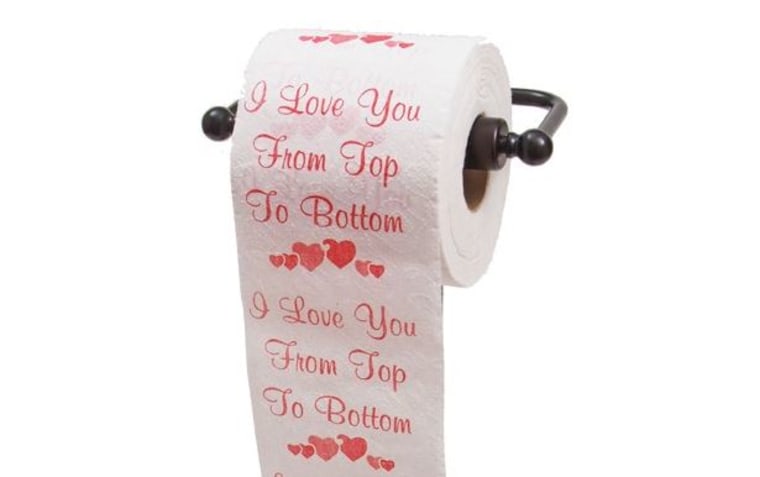 'Weird' Pillows, Insect Jewelry, and a Binge-Watching Survival Kit
Are you a total weirdo? If so, your quirks and eccentricities are likely some of your partner's favorite things about you. Here's a pair of pillows to snuggle up against with the significant oddball in your life. One says "I am weird;" the other says "I love weird." Etsy seller AndersAttic retails the set starting at $35.00.
Diamonds are divine, but you can get much more creative (and cost-efficient) this Valentine's day. Just about any type of jewelry you can dream up is available on Etsy, from this personalized fingerprint heart necklace starting at $39.99 to these butterfly earrings made with real monarch wings that start at $24.
One of the best parts of being in a relationship is binge-watching TV shows together. But when you're watching a series for hours at a time, you may have to frequently get up to stretch and refill on snacks and tissues (hey, these shows get emotional). Minimize the time spent taking breaks with a gift you can both enjoy such as the Binge-Watching Survival Kit.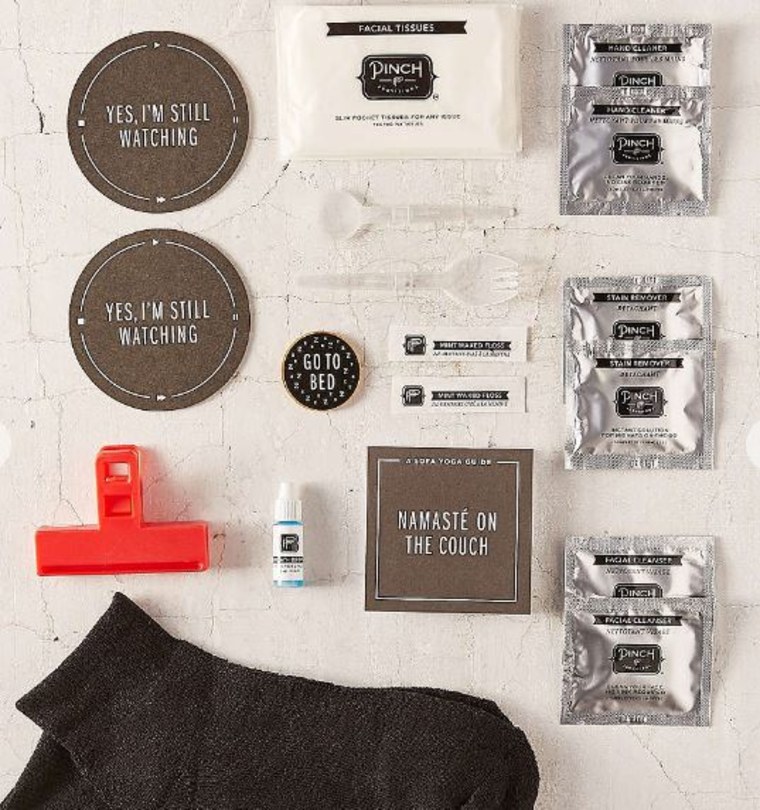 Available from Urban Outfitters for $20, the kit comes with face cleansing towelettes, stain-removing towelettes, hand cleaning towelettes, dental floss, breath drops, socks, coasters, a snack slip, a decision coin, folding sporks, tissues, and a sofa yoga guide.
Not So Corny Cards
Any gift is best served with a thoughtful card — but thoughtful doesn't have to mean clichéd. Here's a look at some less traditional cards that may make your partner laugh or even cry, but hopefully in a good way!
Like to cuddle up with your honey-pie and watch scary movies? They may want to tear open this Freddy Krueger Card. "You're horrifying," the card caption reads, alongside an image of Freddy's infamous striped sweater and bladed glove. The card retails for $4.95 from Etsy shop LazyFriend. You can also trade in the typical big red hearts for something a bit more accurate with this anatomical heart card for $5.99 from Etsy shop TheStaggeringTruth.
The math nerd of your dreams may appreciate this Isaac Newton card with the caption, "You're the solution to all my equations," sold on Zazzle for $3.35; while with this card, available for $4.50 from Etsy seller ClassyCardsCreative, assures your darling that for them, you'd put down your smartphone to hold their hand.
And don't forget the power of e-cards: you can find tons of funny (and free) ones over at someecards.com, like this one that will remind your lover that you're obviously the best thing that ever happened to them.