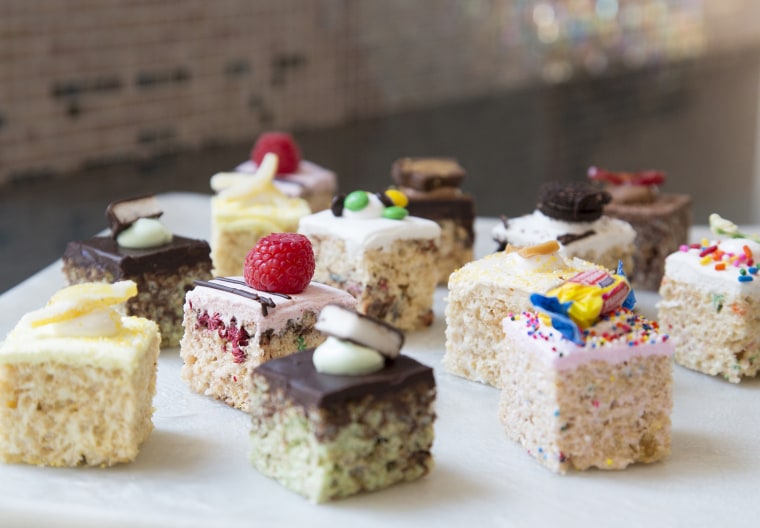 In 1939, Kellogg's changed the world of children's snack foods by testing its recently invented "marshmallow squares" at a Camp Fire Girls fundraiser in the Kansas City area. Within months those crunchy bars became the ever-popular "Rice Krispies treat," a recipe replicated in kitchens across the country.
Fast-forward seven decades, and it seems America is finally ready for a grown-up version of the melted-butter-and-marshmallow snack. Chris and Jennifer Russell are the owners of Treat House, which will open in two weeks on New York City's Upper West Side. Billed as the first shop in the city dedicated to gourmet marshmallow-and-crisped-rice, the couple is hoping New Yorkers will take to their upscale snacks — which come in flavors as varied as bubble gum and caramel sea salt — like they have to fancy cupcakes and doughnuts.
"When people see the treats they're like, 'Wow this is really unique,'" Chris, 43, told TODAY.com. "It feels very familiar; it strikes a chord and reminds them of when they were young, but it's something that's a little more innovative."
In recent years, nostalgia-inducing foods have been getting the gourmet treatment — and Rice Krispie treats are just the latest childhood snack to be revamped for grown-up tastes, thanks to businesses like Red Spatula and The Crispery, which sell crisped rice treats in avant garde flavors like green tea and banana chip, and curated Pinterest boards featuring inventive recipe ideas.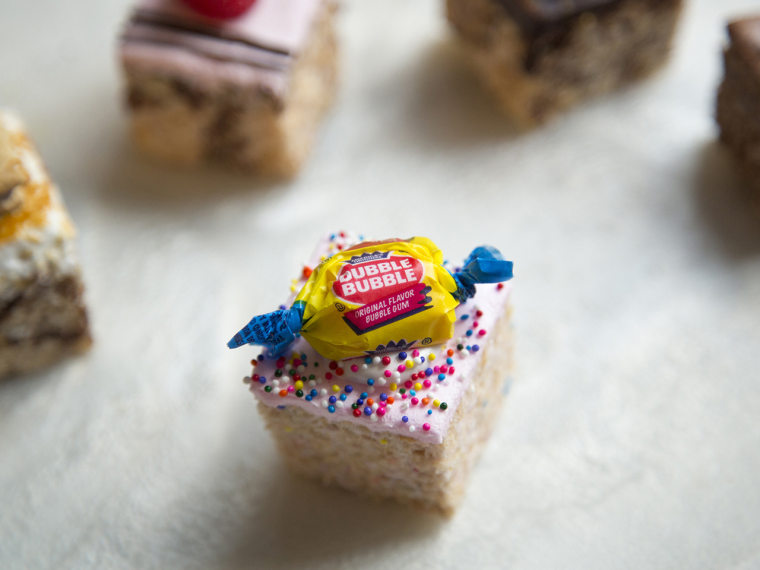 And while Treat House is not the only bakery in America selling unusual cereal treats, it's one of the first brick-and-mortar stores dedicated to them. The Russells' squares are also gluten-free, which could prove good for business considering sales of gluten-free products are projected to grow to $6.6 billion in 2017, from $4.2 billion in 2012, according to Bloomberg Businessweek.

Inspiration for the creative treats came from the Russells' own children. Two years ago, Daniel, 5, and Eli, 7, were tasked with raising $50 for a fundraiser. Since Chris has keen kitchen skills, a bake sale seemed a logical choice. And since both Chris and Jennifer share a love for the marshmallow treats of their youth, they decided "to have a little fun" with their flavors.
They started with mint chocolate topped off with chocolate-cookie crumble, before experimenting with a butterscotch sprinkle bar and one laced with cherry-dark chocolate ganache. When they started selling their creations at a makeshift lemonade stand near Central Park, the response came as a bit of a surprise.
"People were asking where we got them and where they could buy them," Chris said. "We kind of naively told them, 'Oh no, we just made them ourselves.'"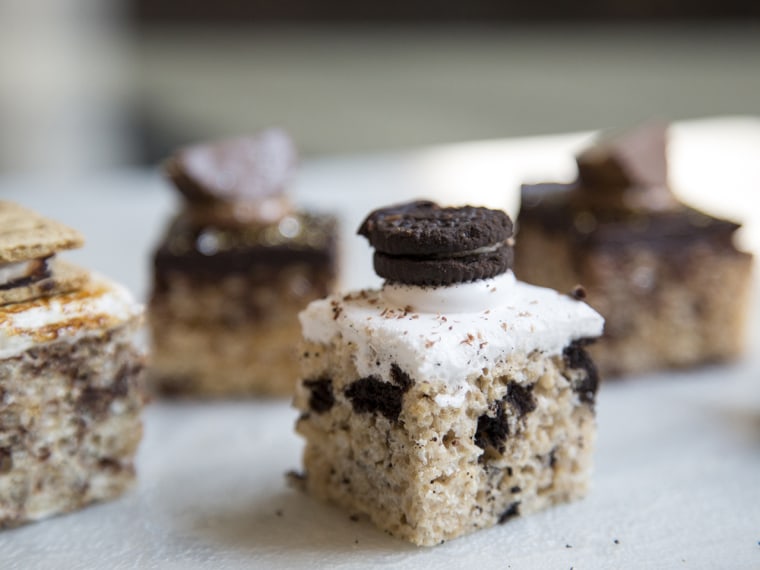 A few weeks later they sold 150 bars in just two hours. That's when Chris, who grew up in a "food-obsessed family" and has spent most of his adult life working in the restaurant industry, thought there might be a sweet business opportunity in it.
"We realized Rice Krispies could be a foil for all sorts of different flavor combinations," he said. "So we started brainstorming."
The Russells soon brought pastry chef Wendy Israel on board and experimented with a variety of flavors and gelatins. Some combinations (quite literally) did not stick: Ingredients like lemon juice and chocolate changed the nature of the gelatin, which could turn into a soggy mess.
It took some knowledge of food science to strike the right balance between ingredients — especially since the team decided to use a kosher, nontraditional gelatin. In the end, they came up with creative workarounds, like using lemon oil in place of juice, to give the bars authentic flavors without sacrificing that crunchy consistency fans associate with the treat.
Twelve flavor combinations will be offered in their shop, including chocolate pretzel and chocolate peanut butter (which was a hit with TODAY.com staffers), alongside seasonal varieties. They're distinguishing themselves by making their own marshmallows from scratch, and with cane sugar instead of corn syrup.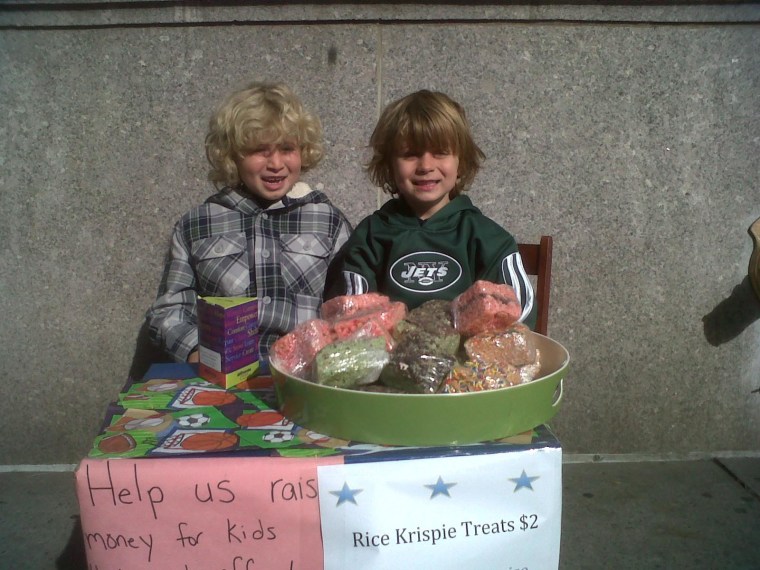 While a lot has changed during the two years the Russells have spent developing their idea for Treat House, there have been two constants: children and a commitment to charity. They are partnering up with the Food Bank For NYC and will donate ten cents of every treat to the nonprofit.

And, of course, their children Daniel and Eli have been there all the while, whether packaging products or playing their favorite role as taste-testers.
"We don't have to force them to do that," said Jennifer, who is also a nursery school teacher. "They've had a blast with this.
There are other perks to your parents opening a sweet shop just two blocks away from school: Friends definitely don't mind stopping by.

"There's the notion that they might be local school celebrities," Chris told TODAY.com with a chuckle.
Chocolate Mint Crisp Rice Treats
12 oz mini marshamallows

4 tablespoons margarine

6 cups crisped rice cereal

½ teaspoons peppermint extract

6 drops natural green food coloring

½ cup bittersweet chocolate chips

¼ cup shaved dark chocolate

Pan spray

1. Over medium heat, melt margarine in a large sauce pan.
2. Add the marshmallows to the pan and stir thoroughly until marshmallows are melted. Add the food coloring and the peppermint extract to the marshmallow mixture.
3. Remove mixture from heat and allow to cool slightly.
4. After approximately 2 minutes add the crisp rice cereal to the marshmallow mixture, and stir until the cereal is thoroughly coated with marshmallow.
5. Slowly add the chocolate chips until they are evenly distributed throughout the mixture.
6. Spray a 14-inch baking pan with pan spray, and add the mixture. Press mixture into the pan until the desire density is achieved.
7. Allow the treats to set for one hour.
8. Flip the baking pan upside down, and gently tap until the treats release.
9 Liberally sprinkle the saved chocolate over the top of the treats.
10. Cut into 2-inch squares. Best if consumed within 6 hours.