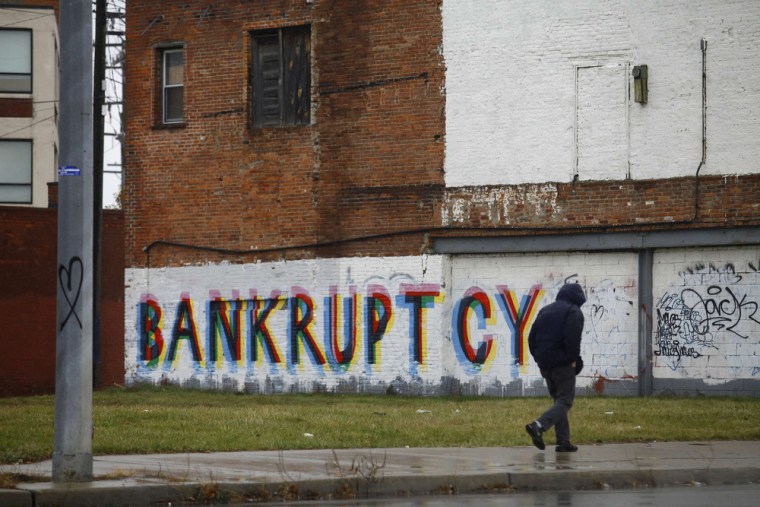 The bill for decades of Detroit's financial decline has now come due.

A federal judge's ruling approving the largest municipal bankruptcy in U.S. history Tuesday set the stage for an epic legal battle over who will be asked to help pick up the tab, including bond investors, retired city workers, city vendors, state taxpayers, or Wall Street bankers.
"You're going to see battles and battles and battles on a variety of things," said Randye Soref, a bankruptcy attorney with Polsinelli in Los Angeles. "The question is whether you're going to see any real negotiation toward a plan."
The latest legal salvo was launched minutes after federal bankruptcy Judge Steven Rhodes finished a 90-minute explanation of his decision to allow Detroit to proceed with its efforts to restructure the crushing burden of some $18 billion in debt and other obligations. The city says roughly half of that amount represents pension and health care benefits owed retired city workers, whose union immediately asked for permission to appeal Tuesday's ruling to the Sixth Circuit Court of Appeals.
"We don't believe the city negotiated in good faith," AFSCME lawyer Sharon Levine said shortly after the hearing ended.
But while those appeals are heard, city officials will proceed with negotiations aimed at spreading the pain among the more than 100,000 creditors the city listed in a filing that runs more than 3,000 pages. After decades of financial decline, Detroit has no other options left, Rhodes said.

"The city does not have enough money to care for its residents, let alone pay its debts," Rhodes said. "Municipalities cannot print money."
Healthy cities rely on taxpaying citizens and businesses to pay the bill for city services. But after years of rising taxes and declining services, Detroit has driven away large numbers of both. Since its heyday as the world's auto manufacturing hub, Detroit's population has dropped by more than half, to about 700,000. As businesses have fled, so have jobs: The city's jobless rate is more than twice the national average.
The housing collapse of 2008 sparked a wave of foreclosures and falling property values, further eroding the city's tax base.
About 40 percent of the city's streetlights do not work and some 78,000 abandoned buildings litter the city.
'City needs help'
"The city no longer has the resources to provide its residents with basic police, fire and EMS services," Rhodes said. The average police response time is 58 minutes, more than five times the national average. "The city needs help," Rhodes said.

In the short run, Rhodes' ruling buys the city some time as it tries to plug a roughly $200 million a year revenue shortfall. As it works out a plan to get out from under its crushing debts, the city can now raise fresh cash to help pay the bills and begin rebuilding.

"Some lenders are out there willing to invest in the city because for whatever reason they see this as an opportunity for the city to rebuild itself," said Douglas Bernstein, a Detroit-based bankruptcy lawyer with Plunkett Cooney who is following the case. "If the bankruptcy process works the way it's supposed to, you start out with cleaner balance sheet, you rid yourself of the ghosts of the past and you move forward. "
But before they leave, those ghosts are looking for the biggest payouts they can negotiate.
Standing in the front of the line are UBS and Bank of America's Merrill Lynch unit, which hold a so-called interest rate swap that is costing the city roughly $50 million a year. These investments, originally sold by Wall Street as a hedge against rising interest rates, have become a financial albatross for hundreds of state and local governments as interest rates fell to the floor.
"The swaps were an egregiously imprudent deal," said Wallace Turbeville, a municipal finance expert and former Goldman Sachs investment banker.
Now, rather than take the kind of haircut offered to other creditors waiting their turn in bankruptcy court, the banks are proposing the city pay them 75 cents on the dollar, according to Bernstein.
"They seem to have negotiated a pretty good deal," he said. "But the other creditors are saying they shouldn't be treated as secured creditors. That test remains to be seen."
Holders of Detroit's $576 million worth of general obligation municipal bonds also face an important test—one being watched closely by investors in the $3.7 trillion municipal bond market. Widely considered as safe as secured debt, the city is proposing that investors in these so-called "limited tax" bonds accept as little as pennies on the dollar.
The city's proposal has already sent ripples through the municipal bond market. The judge's final ruling is being closely watched in city halls across the country that face the prospect of paying higher interest rates to attract jittery investors.
"People now have to go in wide-eyes-open buying those kinds of assets — knowing that they aren't guaranteed," said Soref.
Detroit's retired city workers have already learned the hard way that their pension and health benefits aren't guaranteed either. Union officials appealing the city's proposed cuts argue they've already seen pensions and health benefits cut. But Rhodes said Tuesday that while he won't rubber stamp the city's proposal, the retirees' pensions are fair game like any other city obligation.
"The pension plan holders are sitting precariously," said Soref. "(The judge) was pretty clear that he views the pension debt no different than any other debt."
Angry retirees
That was unwelcome news for retirees like Donald Smith, 69, who spent 29 years working for Detroit in various jobs, including an EMT and a detention officer.

"They used my taxes to pay off the bankers. Wall Street, General Motors and Chrysler. But when it comes time to go and give me what I earned - I'm not asking for you to give me a handout. What I earned, they tell me they can't do it," Smith told NBC News. His pension from the city currently is $889 a month. He gets about $1,000 a month from Social Security.
While Detroit's appeals for state aid have so far come up short, state capital Lansing is keeping a close eye on the bankruptcy proceedings. Like many cities suffering from the withdrawal of state aid since the financial collapse of 2008, Detroit's revenue gap began widening considerably in 2011 when the state slashed more than $65 million in revenue sharing.

If the debt restructuring doesn't give the city enough breathing room, state officials may face increasing pressure to restore at least some of that aid.
The city is also looking at the possible sale of a large art collection that creditors say could be worth billions of dollars.
But unlike the corporate bankruptcies of two of the region's major employers, the sale of assets will provide only limited relief. The city can't scale back its product line or close sluggish sales territories, said Bernstein.
"Unlike like a General Motors or Chrysler, the city doesn't have a product to sell other than itself," he said. "They are going to have to find a way of marketing the city. That means get rid of blight, have safe streets, turn the street lights on and have a school system that's worth something."
Those rebuilding efforts are critical to the city's long-term viability. But they'll cost money – something likely to remain in very short supply.
"They don't have a revenues base and they continue to bleed," said Soref. "Do you see an influx of people coming back to Detroit? Do you see business flocking to Detroit post bankruptcy? No matter what the outcome of the bankruptcy I don't see how the end game changes."
—By CNBC's John Schoen. Follow him on Twitter @johnwschoen.
Is the muni bond marketabout to blow up?