As Detroit hopes to bounce back after filing for bankruptcy, two iconic factories that helped the Motor City become America's 20th century industrial  hub could gain a new life in the near future.
During World War Two they both anchored the mighty military production base that came to be known as the "Arsenal of Democracy," but today, the old Packard and Willow Run assembly plants are symbols of Detroit's decay and of the city's once-formidable manufacturing base.

At their peak, factories in Detroit and its suburbs produced millions of cars annually. That manufacturing prowess was central to the U.S. military effort during both World Wars, but many of the factories that rolled out bombers, tanks and other war machinery are long gone and of the few that remain, most are in fading condition.

(Read also: Detroit's finances 'shocking,' city manager testifies)
Nowhere is that more obvious than on Detroit's crumbling east side, once the heart of its manufacturing base. The 100-year-old Packard plant served as both an assembly line, corporate headquarters and even had a test track on its vast roof. Today, parts of the facility have already caved in – partly due to the effects of time, but also due to vandals, fire and the city's own on-and-off efforts to scrap the plant.


So, when an auction was held for the remains this month it was anything but certain an acceptable bid would come along. But authorities received an unexpected offer of $6,038,000 – and from a particularly surprising source: a Texas family doctor who reportedly will team up with "partners and investors from Detroit, Wall Street and international firms," to turn the decrepit hulk into an "economic engine" that could become part of what many hope is the nascent revival of Detroit.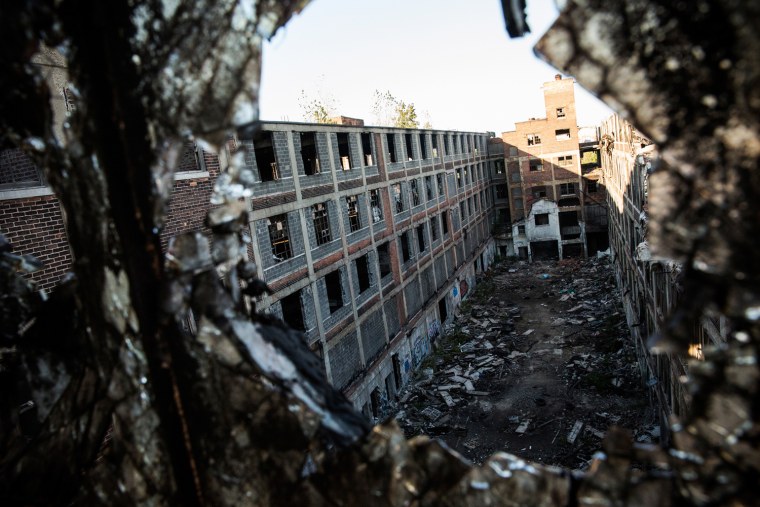 While the investors are expected to get an extension after missing Monday's deadline to come up with cash, officials for the city and surrounding Wayne County seem comfortable the offer is real.
(Read also: Amanda, Pipsqueak and The Blue Bomber: Americans Love to Name Their Cars)
According to Dave Marshall, a spokesman for the investment group, the goal is to produce modular homes at the old Packard factory, "(which) will be constructed on the site and shipped all over the world." Marshall's statement promised that, "Building supplies will also be made here."

The sprawling, 35-acre complex consists of 40 individual buildings, most in serious need of repair. Simply cleaning up the site will be costly, observers caution. That has led to repeated failure as one rescue plan after another has collapsed, including a proposal to turn the facility into a modern mixed-use complex of shops, restaurants and other venues.
Not a single bidder came through with the opening $1 million bid during a first auction in September and bidding this time began at just $21,000. But authorities received a shock not only when Dr. Jill Van Horn, of Ennis, Texas, made her bid but when a second offer of $6,030,000 also came in. The lower bidder could nab the deal if the doctor's investment group can't deliver the required cash.
(Read also: Despite Government Shutdown, October Car Sales Looking Strong)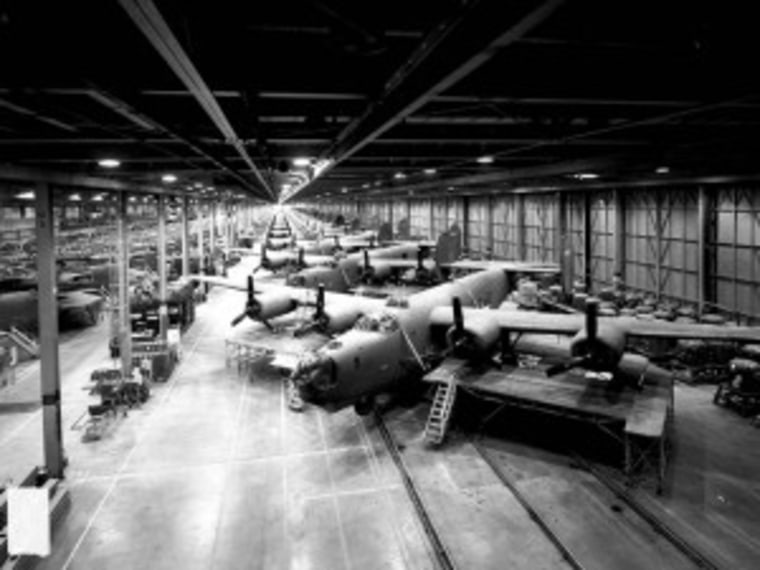 Even as the city waits to see if the old Packard plant will find a new life, organizers continue struggling to save part of the old Willow Run bomber plant just a half-hour's drive west of Detroit. 

Even those who aren't familiar with the factory itself will remember the legendary "Rosie the Riveter," the iconic representation of women who "manned" assembly lines across the country during World War Two. The image was inspired by one of the workers at Willow Run which produced a steady stream of B-24 bombers, more than 8,000 in all by the time the fighting ended.
Built and operated by Ford during the war, the factory was later transferred to General Motors which built transmissions there for the next half century. It was closed in 2010 as the automaker emerged from Chapter 11. The trust that was set up to dispose of properties that the "old" GM abandoned in bankruptcy wants to tear the old hulk down and turn most of the 332 acres into a research and development center.
But the Yankee Air Museum, a non-profit group based at the Willow Run Airport adjacent to the old factory, wants to acquire at least part of the facility and use it to store some of its fleet. A fundraising program missed a series of deadlines, but has received another reprieve after raising more than $6 million towards an ultimate target of $8 million.