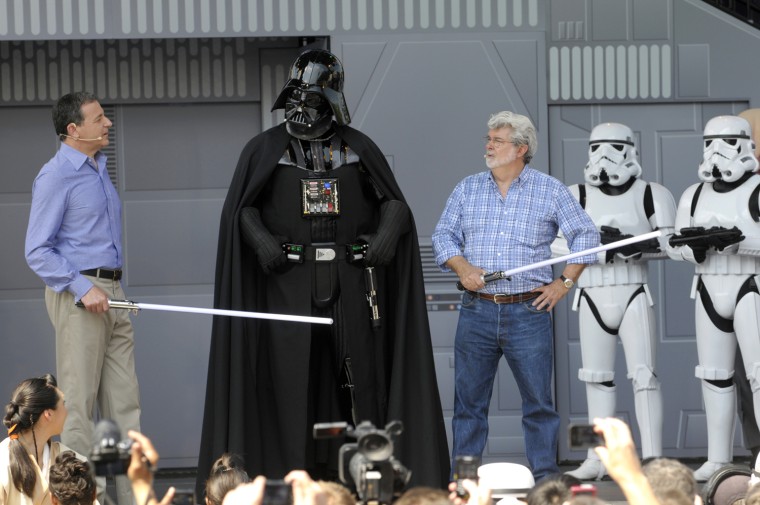 Updated at 7:15 p.m. ET: Walt Disney Co. is buying Lucasfilm in a $4 billion deal that brings the best-selling "Star Wars" franchise under the Disney umbrella, with plans to release Episode 7 of the long-running saga in 2015.
Disney has long had a close relationship with closely held Lucasfilm and founder George Lucas, including featured attractions at Disney theme parks such as Star Tours at Disney's Hollywood Studios in Florida.
"It's now time for me to pass 'Star Wars' on to a new generation of filmmakers," said Lucas, 68, in a statement.
The cash and stock deal is valued at about $4.05 billion, Disney said. Lucasfilm is solely owned by George Lucas.
"This transaction combines a world-class portfolio of content including Star Wars, one of the greatest family entertainment franchises of all time, with Disney's unique and unparalleled creativity across multiple platforms, businesses, and markets to generate sustained growth and drive significant long-term value," Disney CEO Robert Iger said in a statement.
Lucas will act as creative consultant on the new "Star Wars" film, with more feature films expected beyond Episode 7.
The six "Star Wars" feature films have earned a total of $4.4 billion at the box office alone and offer "a sustainable source of high quality, branded content with global appeal," according to the Disney news release.
Related: 'Star Wars 7' will need The Force to be with it
The deal is subject to federal antitrust approval.
In early 2006, Disney struck a deal to acquire "Toy Story" creator Pixar, and in the summer of 2009 it bought the comic book powerhouse Marvel Entertainment. 
The company expects the Lucasfilm deal to add to earnings in 2015. Along with the cash, Lucas will end up owning about 40 million Disney shares, which is about a 2.2 percent stake of the 1.83 billion shares that will be in circulation when the transaction closes. 
"Because Lucas is private, I would assume most investors would be surprised (by the deal). My point of view is that Disney already has a great portfolio and this adds one more," said Morningstar analyst Michael Corty. "They don't have any holes, but their past deals have been additive" to earnings.
The deal includes Lucasfilm's prized high-tech production companies, Industrial Light & Magic and Skywalker Sound, as well as rights to the "Indiana Jones" franchise. 
Kathleen Kennedy, the current co-chairman of Lucasfilm, will become the division's president and report to Walt Disney Studios Chairman Alan Horn. She will serve as executive producer for the new movies. Directors for the new movies have not yet been announced. 
Information from Reuters and the Associated Press was included in this report.
More business news:
Follow NBCNews.com business onTwitter and Facebook