COMSTOCK PARK, Mich. — They voted overwhelmingly for President Donald Trump, but generations of red-state farmers are bracing for impact on Friday with the knowledge that his trade war could destroy their livelihood — and alter the agricultural map forever.
Tariffs levied by America's trading partners, such as China, kick in on Friday as retaliation for Trump's heavy taxation of their imports. Farmers in the heartland say that a drawn-out trade war could lead to more farms going bankrupt or selling out.
"The banks are not going to keep writing checks to save your farm," Matt Thiede, chief operating officer of Heeren brothers, a produce packing company in Comstock Park, Michigan, told NBC News. "For some family farms, one season could be the death of them."
"You will see a serious change in the landscape and topography of agriculture in the U.S.," he warned.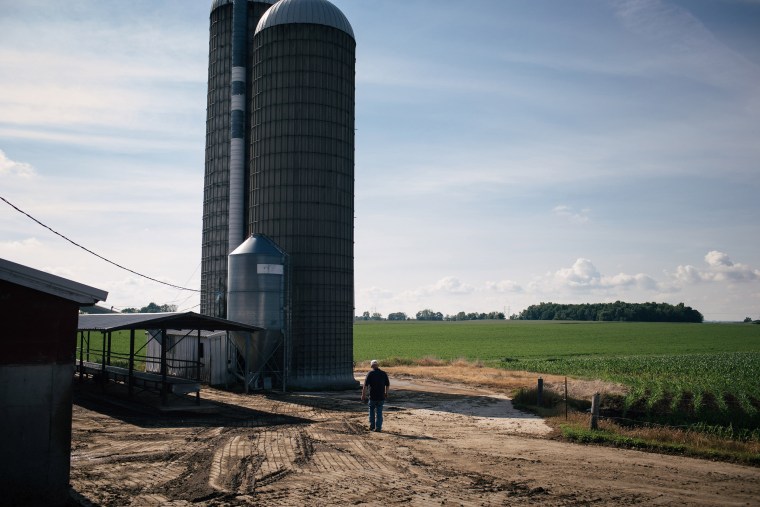 Body blow to the American heartland
Foreign trade partners, including the European Union, Mexico, Canada and China, announced in May that they would begin levying tariffs on billions of dollars of American agricultural products in response to Trump's new tariffs on steel and aluminum imports.
These taxes make U.S. products less affordable to foreign buyers — who eventually switch providers to avoid the tariffs.
While states that are big exporters stand to take a huge hit, other states that are not could also be affected. If exporting states can't find overseas markets, they may be forced to try to offload their products stateside, farmers say, leading to a supply glut and price crash that would wipe out profits nationwide.
In interviews, Midwest farmers reveal the impact tariffs have already had, and the ones they fear are around the bend. In Indiana, pork producers say they've already been slammed by falling prices, starting when the trade war was just a rumor. In Wisconsin, cheesemakers say their overseas buyers are starting to look for new suppliers in order to avoid the tariffs. In Michigan, apple producers fear the fallout if states that do more exporting are forced to dump their product domestically.
These three states were the highest-producing states in the Midwest for the goods targeted by a recent round of Mexico tariffs and some European tariffs, according to USDA data.
It's a body blow to heartland states that helped put Trump into office, testing their faith that the president's brand of trade negotiation will pay off.
Two of the states voted for President Barack Obama in the previous election, and some trade analysts say the tariffs are deliberately designed to target Trump's agricultural base. In particular, they will affect "purple" states that could flip back to Democratic candidates in the next elections.
Many of the farmers interviewed on their properties voted for Trump. Others may not have voted for him but did not vote for Hillary Clinton, opting to vote for third-party candidates or leave that part of the ballot blank.
Despite the pressures, farmers here in the Midwest are holding on in the hope that the president's tactics will get them a fair trade deal, one in which, they say, countries aren't slapping American goods with high tariffs while being allowed to freely import into our market.
But if the trade war continues into the spring of 2019, the owners of thousands of smaller farms, many handed down from generation to generation, could face tough decisions, pitting their pocketbooks against the president's policies.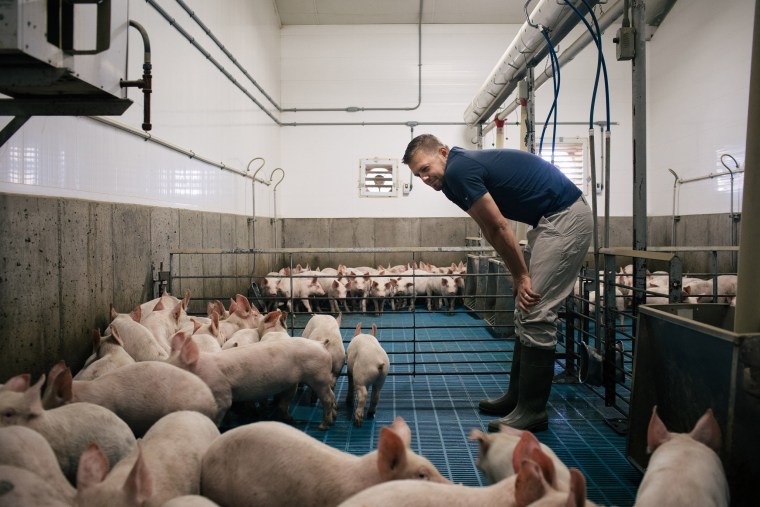 Pain for gain?
Nick DeKryger, a second-generation pig producer in Demotte, Indiana, says hogs have "lost 20 bucks a head" since the trade dispute began.
"Short term, we're weathering the storm," he said. "The longer it drags on, the more damage is going to happen ... [but] we understand the goal and we like the goal. That's what helps us, more trade, more exports ... that's why we're urging to fix it and resolve the issue so we can get back to trade."
Other farmers also say they still trust the president. They're glad someone is talking about trade. And while it's not how they would do business, they believe he will get the job done. If he has to ruffle a few feathers in the Washington "cesspool" along the way, that suits them just fine.
"We're getting tariffed to death," said Scott Ditter, a dairy farmer in Sheboygan Falls, Wisconsin, referring to Canada's 270 percent duty on American milk.
America's dairy farmers have suffered a months-long dip in dairy prices due to oversupply. They could export more to Canada, but would be hit with a triple-digit tariff above certain annual quotas. Now that Trump has slapped Ottawa with a 25 percent tariff on steel and 10 percent on aluminum, "the shoe is on the other foot," Ditter said.
"I think it's fair. It's smart business," Ditter said. "There's going to be a little pain and suffering."
Pain for gain is an idea that farmers are well accustomed to, and they trust in Trump's business acumen to see them through.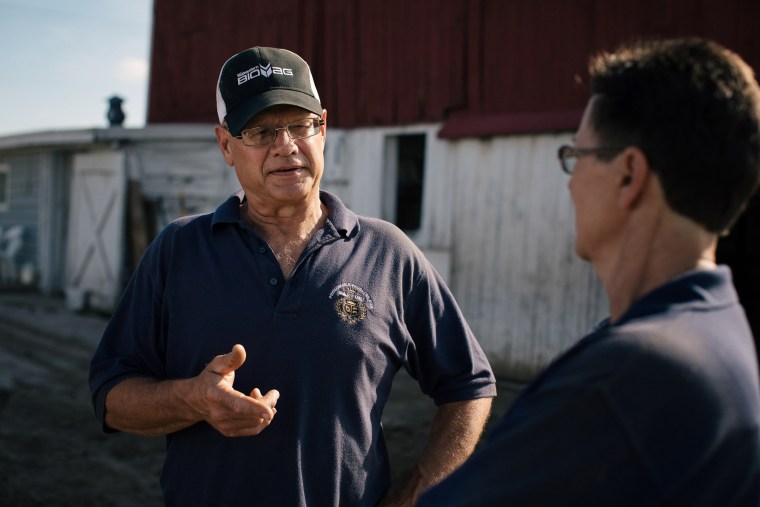 "Even though it might be bad medicine, I think if the president is telling the truth, he's got a lot of experience with negotiation. He wrote a book on it," said Kelly Rudd, an independent cranberry grower in Tomah, Wisconsin.
Risking it all
But there are those who say the president's style gives them pause, and they're apprehensive about the result.
"Sometimes people hit you back after you bloody their nose," said Steve Dietrich, 70, a third-generation potato farmer in Coloma, Wisconsin.
Many farmers just want to hold on to their way of life, like DeKryger, the pork farmer, who recalled a sermon he heard recently.
"The first generation are the pioneers. The second generation are the protectors. The third generation screws it up," he said. As a second-generation protector, he wants to make sure there's a business to hand down to his children. And he's willing to bet Trump is going to pull through in the long haul to make it happen.
Some experts say that in the meantime, however, the trade war could harm the very people who have quite literally bet the farm to protect that way of life.
"They're first in line to feel the pinch — and they'll be the last to recover once the tariffs get lifted," said P. Welles Orr, an international trade adviser who worked as a trade representative under President George H.W. Bush.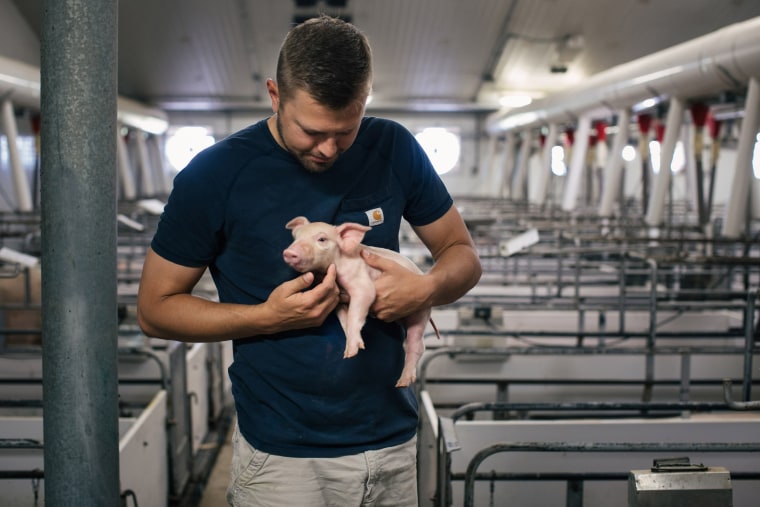 "This isn't sustainable" for the Trump administration, Orr said. "They have to get a deal and call it a win."
Even the faithful acknowledge, however, that there are still forces beyond the power of a single presidential tweet or executive order.
"He's not God," said Ditter, the dairy farmer, standing in front of his red barn and pickup truck on the perimeter of the grass field where his herd grazes.
"He can't control supply and demand."