China's recent slowdown has raised widespread concerns that any weakening demand there for goods and raw materials from the rest of the world could weigh on the entire global economy.
But, so far, the slowdown doesn't seem to have dampened China's appetite for imported food.
Though its economy has cooled markedly from once red-hot, double-digit growth, China's transformation from an agrarian economy remains a work in progress. Slowing factory output, a recent stock market crash and the emergence of regional housing bubbles haven't diminished the No. 1 task facing Beijing's leaders: feeding 1.4 billion people.
Deng's grand experiment
Begun more than 30 years ago, China's historic economic transformation has lifted hundreds of millions of people out of poverty, reshaped the global economy and given rise to a new world power.
It's a monumentally ambitious plan. The goal is to keep the economy growing, spread wealth from the industrial coastal cities to inland provinces and rural areas, encourage more domestic spending, spur innovation and deliver expanded social services to sparsely populated areas that lack them.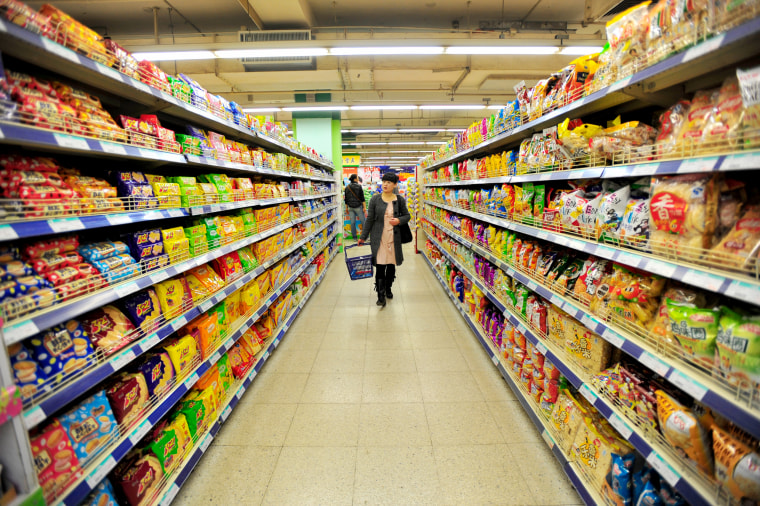 China's economy, which lay in ruins in the late 1970s after the failed Cultural Revolution, has developed faster than any in history. So far, the grand experiment with "state-sponsored" capitalism has transformed China's coastal cities and brought a marked increase in the standard of living of urban residents, including an appetite for imported food once unaffordable to most Chinese households.
California's Scarce Water Keeps Flowing to China
Now, with growth slowing, Chinese leaders need to maintain that economic growth to satisfy consumer demand, maintain social order and preserve their political power. And in many ways, China's continued transformation over the next 30 years presents even greater challenges than the first phase of former leader Deng Xiaoping's "opening up" policy begun in 1978.
Today, many of China's rural households, especially in inland and western regions, are still waiting for the benefits of economic reforms to reach them. Outside of urban areas, the savings set aside by the top 20 percent, the so-called first income quintile, is larger than the entire annual income of the bottom 20 percent, or fifth quintile. Nearly half of China's population still lives in rural areas, according to the World Bank.
Economic opportunity in the cities is also limited by the Chinese government's household registration system, or "hukou," which officially designates most citizens' place of residence. Without approved registration in their new home city, many new migrants are "floaters" who lose out on locally administered subsidies for education, health care and housing. That leaves many rural residents with a difficult choice: remain at home where jobs are scarce, or move to a city without registration and pay out of pocket for those services.
Changing food choices
Rising incomes are only one of the forces stoking China's demand for imported food.
The massive, ongoing migration of more than 300 million people from rural areas to gleaming new cities — by some estimates, the largest peacetime resettlement in history — is transforming the way food is supplied, prepared and served.
China Goes Organic Amid Food Scandals
Younger workers in China's rapidly expanding urban centers are more likely than their parents to experiment with foreign-made foods and recipes. Those urban centers are also increasingly hosting foreign visitors and expatriates who retain their appetites for the foods they're accustomed to at home.
Lax food safety standards have produced periodic scares and also boosted demand for imported goods. China was ranked this year as one of the world's worst safety-violation offenders by American food consulting firm Food Sentry.
As a result, Chinese choices at the table have changed significantly in the last few decades, with consumption of grains and vegetables making up a smaller share of the typical household diet, as appetites have increased for meat, seafood, dairy products and eggs.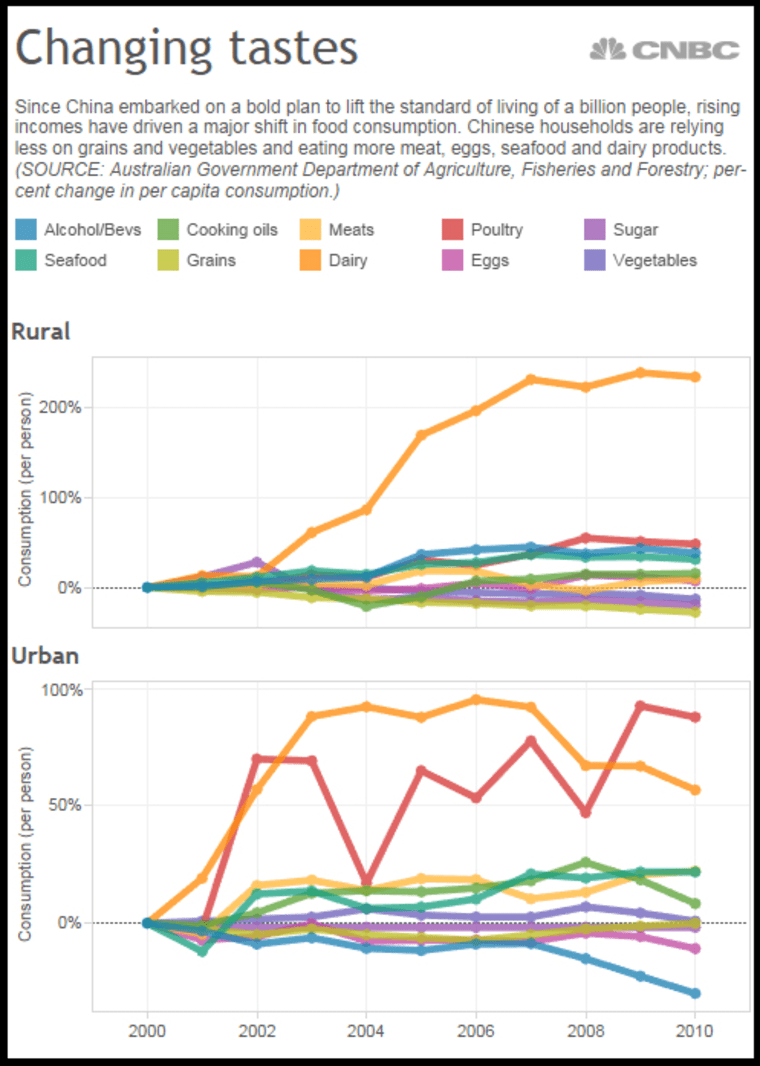 But while Chinese consumer's tastes have shifted, the nation's farmers haven't been able to keep up with demand. That's not likely to change anytime soon.
Despite its vast size, China is land poor, with only 20 acres of arable land per 100 people, according to the World Bank.
The result is a boom in demand for food imports that has been a windfall for U.S. farmers.
To feed its rising middle class, China has, often reluctantly, turned to other global food producers. In the four years after China joined the World Trade Organization in 2001, and agreed to lower tariffs designed to protect local farmers from import competition, U.S. farm exports to China nearly tripled $5 billion, according to the US Department of Agriculture. As of 2013, the latest figures available, China represents a $26 billion market for U.S. grains, meat, dairy products, fibers and other goods.
While the U.S. is the top provider of Chinese food imports, it is not alone in feeding the world's most populous nation. Brazil, Australia, Thailand, Indonesia, Malaysia, Canada and Argentina are among American farmers' top competitors in supplying China with food.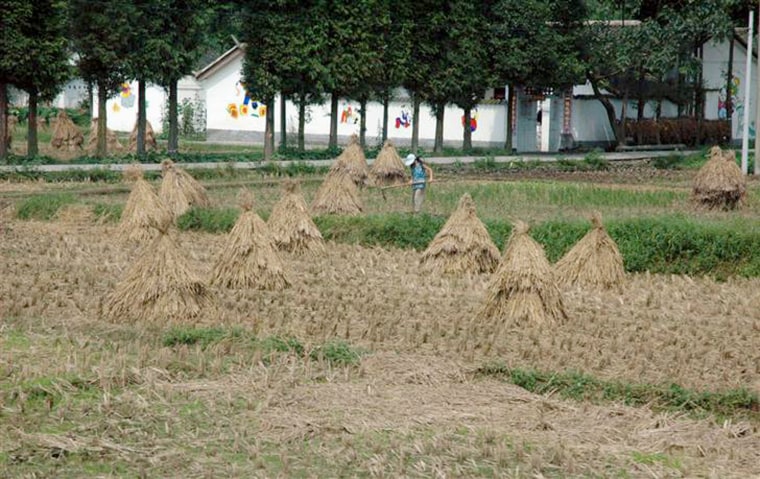 "China's inability to meet all the increased demand from domestic production renders exciting opportunities to food exporting countries such as Australia," glowed a 2012 report on China's booming appetite for food imports by the Australia's Department of Agriculture, Fisheries and Forestry.
That trend isn't likely to reverse in the short term either.
China's political leaders have several reasons to remain intently focused on raising wages, not the least because their power relies on maintaining the momentum of rising living standards to avoid social unrest. The goal of keeping incomes rising — or at least maintaining the prospect of a better standard of living — is a critical element to the regime's popular support.
The pledge was repeated in 2012 when the outgoing regime of President Hu Jintao pledged to double household incomes within a decade.
Beijing's economic policy makers are also hoping that rising disposable incomes will also help wean the economy off the heavy investments in infrastructure and state-owned companies that have been the main driver of China's economy for over a decade. Those heavy investments have left China with a massive pile of bad debt and reliance on state investment that many observers say is unsustainable over the long run.
Despite rising wages, consumer spending as a share of China's economy has been falling for the last six decades — from 76 percent of gross domestic product in 1952 to some 28 percent in 2011, according to a report this year by economists at the Demand Institute.
"That fall will soon flatten out," the authors wrote. "Without a substantial intervention, however, we believe consumption's share of China's economy is unlikely to rise substantially before 2025."
Video produced by Quin Chen, Kurumi Fukushima, Zack Guzman and Brandon Ancil Animation by Stephanie Swart