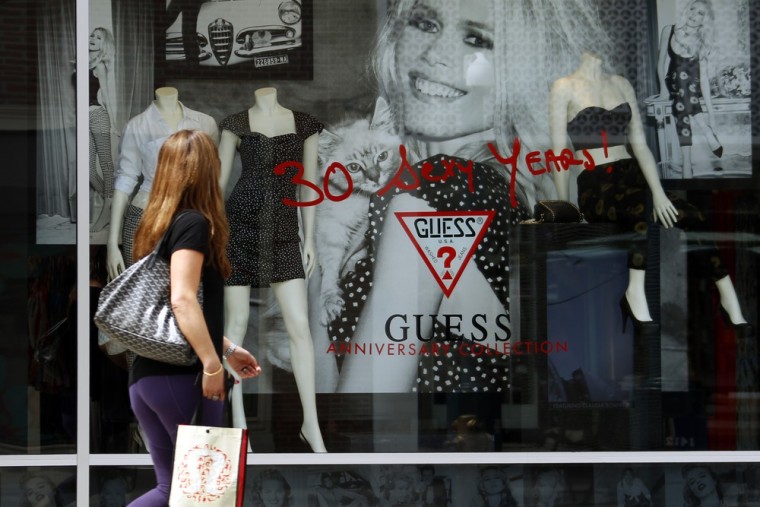 As government and businesses cut back on spending in the first three months of the year, the American consumer came through.
The pace of a feeble economic recovery slowed to a 2.2 percent annual rate, according to the Commerce Department's initial attempt Friday to add up the total output of goods and services produced by the U.S. economy. That's down from a 3 percent rate as 2011 ended.
The report was a disappointment for economists and forecasters who had been expecting a slightly better showing. But few saw any troubling new signals in the data, which confirmed that the current recovery is the slowest in memory.
"There's nothing catastrophic happening, this is just slow growth and this underscores that the economy is on sound footing but nothing more," said Steven Baffico, chief executive at Four Wood Capital Partners in New York.
Some slowing had been expected, in part because of a large impact on the data from a big swing in inventories. In the last three months of 2011, inventories added $54 billion to growth; that number fell to $17 billion in the first quarter.
More of those goods flowed all the way through the pipeline in the first quarter, boosting final sales by 1.6 percent, up from 1.1 percent in the fourth quarter. Final sales are closely watched as a measure of the changes underlying economic demand. 
The most encouraging news was that, even with a weak job market, sluggish wage gains, and higher gasoline prices,  consumers are holding their own. Personal consumption rose 2.9 percent in the first quarter, a healthy bump from the 2.1 percent gain in the fourth quarter of last year. Those gains follow quarterly increases of 1.7 percent in the third quarter and just 0.7 percent in the second quarter of last year.
Much of the gain came in purchases of durable goods, especially car sales. Auto dealers have seen a boom in traffic as an aging fleet of American clunkers, patched together during the recession, finally wear out. Higher pump prices have also increased the appeal of new fuel-efficient models. The result is that motor vehicle sales alone added 1.1 percent to overall GDP growth, the biggest boost from that sector since government's Cash for Clunkers program in 2009.
It remains to be seen whether the strength in consumer spending will continue. Some of the boost may have been the result of unseasonably warm weather in much of the country. And with personal incomes up by 0.4 percent in the quarter, households paid for the increased spending by dipping into savings. Unless wages begin rising more quickly, those savings will eventually be tapped out.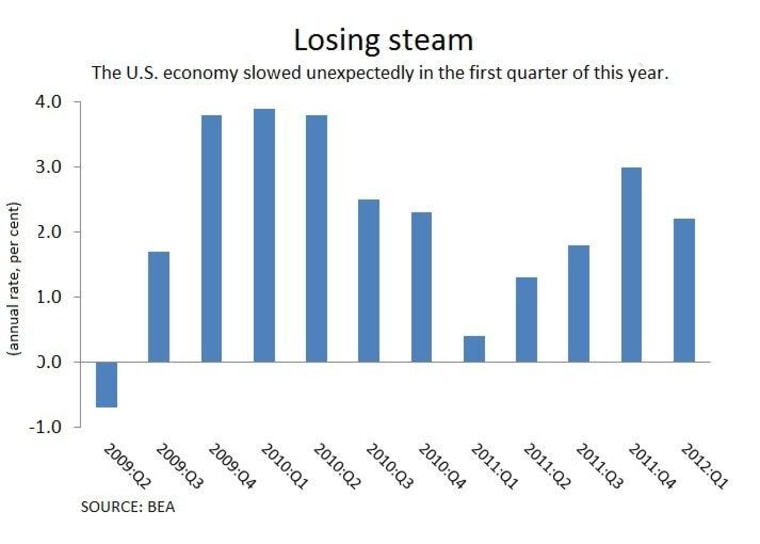 Consumers remain optimistic, but wary, that a stronger job market may help boost their income. Though consumer confidence was largely unchanged in April, American households believe the economy is improving, according to the latest Thomson Reuters/University of Michigan Survey of Consumers. That optimism, though, is based on two critical events, according to Richard Curtin, director of the survey.
One is that jobs become more plentiful and the other is that gasoline prices continue to edge downward.
"Both are widely expected by consumers, and these expectations are anchored well enough to withstand temporary disappointments," he said. "But without renewed gains in jobs and incomes, economic optimism will remain at lackluster levels."
The faster pace of consumer spending was offset by cutbacks in outlays by government and businesses. Though smaller segments of the overall economy, the pullback by those sectors created a significant drag on growth.
Led by cuts in defense spending, overall government spending fell at a 3 percent annual rate in the first quarter. Federal spending dropped for the fourth time in six quarters. Combined with cuts in state and local government, government belt-tightening knocked more than a half percentage point from first quarter GDP.
"It's hard for the economy to accelerate when the government has its foot on the brake," said economist Joel Naroff.

With more than $1 trillion in spending cuts scheduled to hit at the end of this year, the economy faces a giant speed bump - some have called it a fiscal cliff - if Congress and the White House don't act to delay the cuts.
Businesses also pulled back in the first three months of the year, cutting spending for the first time since late 2009. Investment in equipment and software rose at its slowest pace since the recession ended. Overall, business spending dropped at a 2.1 percent annual pace after rising at 5.2 percent rate in the fourth quarter of last year.
The cutback could represent a temporary lull or an omen that businesses are getting more defensive amid signs that the global economy is slowing. Renewed financial turmoil in Europe and recent reports of slower growth in China have likely contributed to that cautionary outlook.
"  Wi th  headwinds continuing to blow — slower growth in the rest of the world will affect exports and planned fiscal tightening will take effect later this year — we think that the economy will continue to grow at a sub-3 percent pace for the foreseeable future," said Wells Fargo economist Jay Bryson.