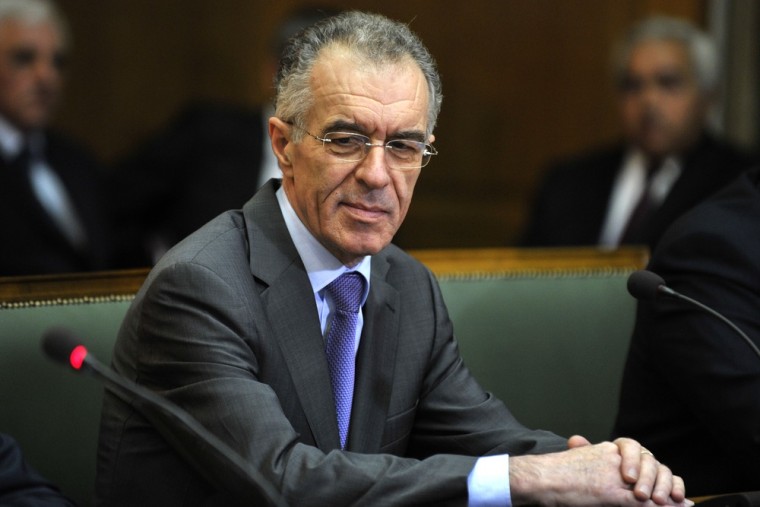 Vassilis Rapanos, Greece's finance minister-designate, resigned Monday after being hospitalized for several days even before he could be sworn in to what would likely be one of the more thankless jobs in international finance.
The office of Greek Prime Minister Antonis Samaris said it accepted Rapanos' resignation after receiving a letter from the ailing official, who is 64. Rapanos had been rushed to the hospital Friday after complaining about dizziness and abdominal pains. He was to be released from hospital on Tuesday, but no further details were available.
His resignation tosses a monkey wrench, for now, into Greek plans to renegotiate the crippling austerity program it agreed to in exchange for aid to prop up its debt-burdened economy. 
Samaras himself was released from hospital Monday after undergoing eye surgery to repair a detached retina over the weekend, but will have to stay home for several days.
Rapanos' resignation came as Germany tamped down expectations that this week's European Union summit Thursday and Friday would emerge with any significant action on Greece.
The EU summit comes just a week after Greece's new coalition government was formed following months of political turmoil and two inconclusive elections. It was to have been a key test of Athens' hopes of renegotiating some of the austerity measures it has agreed to in return for billions of euros in rescue loans from the International Monetary Fund and other European Union nations that use the joint euro currency.
It was to have been preceded by a visit to Athens starting Monday of Greece's debt inspectors, known as the Troika — representatives from the European Commission, the European Central Bank and the IMF. But that visit was postponed until Samaras can recover.
Without the troika report on Greece's progress in economic reforms required by its international bailout, Germany said it would be premature to expect any new decisions this week. Samaras has been pressing Greece's creditors to revise the bailout deal, which is despised by many ordinary Greeks.
Greece will still be present at the EU summit, sending a delegation with outgoing Finance Minister Giorgos Zanias, one of the key negotiators in Greece's bailout agreement. As Rapanos fell ill before he could be sworn in, Zanias still holds the title.
And the delegation will be led by the country's president, 83-year-old Karolos Papoulias, the government announced Monday. While the presidency in Greece is a largely ceremonial post, his presence would adhere to EU regulations about summits.
It was unclear when the postponed troika visit would take place.
"First, our concern is for the health of the prime minister and finance minister," European Commission spokesman Amadeu Altafaj Tardio said in Brussels, adding that debt inspectors would head to Greece "as soon as possible."
Samaras' government, comprised of his New Democracy conservatives, their long-time socialist rivals PASOK and the small Democratic Left party, has issued a policy statement outlining changes it would like to make to the terms of its international bailout. Those include repealing certain tax hikes, freezing public sector layoffs and extending by two years the mid-2014 deadline for tough austerity measures.
Whether Greece can amend the terms of its loan agreement will depend on how the proposals are viewed by its international creditors. Germany, the largest single contributor to eurozone bailouts, has repeatedly said Athens must stick to its austerity pledges.
"One thing is clear," German Foreign Minister Guido Westerwelle said from Luxembourg. "We cannot allow everything to be negotiated again. We can also not allow discounts to be granted. What has been decided upon stands. That the (Greek) election campaigns have cost time is obvious. That's the situation and we have to deal with it. But the fact remains that the agreements must be implemented."
Seibert also stressed that Greece must stick to its commitments.
"A program has been agreed upon, a program goes for every government, no matter if it's a new government, and the program is the best way to see Greece return to economic health," he said.
In Brussels, Altafaj Tardio also stressed that "Greece has to face its financial obligations," adding that before any further funds can be disbursed "there has to be a thorough analysis."
"It's no secret that there have been delays in several areas of implementation," he added.
The latest figures released by the finance ministry Monday showed that Greece's budget deficit for the first five months of the year was better than expected, standing at €10.87 billion ($13.63 billion) instead of the target of €12.89 billion ($16.17 billion) on a modified cash basis.
Revenue, however, was below target with the state budget net revenue standing at €19.67 billion ($24.56 billion), €926 million ($1.15 billion) short of the targeted €20.6 billion ($25.73 billion), due in part to lower domestic consumer demand and lower tax revenues.
The ministry said "this revenue shortfall was more than compensated for by the savings in State Budget expenditures for the first five months of 2012."
Reuters contributed to this report.