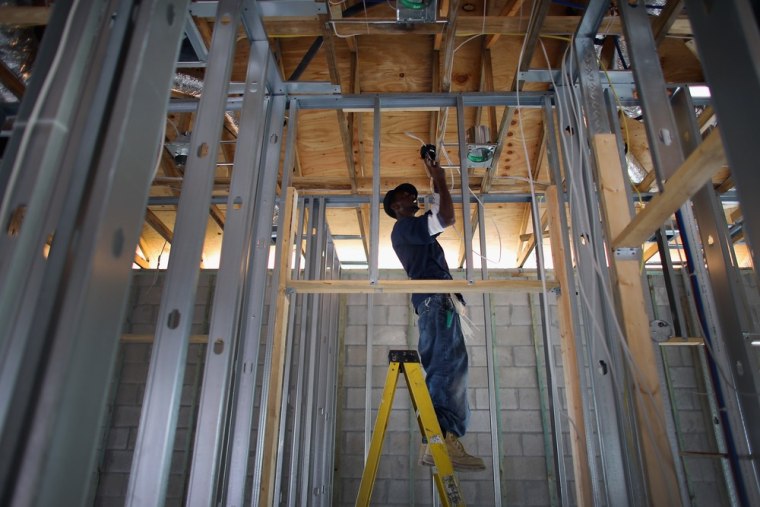 After four years of government prodding – from federal stimulus spending to the Fed's historic easy-money policies – the U.S. economy finally is showing signs of sustainable growth. 
But it's not out of the woods yet.

The hopeful signals are coming from a broad range of indicators - from upbeat reports on home and car sales to business investment and manufacturing orders. Those reports have raised hopes that the ongoing move to balance the federal budget with tax increases and spending cuts won't dampen the emerging recovery.

"We think the U.S. economy will be able to power through that this year – even with the drag," said Tony Fratto, an economist at Hamilton Place Strategies and former Treasury official under President George W. Bush.
But when Federal Reserve officials wrap up their two-day meeting Wednesday, they're widely expected to continue to keep their foot on the gas pedal by extending their aggressive program of holding interest rates near zero. 
Though some critics think it may be time for the central bank to begin winding down its epic easy-money strategy, Fed policy makers have already promised to stick with it until the unemployment rate falls below 6.5 percent.  

The halting pace of the recovery is expected to be highlighted Wednesday when the government takes its initial estimate of the growth of gross domestic product for the last three months of 2012. Analysts polled by Reuters expect the report to peg expansion at a weak 1.1 percent annual rate, down from a 3.1 percent rate in the previous three months.

But a basket of separate reports this week is expected to confirm the marked pickup in growth as the year drew to a close. 

Orders for durable goods jumped by 4.6 percent in December, the Commerce Department said Monday, more than double what private forecasters had expected. Though many business managers complained loudly that uncertainty in Washington had left them unwilling to take on new workers, they were busy investing in new plant and equipment to keep up with rising demand from customers.
"CEOs may have been worrying about falling off the cliff but demand for big-ticket items still soared," said Joel Naroff, chief economist at Naroff Economic Advisors.
The report followed wider signs of a broad pickup in demand throughout the economy. Rising home sales, which began to pick up in the second half of last year, continue to push prices higher, helping convince reluctant buyers and sellers that the market has finally bottomed out.  
Car sales jumped 16 percent in the fourth quarter of last year compared to the previous year, and are on pace for another annual sales increase. Automakers will report monthly sales on Friday and are expected to post another month of robust demand. The prolonged sales downturn during the Great Recession left behind an aging fleet of cars and trucks that buyers are now replacing.  

Despite a lackluster holiday shopping season, overall retail sales in the last three months of the year were up 6 percent from a year ago. Manufacturers are also seeing a solid pickup in orders for new goods. Lower energy costs -- the result of an ongoing boom in natural gas production -- have helped them win bids against low-cost foreign competitors. 

But unemployment remains stubbornly high, as the latest reading, due this Friday, is expected to show. Economists are looking for a net gain of just 163,000 new jobs for the latest month. That's barely enough to keep up with population growth and not enough to move the needle of the unemployment rate which forecasters expect to remain stuck at 7.8 percent.

To be sure, the Fed's easy money policy is helping some households – especially those with investments in the stock market. With interest rates at near zero, investors looking for a positive return have few alternatives. 
Stocks are up 15 percent since June. In January alone, investors sank $55 billion in new cash into stock mutual funds and exchange-traded funds, the biggest monthly inflow on record, according to TrimTabs Investment Research. 
Fears of a financial meltdown in Europe have faded. Last year's worries about a sharp slowdown in Asia have eased for now. And despite continued threats of political disruption in Washington, the long-running battle over the federal budget seems to be inching toward resolution.

On Monday, credit rating agency Fitch said last week's deal to delay suspension of the country's debt limit have reduced the odds that it might strip United States of its AAA rating. Another rating agency, Standard and Poor's, cut the U.S. debt rating one notch after the last debt ceiling debacle in July 2011 pushed the Treasury to the brink of defaulting on its bonds. 

But the recovery remains weak by historical standards. Four years after a recession, pent-up demand typically produces a strong rebound in growth and a sustained hiring spree by employers. So far, that hasn't happened. 
Most forecasters expect the slow steady pace of expansion to continue through this year and into 2014, with the unemployment rate gradually falling. 
The consensus sees GDP picking up to a 2.7 percent annual rate by the end of this year and 3.0 percent by the end of 2014, according to the latest survey by Blue Chip Economic Indicators. That pace is expected to pull the unemployment rate down to 7.5 percent by the end of this year and to 7.0 percent by the end of next year.
If that scenario plays out, it will be awhile before the Fed reaches its 6.5 percent jobless rate target and begins to throttle back its money-making machinery.         

"At some point were going to have to wean ourselves off that kind of support," said Fratto. "And I think we're going to see that this year. But we have to go through that – and it's going to bode well for the future."