Congressional gridlock is threatening the already thin lifeline of Social Security benefits that nearly 9 million disabled American workers rely on to feed, clothe and shelter their families.
Known as SSDI, the trust fund is one of two administered by the Social Security Administration (the other is for senior citizens), and its reserves will run dry in late 2016, if lawmakers don't act sooner to shore them up. But the timing is poor; it falls in an election year and experts say it could become a target for political infighting as Americans gear up to go to the polls.
Sign up for top Business news direct to your inbox.
"I think it'll probably come down to the wire," said Mark Duggan, a professor of business economics and public policy at the Wharton School of the University of Pennsylvania.
And that's what worries people like Erica Choy. The 45-year-old San Francisco resident is struggling to raise the youngest four of her five kids on about $2,100 a month, a combination of SSDI and SSI — supplemental security insurance. "It's a constant struggle for us," she said.
"We don't have enough to pay the PG&E bills," she said of her power company. And although three of her kids needed braces, she had to pick just one — even on a payment plan, it was all the family could afford.
"It's like, who do you choose … and trying to tell your children it's not because you love one more than the other," she said.
"For folks who are at the very edge of their financial resources … this is going to have serious consequences."
Karl Robillard, communications and outreach senior manager for the nonprofit St. Anthony Foundation in San Francisco, sees the challenges facing his clients, including Choy.
"It's an indication of how our social safety net is fraying," Robillard said. "In some ways they've already fallen through what's already an eroding safety net."
After Choy's husband suffered brain damage in a fall, short-term memory loss made it hard for him to hold down a job at places like Home Depot or UPS, and his former career as an X-ray technician was out of the question, she said. A fracture in her back left her unable to return to work at either of her former jobs at a day care or a collections agency. The family collects about $500 a month in food stamps and lives in a three-bedroom subsidized apartment; monthly rent costs a third of their Social Security benefits.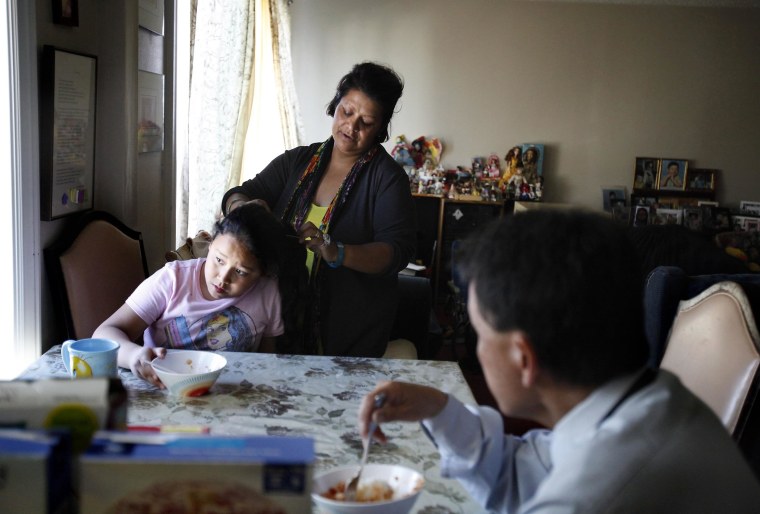 The empty DI reserves aren't a surprise.
"When Congress last reallocated the tax rates between the programs, they actually projected it would be adequate through 2016," said Kathy Ruffing, a senior fellow at the left-leaning Center on Budget and Policy Priorities. Past reallocations have sometimes gone the other way around, she pointed out, funneling more money into the retirement pool at the expense of the disability program.
Sen. Sherrod Brown, who chairs the Subcommittee on Social Security, Pensions and Family Policy, argued in a May hearing that Congress should reallocate the disability trust fund. "Reallocation is not controversial," the Ohio Democrat said at the hearing.
Experts are skeptical, though. Formerly uncontroversial legislation like raising the debt ceiling has become a platform for political skirmishes, and the election-year timing might prove to make disability insurance a tempting target.
"My expectation is that Republicans will demand a price for changing the allocation," said Wharton's Duggan. "I think ultimately that is what will happen, but whether or not there will be reform bundled with that will be interesting to see."
Playing chicken with the trust fund would be devastating, Ruffing said. "If Congress allows the disability trust fund to run dry, then what will happen is benefits to all recipients will be cut by approximately 20 percent, which is obviously an unacceptable outcome," she said. "It's a completely unnecessary form of brinkmanship."
Robillard said when the stimulus-related supplemental food stamp funding expired last fall, the number of families St. Anthony's serves in its soup kitchen skyrocketed. "For folks who are at the very edge of their financial resources … this is going to have serious consequences," he warned.
SSDI provides an average monthly benefit of a little more than $1,100. Social Security Administration data as of December 2012 show that just over 7 percent of disabled workers get less than $500 a month, and roughly a quarter get between $750 and $999.
"We find that DI payments account for the majority of family income for nearly half of all beneficiaries," a 2013 Urban Institute report said. "Many DI beneficiaries live in poverty."
"People are not getting rich off SSDI benefits," said Kristin Lupfer, project director at the Substance Abuse and Mental Health Services Administration's SSI/SSDI Outreach, Access, and Recovery Technical Assistance Center. "It's definitely a myth that getting by on benefits is easy."
Choy is far from the only American struggling to raise a family on these meager payments. The average age of recipients has dropped even as program participation has risen, a function of a growing population overall, more women in the workforce and the large Baby Boomer demographic reaching the age when disabilities are more likely to hinder their ability to work. Changes made in 1995 also made it easier for people with certain types of disorders to obtain benefits.
"The place where there's been truly explosive growth is in musculoskeletal conditions and mental health disorders," Duggan said.
"People are not getting rich off SSDI benefits. It's definitely a myth that getting by on benefits is easy."
This swelling of the SSDI rolls and the impending depletion of its trust fund reserves puts this already-vulnerable population in the political cross-hairs. The crux of the argument is whether or not disability recipients can and should work — a determination that's especially hard to make with "invisible" ailments like mental disorders or bad backs.
While stories about disability fraud do make headlines, these represent "a very small minority" of SSDI recipients, according to Lupfer. "In reality, it's extremely difficult to get approved for disability benefits," she said.
Applications for SSDI do tend to rise during bad economies, but people aren't accepted at a greater rate. In 2013, just under 34 percent of applications were approved for benefits.
Some critics of the program's growth say workers are using disability as a kind of extended unemployment insurance. "We just don't see it in the data," said Columbia Business School assistant professor of finance and economics Andreas Mueller, who conducted research to find out if this was true. The people who apply for unemployment benefits and disability insurance are two different groups, he said.
Matthew Rutledge, a research economist at the Center for Retirement Research at Boston College, said another way economists tried to ferret out the scope of legitimate disability was looking at the subsequent labor market participation of people whose disability applications were narrowly turned down.
"They find that most of them don't work ... and a fair number wind up reapplying," he said. "The large majority are people who definitely deserve to be on the program. If anything, these numbers suggest that there are people who should be on the program who aren't getting on," he said.