There's gold in them dry hills!
Or gold seekers anyway. And they see a historic opportunity in California's historic drought.
Low water levels have led to a mini gold rush in the same Sierra Nevada foothills that drew legions of fortune seekers from around the world in the mid-1800s, as amateur prospectors dig for riverbed riches in spots that have been out of reach for decades.
"With the drought going on, we're able to dig in more locations that wouldn't be accessible at later times," said Tim Amavisca, who wore waterproof overalls as he panned in the Bear River near Colfax with his teenage daughter on a recent Friday afternoon.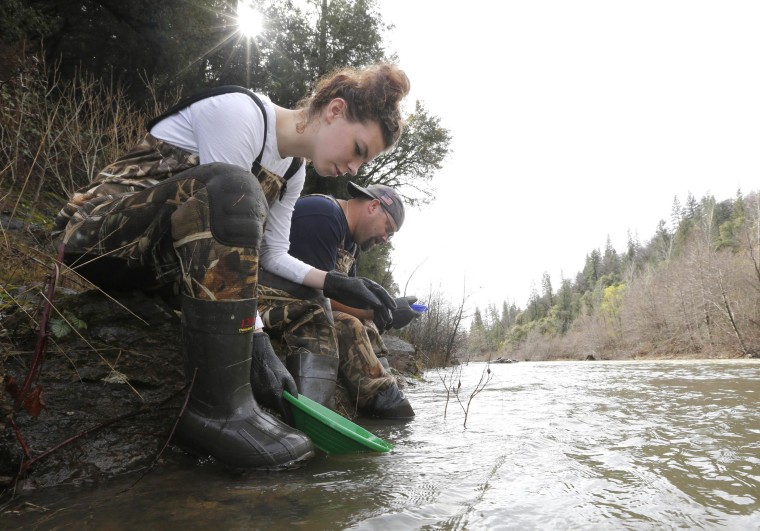 Amavisca, a 38-year-old from Sacramento who recently left the military, has been prospecting several times a week this winter — a time when it's usually raining and river levels are too high for gold panning.
One of the worst droughts in California history has prompted the state and federal governments to severely cut water supplies to farms and cities. It's also left rivers and streams at dangerously low levels, imperiling fish and wildlife.
The drought has exposed old roads, bridges, railway lines and junked cars that are usually submerged in lakes and reservoirs. At the Folsom Lake reservoir, the water's retreat revealed the remnants of a Gold Rush mining town called Mormon Island, which was flooded when the dam was built in the 1950s.
In mountain rivers and streams, the record-low flows have uncovered new chances to earn some extra money, especially with gold selling for more than $1,300 an ounce.
-- The Associated Press