The U.S. economy gained a whopping 313,000 jobs in the month of February, blowing economists' expectations of 205,000 out of the water.
The jobs numbers for previous months were revised upwards, said the Department of Labor, marking an average gain of 242,000 for the last three months.
Monthly data released Friday morning by the Bureau of Labor Statistics showed that for the fifth straight month, unemployment held at a steady rate of 4.1 percent, still the lowest level in 17 years.
The only black cloud was wage growth, which was up just 0.1 percent.
"The gain in average hourly earnings of 2.6 percent over the past year is less-than-stellar for workers, but also helps to calm inflation fears," said Mark Hamrick of Bankrate. "Having said that, if we see the February payrolls number sustained, that keeps the inflation question very much in play."
The markets responded swiftly, with Dow futures leaping 200 points early Friday on investor confidence that the economy remains strong.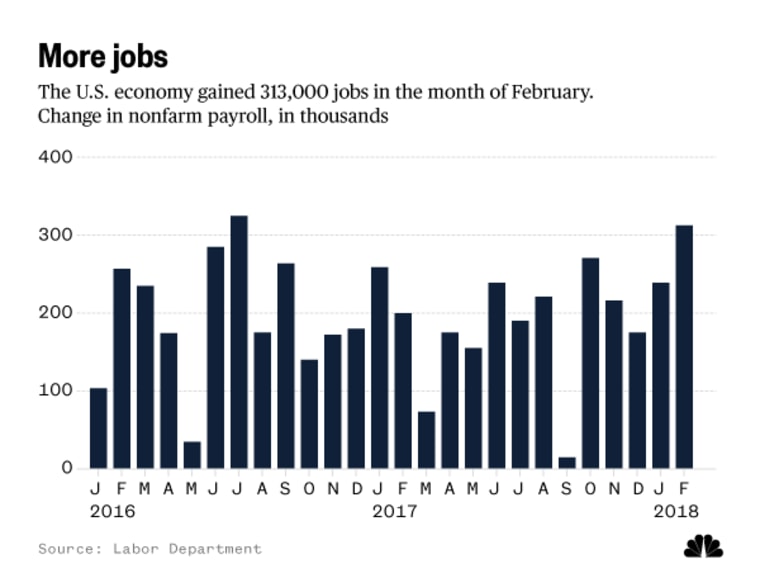 "Today's employment report likely seals the deal for a rate hike by the Fed later this month, and certainly raises the chances that we'll see four hikes in 2018," said Steve Rick, chief economist at CUNA Mutual Group.
Highest gains were to be found mainly in blue-collar sectors: Retail positions were up 50,000, construction gained 61,000 jobs, and the manufacturing sector saw an increase of 31,000 workers.
CORRECTION (March 9, 2018, 11:18 a.m. ET): A previous version of this article, as well as the headline, misstated the most recent period with a bigger jobs gain than in February. It was July 2016, not 1983.