The E.U. is returning fire in a trade tiff with the U.S., threatening to counter President Donald Trump's proposed steel and aluminum tariffs with an estimated $3.52 billion in new duties on a slew of iconic American products from peanut butter to bourbon, and jeans to Harley-Davidson motorcycles.
European Commissioner for Trade Cecilia Malmström said Wednesday that the group had prepared an initial list of U.S. goods that will see higher tariffs in Europe if the White House imposes Trump's proposed penalty of 25 percent on steel and 10 percent on aluminum.
"Certain types of bourbon are indeed on the list, as are other items such as peanut butter and cranberries, orange juice, etc.," Malmström said. The full list will be published "very soon."
Some had hoped that free trade voices inside the White House would prevail. But with top economic adviser Gary Cohn out, so, too, are hopes of moderation.
"This is basically a stupid process, the fact that we have to do this. But we have to do it," E.U. Commission President Jean-Claude Juncker said last Friday. "We can also do stupid." He also said there could be new taxes on Harley-Davidson, Levi's and bourbon.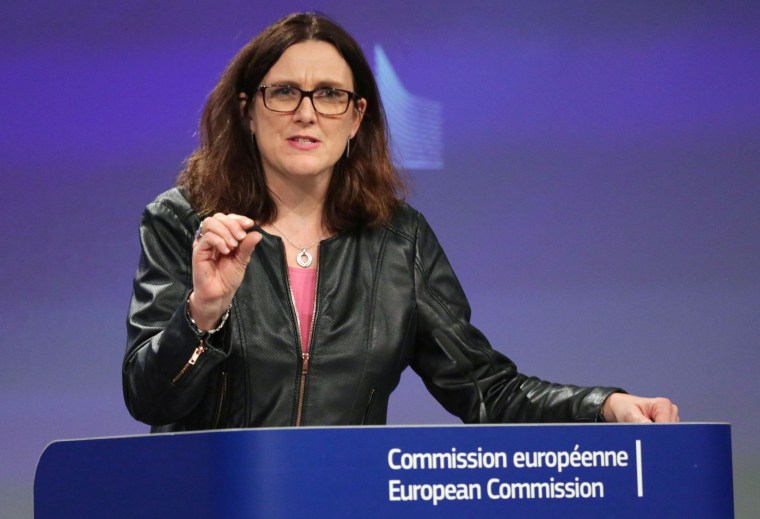 The White House has attempted to downplay the trade war and Trump opened up the possibility that his "us against the world" stance could soften, for "friends" and for a price.
In a tweet Monday, Trump suggested that he might relax trade tariffs against steel and aluminum for Mexico and Canada — if NAFTA were renegotiated on terms more favorable to the U.S.
"There are potential carve-outs for Mexico and Canada, based on national security, and possibly for other countries as well," White House press secretary Sarah Huckabee Sanders said Wednesday.
Steel worker unions applauded the move but critics argue that it could raise costs for consumers and business.
"If these tariffs are implemented with a broad brush, it will have the potential to backfire, cost us jobs at home, force consumers to pay higher prices for goods, and ultimately hurt our economy," Rep. Erik Paulsen, R-Minn., chairman of the Joint Economic Committee, told NPR News.
Among those hurt are farmers, who are reliant on export markets and tend to get caught in the cross-fire of escalating trade wars.
"President Trump is a unique negotiator," Agriculture Secretary Sonny Perdue said this week. "Sometimes he keeps people off balance, even his own staff."