A new foothold for the unsteady working class might be found on the floor of giant e-commerce warehouses springing up across the country.
Entire towns are becoming hubs for these "fulfillment centers" that offer internet retailers the ability to move their boxes more quickly from your click to your doorstep. The million-square-feet, jobs-building juggernauts also give a unique boost to the lower-income, lower-skilled workers previously left out of the country's economic recovery and technological transformation.
In Tracy, California, a sleepy former agricultural zone that would perhaps be unremarkable if it weren't for its location at the nexus of major highways and proximity to the port of Oakland and a nearby airport, the town's economy has tilted towards catering to its new economic engine.
"It's a fulfillment center boomtown," Tracy's mayor, Robert Rickman, told NBC News.
Amazon, Costco, Crate and Barrel, FedEx, Medline, Safeway, Smuckers, and U.S. Cold Storage have all set up shop. Tracy town leaders have been planning for years to transform the farmland into a launchpad for the new e-commerce economy by annexing underutilized land for redevelopment, new infrastructure, tax rebates, tax deferment, and other incentives.
So far, it's paying off. Since 2014, net job growth is at over 6,000; sales tax revenue has gone up 35 percent; and property tax revenues are up, said Rickman. The town's population has almost doubled, going from 50,000 in 2000 to 90,000 this year. New hotels, roads, restaurants, and a sports center for the town are being built.
Ripple Effect in the Local Economy
Kevin Geipel, 29, recently opened a boutique "hungry man" sandwich shop in downtown Tracy. A former food services fulfillment center worker, he now sells a lot of sandwiches to fulfillment center workers. He says the growth of the retail distribution centers have helped transformed the community.
"We've typically had kind of a boring downtown, and in the last few years it's started to pick up," he told NBC News. "People are in town more. They're not commuting three hours a day after working an eight- or 10-hour day. They're actually here and have the energy to go out and eat."
His clientele offers a snapshot of the town's growth trajectory.
"We've seen a lot of [people in their] early 20s who are just getting started, getting their first jobs in distribution, fulfillment — and then a lot of families, which are more the management side of things; and then the construction that goes into it."
As brick-and-mortar retailers across America close locations, lay off employees, and enter or flirt with bankruptcy, major online retailer distribution centers have grown in places like San Joaquin County in California; Detroit, Michigan; central Pennsylvania; and Dallas. Even areas not typically known for being distribution hubs — like Richmond, Virginia; and Delaware — are shipping a lot of packages, creating jobs, and revitalizing downtown areas.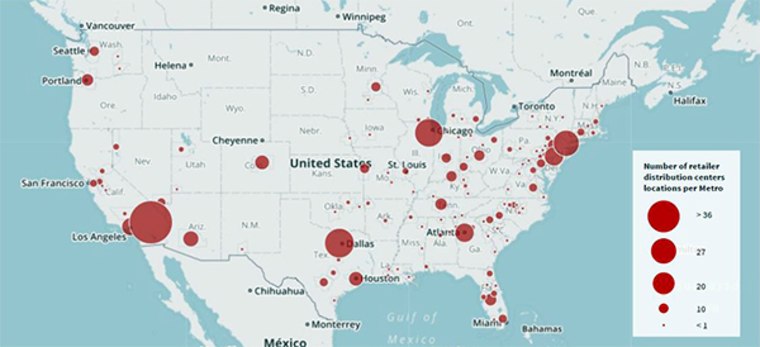 A Hiring Frenzy
The national economy may be gaining an average of around 172,000 jobs a month this year, but for workers who didn't go to college, unemployment remains at 5.5 percent, above the overall unemployment rate of 4.3 percent.
"Fulfillment towns" could certainly make a dent in that. Amazon announced this week that it would be hiring 50,000 people on August 2, mainly for warehouse positions, during its inaugural "Amazon Jobs Day" at 10 fulfillment center sites from Washington State to New Jersey. The company had previously canceled a planned job fair in Jacksonville, Florida for its new fulfillment center there, its fourth in the town, due to overwhelming response for the 1,500 new positions.
That stands somewhat in contrast to predictions about the death of retail and continued erosion of jobs by technology. By one estimate, the e-commerce industry in the past 10 years has created 397,000 U.S. jobs in the U.S., compared to 76,000 retail jobs lost, wrote Michael Mandel, chief economic strategist at the Progressive Policy Institute in Washington, in a new report. And the new jobs pay about 30 percent more, he said.
Mandel also argues that more jobs are being created as some of the "unpaid labor" that shoppers used to do schlepping products from the mall to their homes is being redistributed into e-commerce.
He cites a decline in shopping hours of 64 million per week since 2007, equivalent to 1.5 million jobs. Some of those hours are turning up as new positions in fulfillment centers.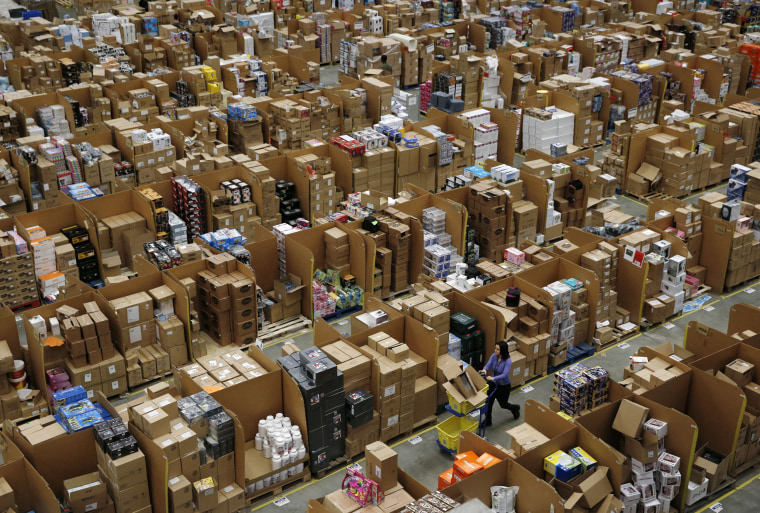 Warehouses: The New Assembly Plant
It's an unorthodox view with an alluring upside: Manufacturing jobs may have been largely restructured out of the economy — but in a way, e-commerce retail distribution centers may represent the return of a different kind of factory job with some health and work benefits.
They're like little manufacturing facilities but "instead of making goods, they're making boxes filled with goods," Rene Circ, director of research at CoStar Portfolio Strategy, a commercial real estate information firm, told NBC News.
The new economy jobs aren't necessarily a total replacement for the unskilled jobs lost in the Great Recession, however; and the "fulfillment" these fulfillment center jobs offer the working class could be fleeting. Average hourly pay is $12-$14, above minimum wage in many places, but more equivalent to a brick-and-mortar retail associate's pay than to manufacturing, where the median pay is about $19 an hour.
Some workers are temporary, hired for peak seasons, or permanent part-time and expected to work fluctuating amounts of overtime, which can create challenges for working families.
What About All Those Robots?
With the accelerating threat of automation, lower-skilled workers are in the greatest danger of becoming obsolete within the next 10-15 years. Amazon alone has 45,000 different robots. A recent study from the National Bureau of Economic Research found that from 1990 to 2007, every robot added to the workforce resulted in the loss of 3 to 5.6 jobs in the local area.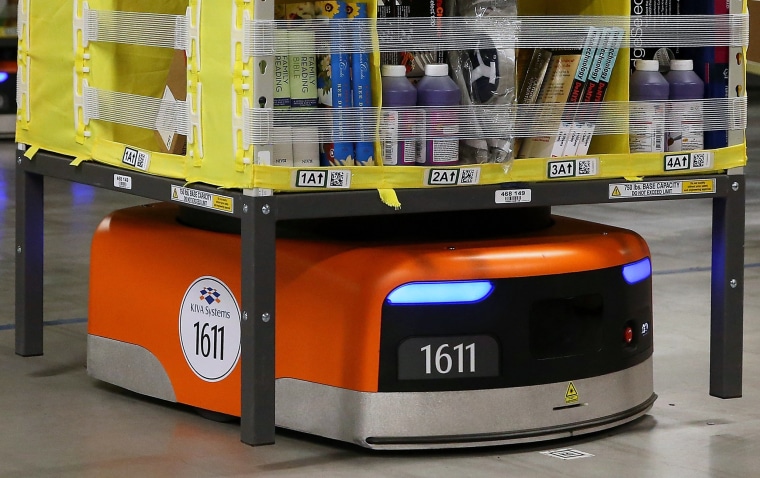 Robots in fulfillment center warehouses already move around towers of goods and automatically label packages, with human "pickers" placing items in boxes and spot-checking work. The easier the job, the more likely there's a robot being developed to take it.
Related: Amazon Just Patented a Package-Packer Bot
And with the relentless pace of development there's always the prospect that there will be a better way, at a different location, to get you next-day delivery of books, beach toys, or toilet paper.
While many of the leases are 10 to 12 years, not a bad horizon for a warehouse job, "there's no guarantee that as things evolve all of these jobs will stay the same," said Circ. "We can absolutely cannot think of [these jobs] as permanent."