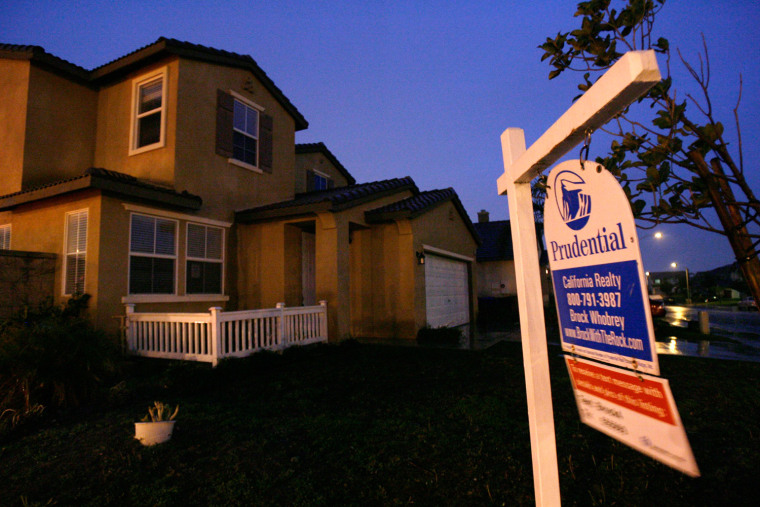 With millions of homeowners still underwater, some local governments are considering a novel solution: condemning their mortgages through the power of eminent domain.
"Federal programs have not been very successful at all, and the private programs have been of limited help," said Gregory Devereaux, administrator for San Bernardino County, explaining the government's decision to consider eminent domain, a plan the mortgage industry considers the equivalent of the nuclear option. The hard-hit county's board of supervisors is expected to meet Thursday to consider proposals to help homeowners, including the possible use of eminent domain.
There are several ways a local government could use eminent domain to write down mortgages, but the basic idea is fairly simple. Much like the condemnation of a piece of land for public use, the town or county would seek court approval to pay a "fair market" value to a lender or investor holding a homeowner's underwater mortgage. That amount would be substantially less than the unpaid balance. Once the seizure is approved, the local government would then offer to sell the smaller mortgage back to the homeowner, who would refinance the outstanding balance with a new loan.
Not surprisingly the idea has struck a deep nerve in the mortgage finance industry.
"It's absolutely a reflection of frustration, but that doesn't mean it's right and it doesn't mean it's responsible," said David Stevens, president of the Mortgage Bankers Association. "In cities or counties where they pass ordinances to do this they're going to make credit availability extremely limited. And that's just going to hurt recovery of those communities much greater than families that would be helped."
The idea has also drawn the ire of the Federal Housing Finance Authority, the regulator of government mortgage giants Fannie Mae and Freddie Mac, which last week threatened unspecified action to stop local governments from seizing underwater homes through eminent domain. Together, those government enterprises hold or guarantee roughly half of all mortgages outstanding.
Despite pressure from the White House and more than 100 members of Congress, FHFA acting Director Edward DeMarco recently repeated his opposition to the idea of writing down the balances of some mortgages held in the government's portfolio. That policy only further demonstrates the need to attack the problem on a local level, say proponents of the eminent domain idea.
"It almost doesn't matter what the federal government comes up with -- if they're not going to allow it, they're not going to allow it," said Robert Hockett, a Cornell University law professor who has written in support of the plan. "We'd love to see an FHFA with a different attitude toward principal write-downs. We'd love to see a different head of FHFA if that's what it takes."
San Bernardino, a sprawling county east of Los Angeles, twice the size of Massachusetts, has been hit hard by the housing bust. The county unemployment rate stood at 12.6 percent June, one of the highest in the nation. Median home prices have fallen to $150,000 from a peak of $370,000. The foreclosure rate is among the highest in the country. With its tax base badly eroded, the city of San Bernardino recently filed for municipal bankruptcy after disclosing a $46 million budget shortfall. 
"Our issue is not the individual homeowner," said Devereaux, the county administrator. "Our issue is our economy. And what is the moral rightness of keeping these people underwater and keeping our unemployment rate high because we can't get the housing market going again?"
The idea is being discussed in other municipalities, although it has not gotten far. In Chicago, Mayor Rahm Emanuel this week shot down the idea, saying eminent domain is the wrong tool to address housing problems, which he described as a national issue.
The well-established power of eminent domain has traditionally been applied more narrowly to claim property for new roads or facilities that at least arguably benefit the entire community. Critics say seizing individual properties would benefit only the homeowners who gets a break on their loan balance.
But proponents counter that local mortgage seizures would serve the public good because they would help boost local housing markets and speed economic recovery.
"They're using their power for the public good to improve the quality of life and services for their residents," said Steven Gluckstern, a principal in Mortgage Resolution Partners, a newly formed private company that is promoting the eminent domain plan. "It's a taking. It's a tough word. It's a local community saying, 'I can't stand by and watch the continued degradation of my community so I'm just going to take the loan.'"
The San Francisco-based company is in talks with about a half-dozen local governments about setting up mortgage condemnation programs, Gluckstern said. The company would manage the program and help homeowners refinance their mortgages in exchange for a $4,500 fee for each modified loan.
It is not clear whether efforts to use eminent domain in this way would pass legal muster. Each case would have to be approved by a judge, as is true in every eminent domain case.
"In eminent domain, (the local government) sues the investors: that's how it starts," Gluckstern said. "They have only two claims: one is that you don't have right to do this and the other is that you're not paying me fair value. Those two issues are part of any eminent domain case."
It also remains to be seen who would be the winners and losers if these plans move forward. Underwater homeowners certainly come out ahead. Depending on how the loans are valued, investors holding these mortgages could also benefit in the long run.
Proponents of mortgage write-downs argue that underwater homeowners are at much greater risk of default, which leaves lenders and investors with potentially big losses. That's why banks holding underwater loans commonly decide to cut the outstanding balance to keep the loan performing and avoid the losses that stem from a foreclosure. 
But many underwater mortgages written during the 2000s lending boom were pooled into trusts and sold off to investors. The complex contracts governing those trusts have severely limited investors' ability to modify a loan -– even when it's in their best interest.
"These contracts are effectively functioning as suicide pacts among bondholders," said Hockett, the Cornell professor. "They're preventing something from happening that would be good for the bondholders themselves."
By looking at the default rates of underwater borrowers, banks holding loans outright have come up with formulas to decide how far they can write down a mortgage and still come out ahead in the long run. In theory, the same should hold for mortgages held in trusts, according to Laurie Goodman, an analyst at Amherst Securities who recently analyzed the potential impact of eminent domain mortgage write-downs.
"Taking select loans out of a trust could conceivably result in a higher realized value for (the) investors," she wrote. "Using eminent domain is a novel (albeit aggressive) idea to reach this goal."
But the same trust contracts that have impeded investors from writing down loans also leave them with little protection from a local government that offers less than fair value when it seizes mortgages, she wrote.
Opponents of the eminent domain idea -- and of write-downs in general -- inevitably raise the issue of "moral hazard." Cutting the loan balance of a troubled homeowner will only encourage future borrowers to take on debts they can't pay back, according to this argument.
Both public and private efforts at loan modification have been bogged down from the start by the difficulty in identifying which homeowners should be helped and which should be left to fend for themselves.
"It's easy as an outsider to say the (Obama) administration that should have done more," said Stevens, a former FHA official. "But how do you implement a program and not sweep in irresponsible behaviors with responsible ones?"