As spring kicks off, states and businesses are just beginning to add up the bill of one of the coldest and costliest winters in memory. That total will likely total tens of billions of dollars after everything from pothole repair bills to lost productivity from grounded air flights are factored in.
The overall impact on the U.S. economy is hard to peg with any accuracy. But with a $16 trillion economy, just a one-tenth of a percent drag from missed work, canceled flights or lost retail sales amounts to $4 billion for the three-month winter season.
The chilling effect on the economy has been widely felt. Home sales were hammered—falling to a 19-month low in February—as many would-be buyers stayed put. In turn, car dealers saw foot traffic dry up once the snow started falling.
"This is a very unique winter, even talking with some of the old-timers who have been here longer than I have."
This winter's awful weather is already showing up in economic data. Federal Reserve Chair Janet Yellen last week told a Senate panel that the harsh winter has had an icy effect on consumer spending, which makes up about 70 percent of economic activity.
"A number of data releases have pointed to softer spending, and part of that softness may reflect adverse weather conditions," she said. "It's difficult to discern how much."
Snarled roadways and snowed-in airports accounted for much of the slowdown as those transportation bottlenecks kept workers and consumers from getting where they wanted or needed to be. Each major storm inflicts losses of as much as $300 million to $700 million in lost wages, taxes and retail sales for just a one-day shutdown, according to a study by IHS Global Insight.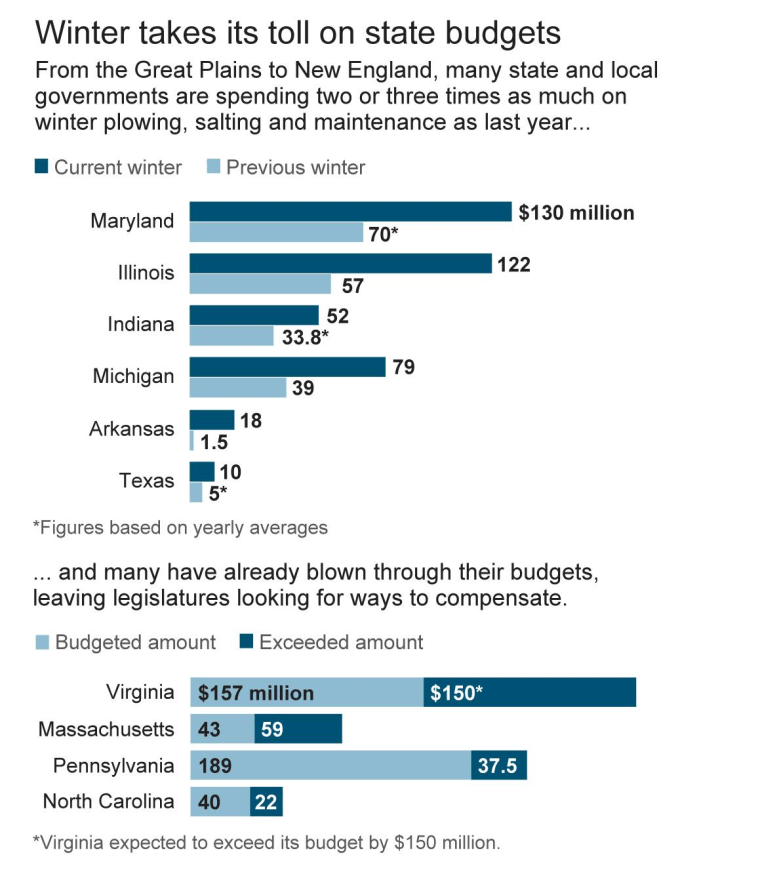 "This is a very unique winter, even talking with some of the old-timers who have been here longer than I have," Houghton County, Mich., highway engineer Kevin Harju, told the Associated Press. "You can get a lot of snow or you can get extremely low temperatures, but not both—except this year."
State and local governments from the Great Plains to the Upper Midwest, from the Deep South to New England, are now scrambling to fill holes blasted in their budgets.
Many spent two or three times as much as they budgeted. Virginia, for example, set aside $157 million for snow removal. The state's final bill may be nearly double that amount.
Consumers are taking a hit from a pothole epidemic that is costing drivers an estimated $80 billion in repair costs to fix busted axles and blown tires, according to TRIP, a transportation research and lobbying group.
The road ahead looks even bumpier. The spring thaw is already producing a widening hole in repair budgets—just as federal funding for road repair is drying up.
Air travel also has been problematic and costly for millions of stranded travelers grounded by a succession of flight cancellations and delays. With airlines running at near capacity in the best weather, the backups caused by snowstorms have taken longer to clear. New regulations governing pilot schedules and tarmac delays are also complicating the usual snafus brought by bad weather.
"This cumulative effect of the weather will have a big effect on profitability in the first quarter."
The total toll this winter on passengers, airlines and airports topped $6 billion to, according to masFlight, a software company specializing in airline operations.
More than a million flights in and out of U.S. airports were canceled or delayed since December, snarling travel for more than 90 million passengers. The lost productivity and out-of-pocket costs total about $5.3 billion, compared with a typical winter average of about $2.9 billion, according to masFlight estimates.
Airline earnings also took a hit, with as much as $500 million in added operating costs and lost revenue, according to masFlight estimates.
"This cumulative effect of the weather will have a big effect on profitability in the first quarter," Gordon Bethune, former CEO of Continental Airlines, told CNBC.
This winter is on track to be the fifth costliest since 1980 in terms of insured losses, according to the Insurance Information Institute. So far, an estimated $1.5 billion in damages has been paid out on more than 175,000 claims by policyholders. That figure covers only two of the four major winter storms to date. The costliest on record for damages was the Blizzard of 1993, which produced $5 billion in overall losses. But those numbers represent just the cost side of the ledger.
For every auto claim paid out, a repair shop enjoys a pickup in business—money that goes right back into the economy to boost growth. Even if some money is lost in that equation, much of it will likely be made up next year with higher insurance premiums.
Even though winter is over, a reliable estimate of the hit to the economy will take many more months.
"No one can jump to any solid conclusion until we shovel out of the snow," said the National Retail Federation's chief economist, Jack Kleinhenz.