Some kids don't want iPads, Xboxes or Frozen dolls for Christmas: They just want a place to call home.
New data point to a troubling rise in homelessness among America's poor families, which means more kids will be figuratively — and sometimes literally — left out in the cold this holiday season.
"For kids, safety comes from predictability. They need routine in their lives," said Carmela DeCandia, director of the National Center on Family Homelessness, which published a report last month finding that 2.5 million kids — one in 30 — were homeless at some point last year.
"They're in that constant state of trauma," said Dan Fuller, vice president of legislative relations at nonprofit group Communities in Schools.
This takes its toll on kids' physical and mental health.
Senquasha Parks
By the time she was 13, Senquaesha Parks had developed digestive difficulties and high blood pressure after years of homelessness. "All that stress and pressure built up," she said. "Honestly, sometimes I felt like I had no purpose, like I had no business being alive."
Today, 18-year-old Parks is a freshman at Georgia State University in Atlanta, after counselors and caseworkers at Communities in Schools intervened and provided support to help the honors student make it through her senior year. But for every story like Parks', experts say there are many homeless kids who just slip through the cracks.
"The key thing is this is vastly underreported," Fuller said. "There's a stigma attached to this." Families also often want to hide homelessness because it can mean that they're no longer in their kids' school district, creating more upheaval and threatening their academic performance.
This was the case for Parks. "It felt like I had to stay quiet about my living situation or how things were going," she said. She shouldered her emotional burden largely alone because she worried that she would lose her Advanced Placement credits if administrators found out where she was living and made her switch schools.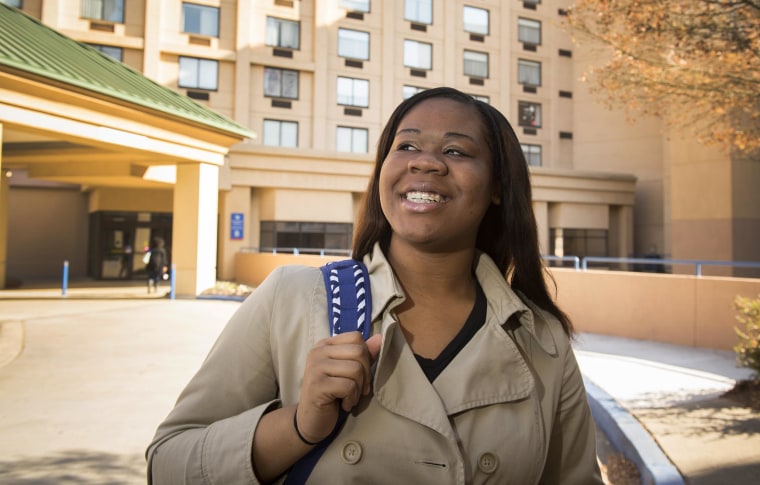 But sometimes these stories do make their way to the surface. One afternoon, when Parks missed the last bus and started the long walk home, another student offered her a ride. On that drive, the two girls learned they had much more in common than either of them could have imagined.
"It turns out she's going through the same thing… living with her grandmother," Parks said. "I never thought somebody with a car, another honors student, was going through the same thing."
This is the most common pattern, experts say, and a big reason this epidemic hides in plain sight. Three-quarters of homeless kids start out on a friend's or relative's extra bedroom, couch or floor, although these Good Samaritans are often poor themselves and have little extra to offer. "Families often split up [and] it's not uncommon for an entire family to have to share one room," DeCandia said.
Most homeless families are headed by single moms, and around 40 percent of this population lives below the poverty line. Since the recession, the income gap has widened, leaving many poor families worse off, even as public assistance has been pared back.
Last year, the National Low Income Housing Coalition found there was not a single state in which a person working a full-time job at minimum wage could afford to rent a two-bedroom apartment. Even this many years after the foreclosure crisis, experts say there's an unmet need for affordable rental housing.
"It's the lower-cost rental housing product out there that's being most impacted in the current economy," said Tom Deyo, national spokesman for NeighborWorks America, a group that supports affordable housing organizations around the country. The supply of affordable rentals is shrinking as demand is rising, pushing rents out of reach of poor families.
Domestic violence also can be a culprit. Women may leave an abuser but then have nowhere to go. As many as half of America's homeless women say domestic violence has forced them onto the street.
Carmen Vest
When Virginia resident Carmen Vest was attacked and abducted at her workplace by a former romantic partner last December, the 34-year-old fled, leaving everything behind. "I was in a safe house for a couple of months," she said. "We were living in hotels and couch-surfing."
Last Christmas, her 13-year-old son was living with a friend from school and her 6-year-old daughter was living with her father. Before Vest's assault, the three of them had been staying in a single room with a friend of Vest's — kids on a bunk bed, Vest on a sofa.
Even with an administrative job, her income wasn't enough to pull the family back from the financial brink. "For the past five or six years around Christmastime, we've been somewhere else," Vest said. "I worked full-time every day and it just was not enough," she said.
This year, with the help of nonprofit group HomeStretch, a group that works with homeless families, Vest and her family, which now includes a month-old baby boy and the infant's father — also her daughter's father — have moved into a new home. The two older kids are excited about decorating for Christmas — and having their own bedrooms.
"He always loved to kick his sister out," Vest said of her son. "Now he can say to her, 'Get out of my room.'"
Parks is also looking forward to a merrier Christmas this year. She plans to go back to her aunt's house over the holidays, but coming back to school after the winter break will be her homecoming.
Parks cherishes the one Christmas present she got last year, a handmade quilt in her school colors. It came to college with her, a reminder of the transience she has finally left behind. "My dorm is my home now," she said. "It's something I can call my own."