SHREWSBURY, N.J. — The day Jim Klenk's kidneys almost failed was hot and humid. After almost 15 years as a UPS driver, Klenk had developed a routine to deal with the heat. He carried frozen water bottles, wet towels for his neck, and spare shirts to replace those he'd sweat through.
After his 50th birthday, the summers had started to get to him. That August day in 2016 was forecast to hit 90 degrees. The cargo area of his brown delivery truck, which wasn't air-conditioned, could easily top 120.
A few days before, he'd worked through the heat until he started seeing stars, he said, then called his supervisor to pick him up. Not finishing a delivery route wasn't looked upon favorably, according to Klenk.
"I didn't want to look like the guy who called in [sick] two weeks in a row," Klenk, 60, said. "So I knuckled it out."
By the time he made it home, he said, he'd vomited several times. He rested and drank water, but the next morning when he got to work, he had to tell his boss he was too sick to do his route. He drove to the doctor, who sent him to the emergency room.
He had sought help just in time, he recalled. Klenk's blood pressure had plunged and his kidneys were failing — tell-tale signs of a heatstroke.
"Bottom line is, I was that close to being dead," Klenk said.
Over the past decade, the online shopping boom has been a windfall for UPS. Gross revenue has risen almost 40 percent to nearly $72 billion, and its U.S. workforce has ballooned to 396,000, making UPS one of the nation's biggest employers. The number of delivery vehicles has surged almost 24 percent since 2011 and the number of delivery drivers is now 74,000.
But UPS does not air-condition most of those familiar brown trucks or many of its loading facilities. On a long hot day of deliveries, the temperature in the cargo area of a truck can soar to 140 degrees and higher. UPS drivers have recorded temperatures as high as 152 degrees, according to photos and video provided to NBC News.
Between the heat and the surge in shipping, drivers who spoke to NBC News said conditions are getting worse.
"Our workload is increasing and we're still expected to get done faster," a driver in Kentucky said. "I pray every year I don't get a heatstroke."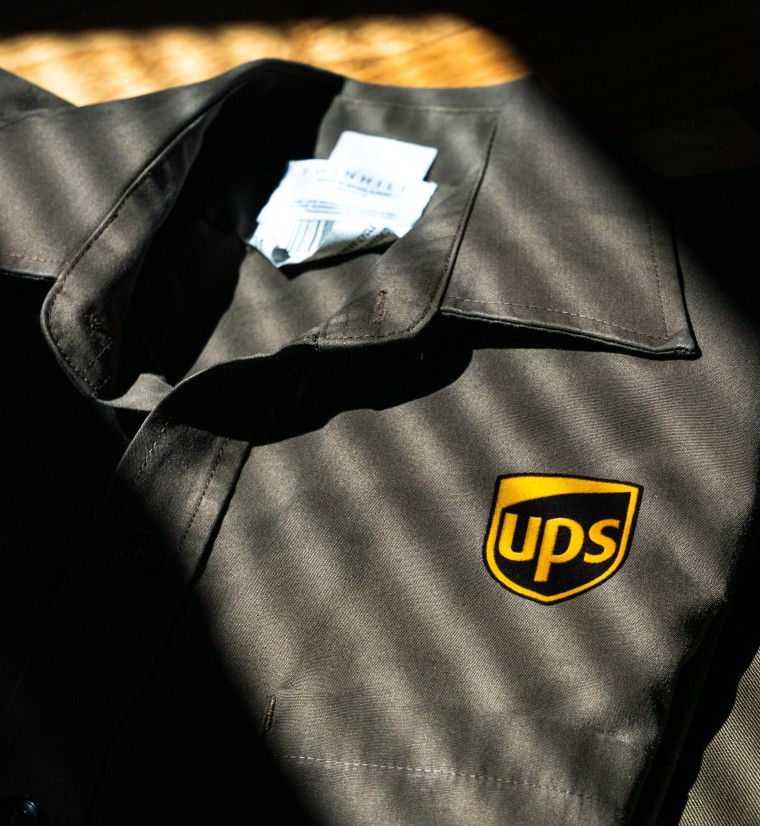 Across the country, some UPS workers caught between rising temperatures and the growing pressure of the delivery economy have found their bodies are breaking down. At least 107 UPS workers in 23 states have been hospitalized for heat illnesses since 2015, according to state and federal worker-safety data and hundreds of pages of documents obtained by NBC News through freedom-of-information requests.
The only U.S. employer with more heat incidents reported to federal regulators than UPS is the U.S. Postal Service — which also doesn't currently air-condition the majority of its delivery trucks. (The Postal Service has more employees than UPS — 630,000.)
Yet, UPS has no plans to air-condition its delivery fleet, and drivers said they feel uncomfortable complaining at a company that offers one of the nation's best paying jobs for workers without college degrees. Meanwhile, even as the climate changes and temperatures rise, the U.S. government does not have rules about heat exposure for workers, leaving them to fend for themselves.
"I love this company and I hate it," a driver in Arizona said. "They supply my family with the life that they want to live, but what I have to do in order for that to happen — it's inhumane sometimes."
What heat does to you
Founded in 1907, the company once known as the United Parcel Service prides itself on being one of the "most recognized and admired brands in the world." It is the globe's largest package delivery company, according to its website, and its brown trucks make stops in some 200 countries.
But the vast majority of the men and women who pack, lift, drive and deliver packages, which can weigh up to 150 pounds, do so without air conditioning. Working shifts that can stretch up to 12 hours, UPS employees likened the trailers and trucks to "ovens," "blast furnaces" and "saunas."
In early July, NBC News mailed temperature reading devices through UPS to five cities: Phoenix; Las Vegas; Baltimore; Columbia, South Carolina; and Bakersfield, California. While in the delivery trucks, all five readers registered at least 100 degrees. The one in Las Vegas hit 114.8 degrees.
Work long and hard enough at those temperatures, and the body gives out. Legs cramp, then seize. Heartbeats quicken, blood pressure drops. The kidneys, liver, brain begin to shut down.
"You start getting agitated, confused, disoriented," Dr. Ronda McCarthy, an occupational physician with Concentra Occupational Health, said. "That's a medical emergency."
Some UPS drivers and package loaders grow so dehydrated they can't keep water down, according to interviews and injury and inspection records. They faint — in convenience stores, UPS locker rooms, behind the wheel of their trucks.
There's the driver in California whom neighbors found passed out half in his UPS truck, in a pool of blood and vomit. A package loader in Texas who became trapped in his car as he was leaving work for the day because dehydration left him unable to move his limbs. The Massachusetts driver who collapsed in front of a home while making a delivery. (None of these employees died.)
NBC News tallied 78 heat-related hospitalizations of UPS workers by examining publicly available federal data on severe workplace injuries, which the Occupational Health and Safety Administration, the federal agency that tracks worker safety, has kept since 2015.
Another 29 heat-related hospitalizations were identified through public records requests for additional federal records and equivalent data from states that run their own occupational safety agencies
That's a total of 107 in four years.
Dr. David Michaels, who served as the head of OSHA for the Obama administration, said he believed the number of hospitalizations was significant.
Most of those who got sick during that period — 78 — were from the ranks of the company's 74,000 delivery truck drivers. That works out to a heat hospitalization rate of about one in every thousand drivers, said Michaels, who also teaches at George Washington University's Milken Institute School of Public Health.
"That's a very high number and it translates into a very high risk," he said. "UPS is a multibillion-dollar company. They can figure out how to run profitably and still not expose their workers to a deadly hazard."
The total number of UPS employees who suffered from heat illnesses is likely much higher, experts said. Heat illness symptoms can look like other illnesses and heart attacks can go unrecognized when heat-induced.
"These are really, really underreported injuries," said Tim Shadix, an attorney with WorkSafe, a workplace safety organization that helped pass heat protections in California.
The data NBC News analyzed captures only the most severe cases. Companies aren't required to report illnesses unless a worker is admitted to the hospital or dies, though they do keep records.
UPS employees said that managers try to avoid calling for medical help or sending employees to the hospital to keep these injuries off the books.
"Their goal is to make these things disappear," a longtime driver in the Southwest said. "If they can get you to finish, even if you're crawling in on all fours, if you punch out, it doesn't affect them because it doesn't get reported."
How UPS addresses heat
UPS emphasized in a statement that the number of hospitalizations is small compared to the total workforce. It said UPS data shows heat makes up just a fraction of total injuries, and that some of the hospitalizations that appear in the OSHA data were later found not to be heat-related. NBC News could not independently verify those claims.
"While any incidents are too many, these incidents are not representative of the experience of employees in the company's broader workforce," Steve Gaut, UPS vice president of public relations, said.
Gaut also vigorously disputed accusations by employees that managers try to avoid calling for medical help or sending employees to the hospital.
He said that UPS has a program meant to address heat called "Cool Solutions," instituted in 2006. At morning meetings, the company educates workers on the symptoms of heat illness, reminds them to drink water, seek shade and report to a supervisor if they feel ill.
"We never want them to continue working to the point that they risk their health or work in an unsafe manner," Gaut said.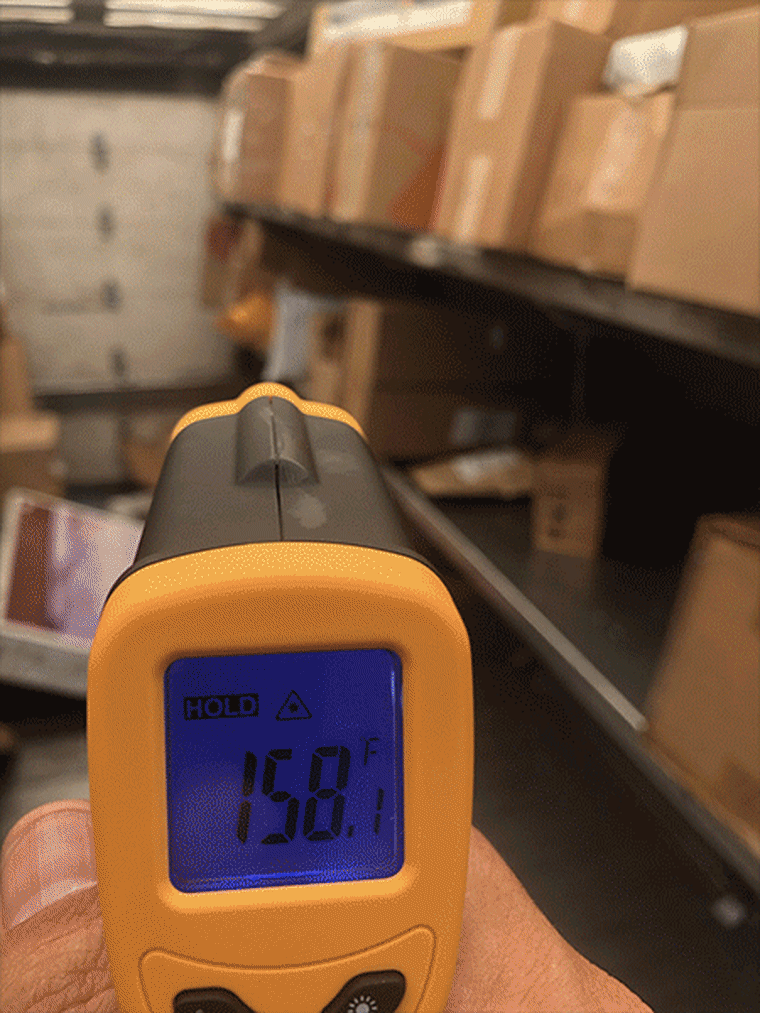 The company does not air-condition its fleet of package trucks, Gaut added, because frequent stops and the size of the vehicles would render air conditioning "ineffective." He said that for similar reasons, UPS does not air-condition large warehouses with loading-dock doors that are usually open.
Nearly two-thirds of the trucks used by FedEx, UPS' main competitor, are leased, and the company doesn't mandate that the vehicles be air-conditioned. FedEx told NBC News, however, that all of the more than 30,000 vehicles the company owns are air-conditioned.
Gaut also said UPS drivers are only in the cargo area of the vehicles for "a few seconds at a time."
Drivers dispute that characterization.
Drivers said that even if UPS won't add air conditioning, it could adjust routes, loads and breaks so that workers have time to rest and recover.
"We just want the company to recognize the fact that sometimes we need to take another break because it's 113 degrees — but they won't acknowledge that," said Maurice Nelson, a union steward who has worked for UPS in Tempe, Arizona, since 1973.
A spokesperson for the International Brotherhood of Teamsters, which represents about 250,000 UPS workers, said that the union has successfully fought for better venting in trucks, the right to report unsafe conditions, and a contract that allows workers to take breaks if they feel ill.
"The safety and health of Teamster members is always a priority for the union," spokesperson Kara Deniz said.
While the union has had discussions about air conditioning, Deniz said, they haven't reached an agreement due to the "feasibility issues" of frequent stops and truck size.
But out on the road, knowing the symptoms of heatstroke isn't enough to prevent drivers from getting sick, according to interviews with more than two dozen current and former employees and more than 1,000 pages of federal and state records.
Drivers are provided water bottles at the beginning of the day, according to UPS, but aren't provided water on their route. In many areas, shade can be hard to come by. Workloads aren't adjusted on hot days, and employees said they are discouraged from taking breaks and have been pushed to finish their work even after they alert supervisors that they feel ill.
Employees also said they were afraid to speak out. Most of those who spoke to NBC News did so on condition of anonymity. Despite their union protections, drivers across the country described a culture of intimidation and retaliation at UPS that keeps them quiet even when their lives could be at risk.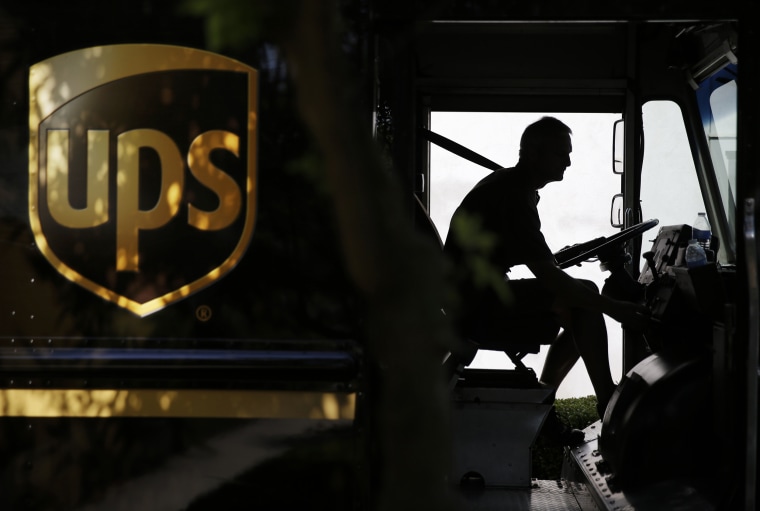 Do you have a story to share? Click here to email us
What is the government doing?
Federal regulators almost 50 years ago acknowledged that heat poses a risk to workers. In 1972, government scientists developed guidelines outlining how to protect workers from heat exposure.
But OSHA cannot force employers to implement similar protections because neither the agency nor Congress ever created federal rules on heat exposure.
The only tool OSHA has to protect workers from heat is what's known as the "general duty" clause, which guarantees employees a workplace free from hazards that could cause death or serious harm.
Getting OSHA to invoke that clause isn't easy, but the federal agency has notified UPS about, or cited UPS for, workplace hazards related to heat at least eight times since 2011.
In July 2011, employees at a UPS facility outside Chicago told an OSHA inspector that the management was refusing to let loaders leave the unventilated, 40-foot trailers where they worked. One likened the trailers to "microwave ovens."
UPS initially prevented the inspector from taking temperature readings, according to the inspection report NBC News obtained through a records request. At 5 p.m., when the inspector was able to make measurements, temperatures still hovered between 84 and 88 degrees.
At 5:12 a.m. the next morning, Stephen Michel, a 44-year-old loader, arrived for his shift. He worked for about three hours, then collapsed and began to convulse. An ambulance rushed him to the hospital. Michel died that day from heart disease with "heat stress" as "a serious contributing factor," federal inspection records show.
UPS did its own investigation, which found "numerous factors unrelated to work that also could have contributed" to his death, the company said. It did not identify those factors to NBC News.
At Michel's wake, his coworkers offered condolences to his sister, Michelle Reis. They also told her they knew the heat was unsafe for loaders like Michel, who records show sometimes moved more than 1,200 packages an hour.
"They all said, 'We knew that they were dangerous working conditions,'" Reis recalled. "Are deliveries really that important that people have to die?"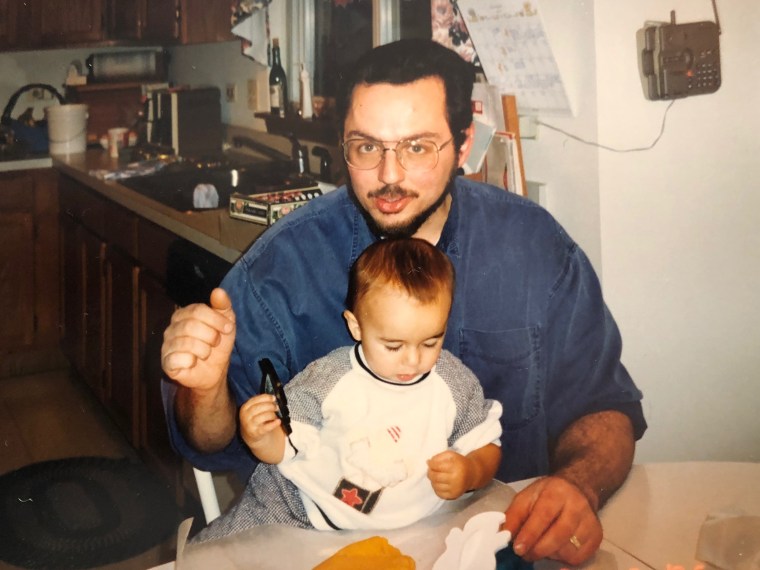 OSHA found a total of 12 heat illnesses within two weeks at the facility, which, like many, only has air conditioning in break rooms. UPS knew "multiple employees were suffering heat related illnesses," the investigator wrote, but "did not take ANY mitigating measures to prevent the heat related injuries and illness."
OSHA fined UPS $8,100 for exposing its employees to excessive heat and poor record-keeping, noting in its report that the company hadn't kept detailed records of illnesses or updated those records to reflect employee medical diagnoses.
An attorney for UPS told the inspector the company was "offended" by the citation and would contest any violation issued, records show. UPS eventually settled the fines.
Last summer, another employee at the same facility was found "slumped over" at 2 a.m. after loading packages in "extreme heat," records show, and rushed to the hospital. This time OSHA inspectors didn't conduct an inspection following the injury or issue any fines.
The most common action OSHA has taken against UPS for heat conditions is issuing so-called "hazard letters." At least seven UPS facilities have received these letters since 2011, records show. Such letters outline hazards employees face and then recommend fixes, like adapting the schedule on high-heat days and ensuring workers take breaks. Making those fixes, however, is voluntary.
UPS told NBC News that "based on the small incident rate" of heat illness, workers get sufficient breaks. The company also noted that "as with all employers, we believe employees must take responsibility for maintaining their health and readiness for work."
As part of "Cool Solutions," certain facilities pass out electrolyte popsicles on hot days, and tell workers to carry a pickle or pickle juice, which can help ease cramps brought on by dehydration.
"Cool Solutions" emphasizes the need for slowly adjusting the workload for new or returning employees, known as acclimatization. But multiple records show inspections of facilities that did not have acclimatization plans.
A petition for change
In 2018, Jim Klenk's wife, Theresa, felt like she had to do something to protect drivers like her husband from getting injured. The longtime nurse started a petition on Change.org calling on UPS to put air conditioning in the trucks. She has garnered more than 500,000 signatures. She's also become involved in efforts to pass legislation that would increase heat protections for workers.
Earlier this month, Rep. Judy Chu of California introduced legislation to protect workers both indoors and outdoors from the heat. Among the bill's supporters are the Teamsters, the union that represents UPS workers.
"The conditions that these workers face are alarming," Chu said. "What we need are real standards."
If passed, the protections would resemble those in California, the only state in the country with heat regulations that protect delivery workers.
Cal/OSHA, the state's worker safety agency, has cited UPS at least five times for heat-related violations, fining the company least $140,000 since 2015, according to more than 800 pages obtained through a records request.
Inspectors have found UPS fell short in protecting its workers from heat. Records show the state has fined the company for various violations, not recognizing a heat injury as work related, not providing water and failing to implement emergency response procedures.
In 2015, one inspector noted UPS "does not encourage employees to report their illness as the employees feel they will be retaliated against," he wrote. "Employees feel they will not be taken care of when they report an illness."
Part of the problem, employees said, is that in the post-industrial, delivery economy, workers know a UPS job is one of the best blue-collar gigs available. Longtime drivers can make up to $100,000 a year, plus benefits and a solid pension.
In 2016, a supervisor in Arizona refused to call 911 for a driver who was convulsing and vomiting from heat stress, according to three accounts from drivers there that day, who asked not to be named for fear they could lose their jobs. Finally a coworker called it in. The next day, the driver said his supervisor called him repeatedly demanding he come to work. The driver texted his union steward for advice.
"I felt like I was being harassed," he said. The driver said he thought about quitting, but he's got a family who need the good benefits and salary UPS provides.
"All I have is a high school diploma, and there's no way I can make the same kind of money I do here anywhere else," he said. He said his coworkers have a name for the bind they're in: "The golden handcuffs."
Klenk has long felt tied to his job too, but not just because of the paycheck. He loves his connection to his route and his customers. A few days after nearly suffering kidney failure, he was back chatting with his regulars and greeting the dogs he'd known since they were puppies.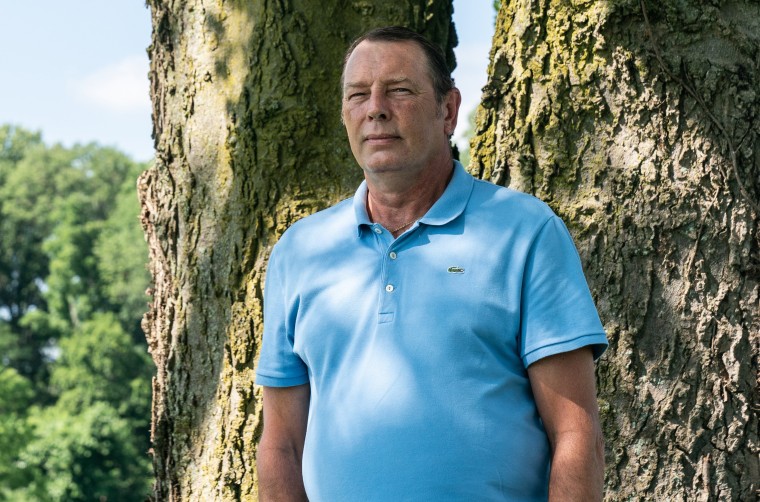 But something had changed. He'd always believed the company he worked hard for would watch out for him.
Klenk no longer thinks that way. Lately, he's been thinking of early retirement.
"I feel betrayed," he said. "They've done me wrong. They've done a lot of people wrong."