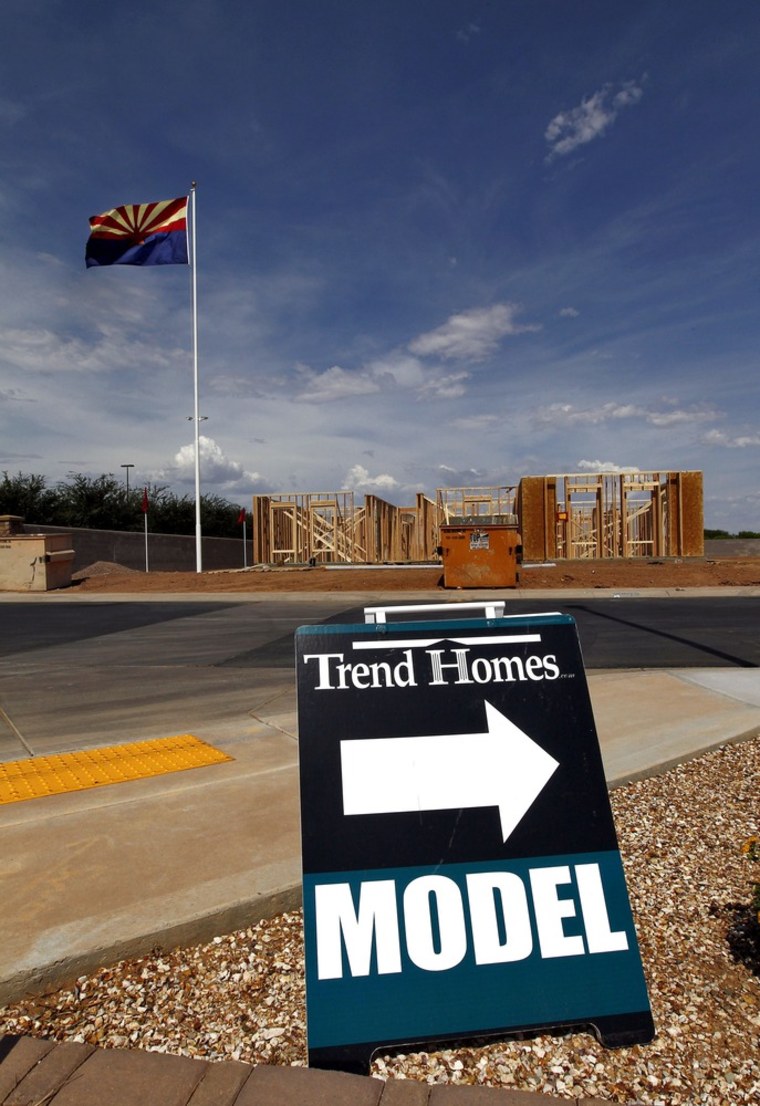 A steady trickle of upbeat housing numbers has some analysts and pundits rendering a stunningly cheery verdict on the housing market.
The New York Times declared last month that, after several years of erroneously sunny pronouncements, there are concrete signs "the housing market is starting to recover." The Wall Street Journal ventured even further with a story and tweet declaring "the housing bust is over."
But the Journal later reined in the enthusiasm, updating its story to say merely that the market has "turned." And while the news pages of the Times have declared that the market has bottomed, the New York Times editorial board remains grudgingly unconvinced, opining last month that housing remains one of the biggest threats to the economic recovery.
These contradictions reflect a market that is unquestionably healing yet still vulnerable and gimping along at depressed levels, a far cry from the economic driver it was in the boom that ended about five years ago.
Housing starts data released Wednesday illustrate the contradiction. The Commerce Department reported that builders broke ground on homes at the fastest pace in more than three years in June. But permits for new homes, a gauge of future activity, slipped and the 760,000 rate monthly starts rate in June was far below the peak of more than 2 million units started in 2005.
On Tuesday, an index measuring U.S. homebuilder confidence showed that while the collective mood in that sector has warmed this summer, "builders are still gloomy," said Patrick Newport, an economist for IHS Global Insight in Lexington, Mass. And just last week came word that foreclosures are likely to rise again soon.
The fact is that there are positive signs within the housing market, but it could be another four years before the industry bears even a vague resemblance to the muscular form it flexed less than a decade ago. 
Here are some of the data points to watch:
Prices are rising in many areas.
The median price of listed U.S. homes hit $195,000 in June, about 2.7 percent higher than the same month one year ago, according to a report released Tuesday by Realtor.com. Phoenix (listed prices up 32.2 percent), San Francisco (15.4 percent), Miami (14.3 percent) and Washington, D.C. (13.6) percent were among metro areas showing double-digit increases.
Listed prices do not always reflect reality, but there is also anecdotal evidence of bidding wars breaking out in some markets where inventory is tight, such as New York City.
"I had one client who lost on out seven different bidding wars before he finally got his house," said Edward Ades, a partner at Universal Mortgage based in Brooklyn. "As far as inventory, there just aren't many (attractive) options (now). But It just shows that the demand is there.
"If you put a house on the market and nobody wants to buy it at any price, there's just no market," Ades added. "There are now fish swimming in the water that are hungry. They just need something to look at, something that's decent and if they see it, and they'll eat it. If we were truly in a bust, you wouldn't see that." 
Properties are selling faster.
The median age of home listings was 84 days nationally in June - meaning that all the U.S. homes sold last month spent a median 84 days on the Multiple Listing Service, according to the Realtor.com report. Compared to residential properties that sold in June 2011, homes this past June were purchased 9.6 percent faster. 
The five "fastest-moving" markets in June, were Denver (33 days average listing time), Anchorage (43 days), Seattle (45 days), Detroit (45 days) and Phoenix (48 days). 
Again, though, there are mixed messages within the data, says Julie Reynolds, a vice president at Realtor.com - a real estate website operated by Move, Inc. that displays home listings from nearly 900 MSLs across the country. 
"The story is inventory," Reynolds said. "In California, when we started seeing the draw down (in listed homes for sale) and we started seeing the prices rising and the markets moving faster, normally what historically we have seen is the sellers have more confidence in the market, and they get in. If that's the case, the inventory should naturally start to rise because these sellers want to take advantage of a more positive market.
"But we're not seeing that in California right now. We're seeing the inventory level continue to drop, prices continue to go up and markets are moving faster," Reynolds added. 
"I don't think we can say the bust is over. But we can definitely say things are better this year than they were last year and the rebalancing has hit California. And it hit it with force."  
Sales activity is low.
Despite record-low mortgage rates, housing starts -- and existing-home sales -- remain low by historical standards. Credit remains tight for both builders and hope-to-be homeowners. 
The National Association of Home Builders/Wells Fargo builder index released Tuesday showed a jump from last month to the highest level since March 2007. But at 35 the index is still far below the 50 benchmark which would indicate optimism in the industry.  (The index is calculated via responses from 318 builders). 
"The builders may be gloomy now, but they were really gloomy last December," Newport said. "This index is telling you the story of the housing market. It's still depressed but getting better from month to month. Builders are saying they expect things to really improve over the next six months - and that's our appraisal as well."
Underwater homes are holding the market back.
With some 6 million homeowners delinquent on their mortgages, the shadow inventory of distressed properties continues to be an anchor on the housing market. 
In everyday language, the housing market still has one foot in the darkened trees and one foot in the sun-drenched clearing, some analysts say. 
"We are sort of out of the woods," Newport said. "We're in a recovery. It's just going to take a long time. We're still about four years away from a normal housing market where we're putting up about 1.5 million new houses per year, at least, and where prices are growing a little faster than inflation, 3 percent a year." 
So what about the declaration by some pundits that "the bust is over?"
"I would interpret that," Ades said from his Brooklyn office, "as basically: 'Oh, we're not going to see another 20 perent or 10 percent dip in prices' - and I think that's right. This is not so black and white - we haven't gone from bust to boom. And for a while, we're going to be in that gray area, that no man's land, within a lot of different neighborhoods across the country."
More money and business news: