Federal Reserve Chairman Jerome Powell told lawmakers Tuesday that policymakers may have to speed up their interest rate hikes to tame high inflation.
With prices continuing to rise at a yearly pace of 6.4%, according to government data, Powell warned that it may take time for Americans to see further relief.
"The process of getting inflation back down to 2% has a long way to go and is likely to be bumpy," Powell told the Senate Banking Committee, referring to the central bank's target inflation level.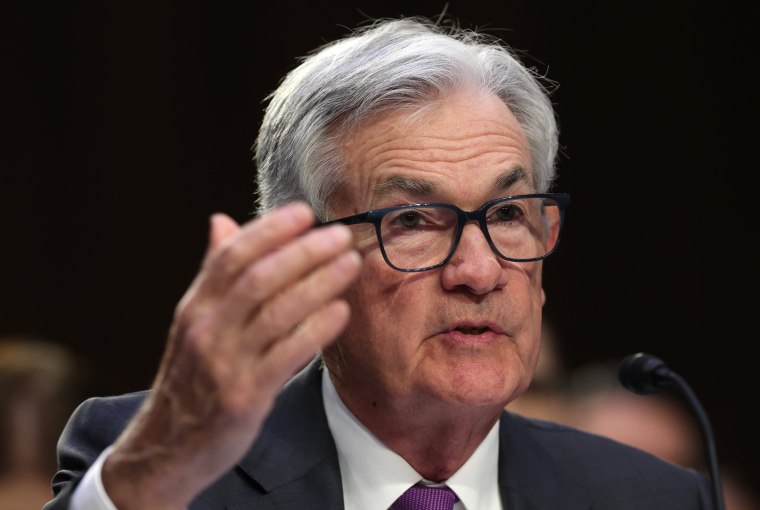 Speaking on the first of his two days of semiannual testimony to Congress on interest-rate policy, Powell said the Fed could again increase the size of its interest rate hikes if it doesn't see stronger progress on lowering inflation in the months ahead.
After raising rates by at least half a percentage point six times in a row last year, the Fed imposed a smaller, quarter-point increase in its last meeting, in February.
Returning to beefed-up rate hikes could keep consumer-facing interest rates — on everything from mortgages and credit cards to bank deposits — higher for longer.
The Fed has already been raising rates at the fastest clip since the 1980s. But while inflation has come down from a 9.1% peak in June to 6.5% in December, Powell's remarks Tuesday show signs of worry within the Fed that it may have to ramp up its efforts to notch more improvement.
"If the totality of the data were to indicate that faster tightening is warranted, we would be prepared to increase the pace of rate hikes," Powell said.
Markets tilted downward in response to his comments, as traders increasingly bet on the Fed increasing rates by 0.50% in its next policy-setting meeting on March 22.
Higher interest rates can discourage consumer spending and business investment, as it becomes more expensive to charge goods and services to a credit card or take out a business loan. 
But higher rates could also risk job losses, as a slowing economy pushes businesses to cut costs by laying off staff members. The Fed itself projects the unemployment rate rising. But outside of certain sectors like technology, the job market remains remarkably tight. The national unemployment rate currently stands at a more-than-50-year low.
"We don't think we need a significant increase in unemployment, and we're certainly not aiming for one," Powell told lawmakers Tuesday. "But we do think there will be some softening in labor market conditions to get to 2% inflation."
Updated readings on the U.S. job market and inflation are expected Friday and next Tuesday, respectively.