The number of Americans filing new claims for unemployment benefits unexpectedly fell last week and touched its lowest level in nearly four months, suggesting the labor market was strengthening.
Initial claims for state unemployment benefits declined 10,000 to a seasonally adjusted 311,000, the lowest level since November, the Labor Department said on Thursday.
Claims for the week ended March 15 were revised to show 1,000 more applications received than previously reported. Economists polled by Reuters had forecast first-time applications for jobless benefits rising to 325,000 in the week ended March 22.
The four-week moving average for new claims, considered a better measure of underlying labor market conditions as it irons out week-to-week volatility, fell 9,500 to 317,750. That was the lowest level since September.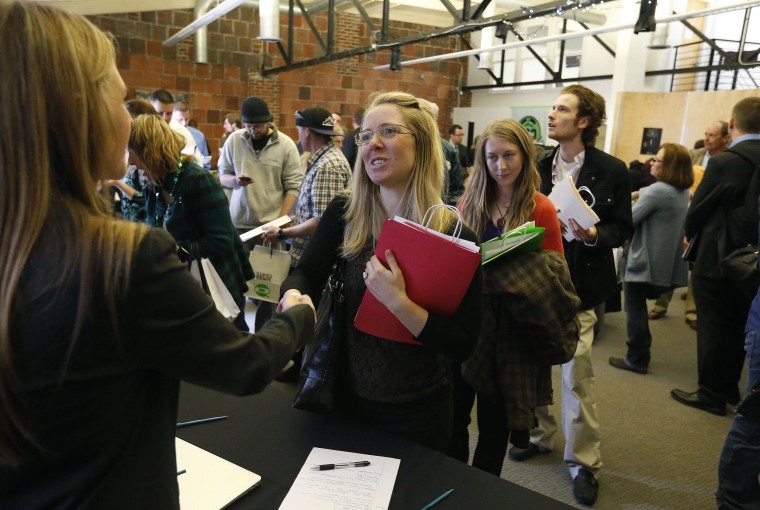 Meanwhile, economic growth was a bit faster than previously estimated in the fourth quarter, displaying underlying strength that could bolster views that the slowdown in activity early in the year would be temporary.
Gross domestic product expanded at a 2.6 percent annual rate, the Commerce Department said on Thursday, up from the 2.4 percent pace it reported last month. The revision reflected a stronger pace of consumer spending than previously estimated.
Economists polled by Reuters had expected fourth-quarter GDP growth would be raised to a 2.7 percent rate. The economy expanded at a 4.1 percent pace in the July-September quarter.
The composition of growth in the fourth quarter suggested underlying strength in the economy, with consumer spending raised sharply higher and the pace of restocking by businesses not as robust as previously estimated.