U.S. nonfarm productivity unexpectedly fell in the second quarter, pointing to sustained weakness that could raise concerns about corporate profits and companies' ability to maintain their recent robust pace of hiring.
The Labor Department said on Tuesday that productivity, which measures hourly output per worker, dropped at a 0.5 percent annual rate in the April-June period. It was the third consecutive quarterly decline, the longest such stretch since 1979.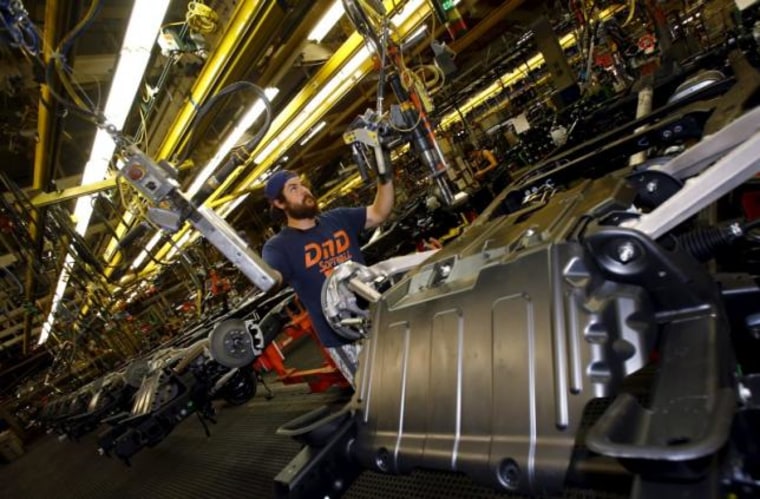 "The reason the economy has still been able to expand is because of labor input. Firms are hiring people at a reasonably healthy rate," said Joseph LaVorgna, chief economist at Deutsche Bank Securities in New York.
"However, we do not believe this can last, because strong hiring in the face of weak productivity necessarily implies a further deterioration in corporate profit margins."
Productivity fell at an unrevised 0.6 percent rate in the first quarter. Economists polled by Reuters had forecast productivity rising at a 0.4 percent rate in the second quarter.
U.S. stocks were higher in mid-morning trading, while prices for longer-dated U.S. Treasuries also rose. The dollar was weaker against a basket of currencies.
Productivity decreased at a 0.4 percent rate compared to the second quarter of 2015, the fastest year-on-year pace of decline in three years.
Revisions to data going back to 2013 also confirmed the softening productivity trend, which over time would suggest pressure on corporate profits and a slowdown in job gains.
Strong employment gains have helped to raise output. Nonfarm payrolls increased by more than 500,000 jobs in June and July.
Sluggish Corporate Profits
Corporate profits have been sluggish, partly due to the lagging impact of a strong dollar and lower oil prices. After-tax profits rebounded at an 8.1 percent rate in the first quarter after declining 5.3 percent in 2015. Corporate profits data for the second quarter will be published later this month.
Output per worker in the second quarter increased at a 1.2 percent rate, up from the 0.7 percent pace notched in the January-March period.
The government reported last month that gross domestic product rose at a 1.2 percent annual rate in the second quarter following a 0.8 percent rise in the first quarter.
The estimate for second-quarter GDP growth could be revised slightly up after a separate report from the Commerce Department showed wholesale inventories increased 0.3 percent in June.
The government had previously reported wholesale inventories as being unchanged in June.
Some economists have attributed the weak productivity to the changing industry mix, which has seen a shift from manufacturing and energy toward services. Others have questioned whether it is being accurately measured.
"Innovations are everywhere, in cancer research, iPhone apps, Olympic sports training, cloud computing - they are just not showing up in the GDP accounts," said Patrick Newport, a U.S. economist at IHS Global Insight in Lexington, Massachusetts.
"Are we just about running in place or is the radar that measures growth malfunctioning? It's both. Productivity growth is understated. Economists are just unsure by how much."
Productivity has increased at an annual rate of less than 1.0 percent in each of the last five years, suggesting the economy's potential rate of growth has declined.
Unit labor costs, the price of labor per single unit of output, increased at a 2.0 percent pace in the second quarter.
First-quarter unit labor costs were revised to show a 0.2 percent rate of decrease, instead of the previously reported 4.5 percent increase. Second-quarter unit labor costs rose at a 2.1 percent rate compared to the same period of 2015.
Hourly compensation per hour rose at a 1.5 percent rate in the second quarter after falling at a 0.8 percent pace in the prior quarter.
"Labor compensation growth that outpaces productivity growth must either be passed through into faster price increases or squeeze profit margins," said John Ryding, chief economist at RDQ Economics in New York.