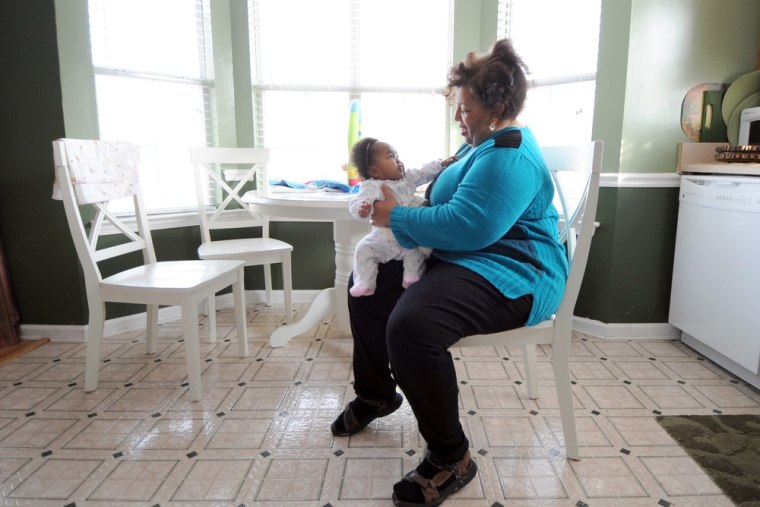 After a four-year effort to save her home, Courtney Scott feels like she's running out of options.
"When I got started (in 2008) there was HAMP, there was HARP and there were FHA options," she said. "So now, I'm in limbo. How could I not be eligible to for any of these doggone programs they've set up?" 
Two weeks ago, she filled out a form under a federally mandated foreclosure review process set up after widespread mortgage abuses came to light in 2010. On Monday, that program was cancelled as part of an $8.5 billion settlement between federal regulators and 10 banks. 

Separately, Bank of America agreed on Monday to pay more than $10 billion to Fannie Mae to settle claims over mortgages that soured during the crash, mostly loans issued by Countrywide Financial, now a BofA subsidiary.  
Five years after the housing bubble burst, roughly a million other U.S. homeowners trying to save their homes from foreclosure are stuck in the same limbo as Scott.
With the latest multi-billion-dollar settlements, the nation's mortgage lenders are hoping to put the mortgage mess behind them. But critics of the deal fear it may also leave behind millions of foreclosed homeowners who got little or no relief from the lenders that helped create the mortgage mess in the first place. 
"I have serious concerns that this settlement may allow banks to skirt what they owe and sweep past abuses under the rug without determining the full harm borrowers have suffered," said Rep. Elijah E. Cummings, D.- Md., a member of the House Committee on Oversight and Government Reform and a vocal critical of the government regulators handling of the mortgage crisis.
Monday's settlement brings to an end the government's two-year case-by-case foreclosure review to identify victims of industry-wide mistakes and abuses.
Under the agreement, JPMorgan Chase, Bank of America, Citigroup, Wells Fargo and six other mortgage lenders will provide $5.2 billion in mortgage assistance and $3.3 billion in direct payments to wronged borrowers, according bank regulators. The other six include Aurora, MetLife Bank, PNC, Sovereign, SunTrust, and U.S. Bank. Four other banks — HSBC, Ally, EverBank and One West — are still in talks, said officials at the Office of the Controller of the Currency, which announced the settlement.
OCC officials said consumers will be better served under the deal because claims will now be paid more quickly. The program had proved so costly - more than $1.5 billion has been spent on individual reviews - that it was diverting funds that could have been used to pay claims, they said.
"When we began the Independent Foreclosure Review, the OCC pledged to fix what was broken, identify who was harmed, and compensate them for that injury," Comptroller of the Currency Thomas Curry said in a statement. "While today's announcement represents a significant change in direction, it meets those original objectives by ensuring that consumers are the ones who will benefit, and that they will benefit more quickly and in a more direct manner."
OCC officials maintain that the amount set aside will be adequate to compensate homeowners who suffered a financial loss from one of the bank's mistakes.
But critics of the process argue that, despite the high cost of the review program, the process wasn't thorough enough to assess accurately whether a home had been wrongly seized.
"The only information that the reviewers were using to determine whether someone had been the victim of wrongdoing was the servicers' files," said Helene Raynaud, a senior official at the National Foundation for Credit Counseling, whose members advise homeowners facing foreclosure. "They did not systematically contact the counseling agencies or whoever else these homeowners may (have been) talking to. If the information was incomplete, how would they know?"
Under the agreement, those determinations will now be made by the 10 lenders, but OCC regulators would not disclose the criteria for eligibility. A payment agent will contact borrowers who are determined to be eligible with those details by the end of March, officials said.
Homeowners will receive payments of between a few hundred of dollars to as much as $125,000, depending on the type error made by the mortgage company servicing their loan. Nearly 4 million borrowers whose loans were foreclosed on in 2009 and 2010 will get some compensation, regulators said.
The settlement is the latest chapter in the government's effort to hold mortgage companies accountable for widespread abuses in the wave of home seizures after the 2007 housing collapse.
When industry-wide "robosigning" practices surfaced nearly two years ago, bank regulators issued a detailed report outlining the scope of the problem. The list of widespread failures included "inadequate quality control and audit reviews to ensure compliance with legal requirements," foreclosure documents that claimed to have been "executed under oath, when no oath was administered," and notary practices "which failed to conform to state legal requirements."
Concerns about those industry practices have substantially slowed the foreclosure process, especially in states that require a judge to sign off before lenders can seize a home. Nationwide, the average foreclosure now takes a little more than a year, up from about 8 months at the start of 2010, according to RealtyTrac. In New York, the process now takes more than three years, more than a year longer than it took three year ago.
As part of its enforcement action, the OCC, Federal Reserve and Office of Thrift Supervision ordered 14 banks and mortgage servicing companies to hire consulting firms to contact borrowers and review their cases. Some 4.4 million letters were sent to potential claimants, of which about half a million submitted review applications by the Dec. 31 deadline.
Consumers groups working to head off foreclosures have criticized the review program from the start, in part because the consulting firms conducting the reviews were hired and paid by the financial institutions cited for wrongful practices. Since then, critics have cited slow progress in reviewing cases and compensating wrongful foreclosure victims.
Those critics argue that Monday's settlement will leave many wronged homeowners with no further recourse and that the deal may substantially reduce the amount that lenders will ultimately have to pay.
"For many people this will be the end of the line," said Diane Thompson, an attorney with the National Consumer Law Center. "This is a much lower number for the banks compared to what they were at risk for."