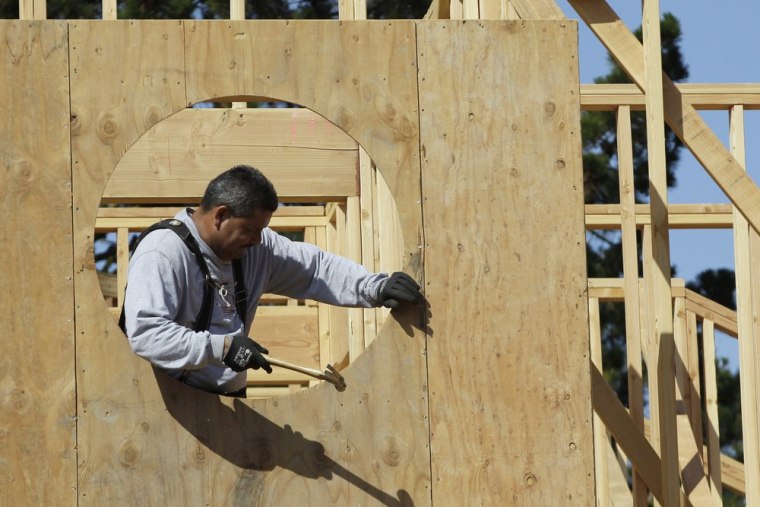 Updated at 12:05 p.m. ET: Americans bought new homes in May at the fastest pace in more than two years, adding to evidence of a slow but steady housing recovery.
Sales of single-family homes jumped 7.6 percent to a seasonally adjusted annual rate of 369,000 units, the highest since April 2010, the Commerce Department said Monday.
Economists polled by Reuters had forecast sales at a 346,000-unit rate last month from April's 343,000-unit pace. March's sales pace was revised up to 347,000 units from the previously reported 332,000 units.
Compared with May 2010, new-home sales were up 19.8 percent.
The housing market is showing signs of life even as the broader economy is weakening, and residential construction is expected to contribute to gross domestic product this year for the first time since 2005.
"Overall, we see the May new-homes sale report as yet another data point that supports our view that housing is in a moderate recovery phase," Barclays economist Michael Gapen said in a research note.
Data last week showed a jump in home building intentions in May and a fourth straight month of gains in the median price of a previously owned home.
The improving housing market picture was further enhanced by a 5.6 percent rise in the median price of a new home to $234,500 from May last year.
Though new homes represent less than 20 percent of the housing market, they have an outsize impact on the economy. Each home built creates an average of three jobs for a year and generates about $90,000 in tax revenue, according to the National Association of Home Builders.
"May's sales report is a welcome sign that the market has returned to a more solid growth path following lackluster reports in March and April, and is in keeping with our expectations for continued, steady improvement through the end of this year," NAHB chief economist David Crowe said in a statement.
Still, new-home sales remain extremely low by historical standards.  The 306,000 single-family homes sold last year was the lowest annual total in the history of the series, which dates to 1963.  
Builders sold from 1 million to 1.3 million homes annually in the boom years of 2003-06.
Crowe said sales are being held back back lack of credit availability for builders, among other factors.
While the inventory of new homes on the market edged up 0.7 percent to 145,000 units last month, it remained near record lows. At May's sales pace it would take 4.7 months to clear the houses from the market, the lowest since October 2005, down from 5.0 months in April.
New-home sales last month were buoyed by a 36.7 percent jump in the Northeast and a 12.7 percent rise in the South. Sales in the West fell 3.5 percent and were down 10.6 percent in the Midwest.
Reuters and The Associated Press contributed to this report.
More business news: