Americans might be a little fuzzy on exactly what the Federal Reserve is and why the central bank's activities matter, but many do believe it's not working as well as it should.
"When we're talking about the Fed, not everyone knows exactly what it does," said Jill Gonzalez, an analyst at WalletHub.
As it turns out, that's an understatement. A recent WalletHub survey found that 16 percent of Americans think the Federal Reserve is in charge of consumer credit scores (it isn't), and more than half have no idea when the Fed last raised interest rates (last month). Many have no idea who Fed chair Janet Yellen is.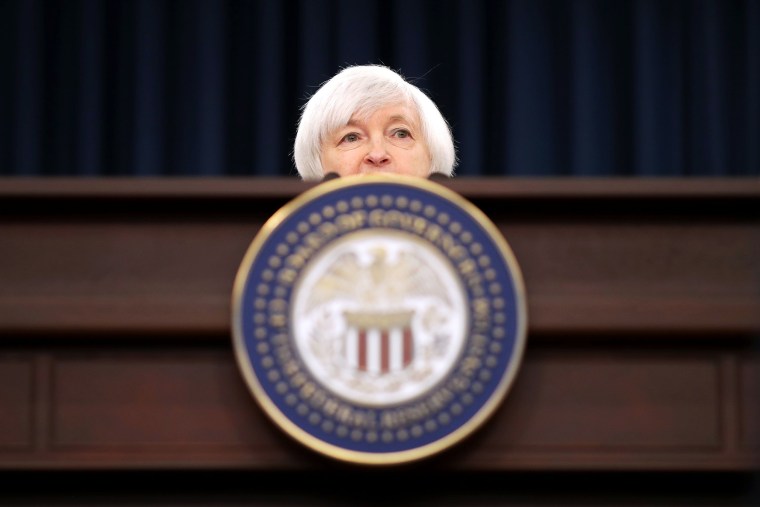 Policy experts warn that this combination of an information gap and a suspicion of the institution could ultimately hurt American wallets and bank accounts.
"The public has almost never really understood what the Fed is or what it does," said Peter Conti-Brown, an assistant professor at The Wharton School of the University of Pennsylvania. "What's different today is that there is a combination of confusion and strong opinions: People don't quite know what the Fed does, but public trust in the Fed is at a historic low. It's that combination that is dangerous."
Roughly one in seven Americans thinks the Federal Reserve ought to be abolished, according to WalletHub's survey, a sentiment Gonzalez suggested could be related to current White House sentiment. Donald Trump was critical of the Fed and Fed chair Janet Yellen on the campaign trail.
Related: Trump Says Yellen Should Be Ashamed of Herself
"That and the larger amount of people saying it needs work… under a different administration, those numbers might look different," Gonzalez said.
Who Will Replace Yellen?
The Fed is scheduled to meet today and Wednesday, and recent reports suggest that Trump might replace Yellen, whose term ends next February, with National Economic Council Director Gary Cohn, a former Goldman Sachs executive who is not an economist.
"Gary Cohn's appointment could matter a lot for the average American, depending on what happens next. Cohn is famous for being a very effective banker, but not knowing much about monetary policy," Conti-Brown said. "The Fed Chair must read thousands of pages of economic analysis and routinely gives speeches that are themselves quite technical and long."
Although much of the Fed's work on monetary policy is dense or arcane, people do understand, by and large, that the Fed plays a role in interest rates, and that how much they pay to borrow money and service debts is affected by the central bank's work.
"Interest rate moves have a pocketbook effect although the ability to directly connect the dots, that's where the dropoff occurs," said Greg McBride, chief financial analyst at Bankrate.com. "People can connect the dots… it's the specifics where I think people are a little fuzzy."
An April survey conducted by Bankrate.com found that, although 38 percent of Americans said the current political environment in Washington was the biggest economic threat the nation faced, one in 10 said the biggest threat was rising interest rates.
"I think that one speaks to the pocketbook effect. That was up from 5 percent in September of last year," McBride said.
"When there's an organization like the Fed that's essentially in charge of raising your credit card rate or your savings rate, I think that's what people pay attention to… even if they don't necessarily understand it," Gonzalez said.
Half of Americans Don't Like Rate Hikes
WalletHub found that three in 10 Americans think rate hikes are good for the economy, while 36 percent say they are bad and the remaining 34 percent don't know, while 56 percent think rate hikes are bad for their wallet. "I think it's interesting that the split between good for the economy and your own wallet is so different," Gonzalez said.
Although most people have a sense that the economy overall has recovered, many don't feel they have benefited from the resurgence. "Americans still feel left behind. They're still practically living paycheck to paycheck [and] underemployment is still a problem in many American cities," Gonzalez said.
However, targeting Yellen for replacement could be a risky move, McBride said. The Fed has indicated it wants to continue raising interest rates at a slow and measured pace, as well as winding down a Great Recession-era expansion of its balance sheet. A misstep in either area, due to a lack of experience or to curry political favor, could do real harm to the economy and possibly tip the recovery into a recession.
Related: Five Things to Know About the Latest Rate Hike
"With the Fed getting ready to start winding down the balance sheet and the Fed already having raised interest rates four times, it'd be like changing pilots on final approach," McBride said. "This is a critical juncture… a change in the head of the Fed that with both of those at play increases the risk of a misstep."
And the appointment of Cohn to Yellen's position could compromise the central bank's adherence to policy over politics. "Cohn will be seen as President Trump's loyalist," Conti-Brown warned.
The specter of a less-independent Fed increases the risk that the pace of a balance sheet wind-down and interest rate increases would be subject to political pressure, which could throw the American economy into a recession, Conti-Brown said.
"That is the risk that comes with prizing political loyalty over expertise in these appointments," he said.