OAK BROOK, Ill. — Hundreds of protesters marched around McDonald's suburban Chicago headquarters Wednesday, shutting down at least one building on the corporate campus as they called for pay of $15 an hour and a union.
About 100 protesters were arrested for trespassing as they temporarily blocked two streets around the McDonald's campus a day before the company's annual shareholder meeting. McDonald's closed a nearby restaurant because of traffic concerns, and told employees in a building targeted by protesters they should work from home, company spokeswoman Heidi Barker Sa Shekhem said.
The campaign for $15 an hour and a union began in late 2012 and has involved a range of tactics, including demonstrations in cities around the country.
Authorities estimated up to 2,000 people took part in Wednesday's demonstration, some carrying signs declaring, "We are worth more." Dozens of buses were used to transport people to demonstration, with some coming from as far away as New York.
The Rev. William Barber of Goldsboro, North Carolina, said the campaign extends beyond pushing for a living wage. He called it a fight for racial equality, noting people of color are disproportionally working in low wage jobs.
More from NBC Chicago: McDonald's Shuts Down Restaurant Amid Fight for 15
Corey Anderson, 21, who works at a Chicago McDonald's, said he makes $8.25 an hour after working for the fast-food chain for more than two years. That's not enough to live on after rent and utilities are paid, he said.
"I feel like they don't understand what it's like to make what we make," he said.
Sa Shekhem said the company respects the right to protest.
"When it comes it comes to the minimum wage, that is a national discussion, that is not a McDonald's issue, it's an economic issue," she said. "We'll look to the folks in Washington to determine what happens."
Earlier this year, McDonald's said it would raise its starting pay for workers to $1 above the local minimum wage. Labor organizers said the move falls short because it only applies to company-owned stores.
McDonald's Corp. owns about 10 percent of its stores in the U.S., while the rest are run by franchisees.
The protests come as McDonald's fights to hold onto customers amid intensifying competition from smaller rivals and changing tastes. CEO Steve Easterbrook, who stepped into the role in March, has said he wants to transform McDonald's into a "modern, progressive burger company."
Thursday will mark his first shareholder meeting as CEO.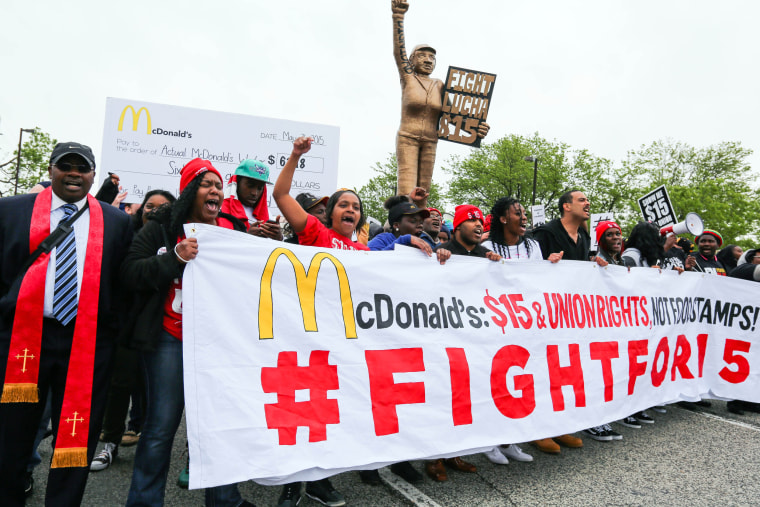 — The Associated Press