The battle for Ukraine's future is being fought on the streets of Kiev, but behind the scenes a handful of wealthy and politically connected oligarchs is trying to influence events in the country.
Some are discreetly backing the opposition that wants closer ties to Europe and the West, while some support President Viktor Yanukovych and strong ties to Russia. Still others seem to be playing both sides.
Who are these billionaires? Adrian Karatnycky, a senior fellow at the Atlantic Council, and Lauren Goodrich, chief Eurasia analyst at global intelligence firm Stratfor, as well as other experts, give us a who's who.
Henadiy Boholyubov and Ihor Kolomoyskyy: These billionaire partners own Privat Group, which includes Ukraine's largest banks and holdings in other industries including media and energy. Karatnycky said that at the moment they are behind anti-government protesters, having shifted their allegiance from the current government.
Sergey Kurchenko: Often referred to as a media mogul and Ukraine's "gas king," this 28-year-old controls much of the country's print media, and he has a large stake in its gas market. Karatnycky said Kurchenko is believed to be holding money for Yanukovych and his family.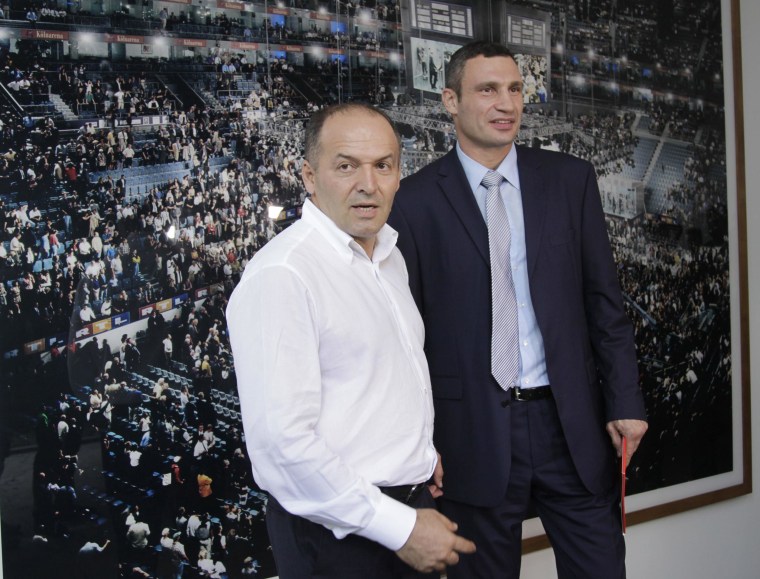 Victor Pinchuk: An avid art collector, he has been a strong supporter of Ukraine's tentative moves toward European integration. But Goodrich said his business ties are in Russia. Along with his television holdings, Pinchuk owns Interpipe, a Ukrainian metallurgical mill company.
Vadim Novinsky: Said to be an important link between Yanukovych and Russian interests, he has made strong statements about supporting agreements with Russia. Karatnycky said that Novinsky recently bought dormant and bankrupt shipbuilding facilities in Ukraine that could prove useful for Russia, and Goodrich confirmed his deep ties to Russia.
Petro Poroshenko: Karatnycky said Poroshenko, who served as foreign minister and minister of economic development and trade under Yanukovych, is now the second-most-popular opposition figure, behind former boxing champion Vitali Klitschko. He could play an important role in Ukraine's future, especially if there is a peaceful transition.
Dmytro Firtash: Worth an estimated $3 billion, he has made most of his money from gas trading and the chemical industry. Goodrich said Firtash was close to a group of loyalists within the parliament who supported Yanukovych's block; however, there are rumors he is now funding Klitschko's party. In mid-January, Firtash ally Serhiy Lyovochkin quit the Yanukovych administration over its use of force.
Rinat Akhmetov: With an estimated net worth of more than $15 billion, Akhmetov was once "joined at the hip with Yanukovych," according to Edward Mermelstein, an attorney and adviser on cross-border investments in Russia and Ukraine. Goodrich pointed out, however, that Akhmetov had a relationship with former President Viktor Yushchenko and was funding both sides during recent elections.
Stephen Larrabee, European security expert at Rand Corp., told CNBC that the oligarchs may move away from Yanukovych because they have much to lose if he can't retain power.
Mermelstein, who called Ukraine's oligarchs "quiet billionaires," echoed Larabee's sentiments:
"Each of these high-net-worth individuals has a tremendous stake in who will next lead the Ukrainian government," he said. "They have much to gain or much to lose depending on outcome."
Goodrich pointed out that Ukrainian oligarchs are different from their Russian counterparts in that they are active in politics. Russian players tend to stay away from the political process, which is dominated by one man: President Vladimir Putin.
"It's almost as if [Ukrainian] oligarchs are part of the process in which people rise to power," she said.
Several sources said the oligarchs are hedging their bets to ensure their own financial interests and survival.
"There's no ideology," Goodrich said. "It's all about the money and the self-preservation of their own respective empires."