RICHMOND, Calif. — On a recent unseasonably warm October day, dozens of Californians gathered at a food distribution site on a vast, unshaded blacktop space behind an elementary school.
In one hour, 193 people waited patiently to fill their carts and shopping bags with produce like bell peppers, apples, onions and squash from the side of a massive truck.
"That's a record for this year," said Matthew Durkin, 30, the mobile distribution supervisor, while nodding at the clients and noting that he usually sees only about 160 people. "It means there's an increased need."
Durkin, of the Food Bank of Contra Costa and Solano counties, says that while demand for free food has slowed slightly from the start of the pandemic, people are still hungry.
"We have seen another jump in numbers within the last few months. It's crazy," he said, adding that many clients have told them how much they fear returning to work. "They are concerned about Covid-19 surges, as so many of us are, and some of them may need to stay available for unexpected changes in child care and school due to Covid exposures or cases."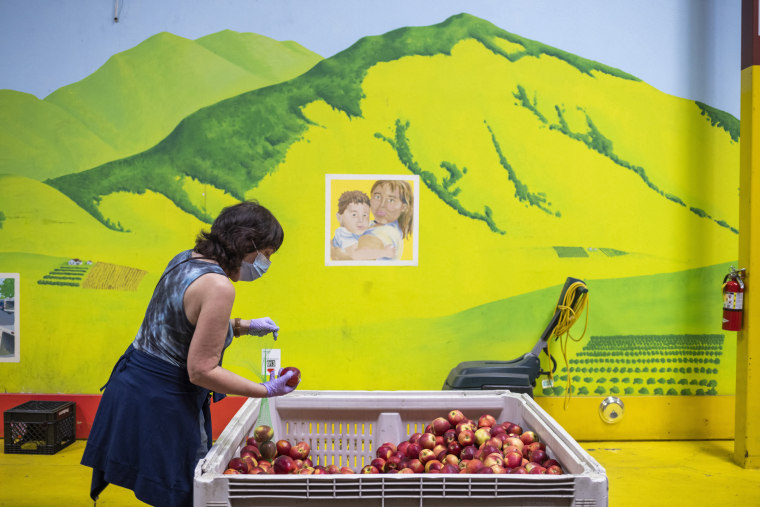 More than 18 months into the pandemic, San Francisco Bay Area nonprofit organizations, from food banks to shelters for domestic violence victims, say that they are seeing more demand for their services than they ever saw before the pandemic. Even now, there are still two members of the California National Guard working at the Food Bank of Contra Costa and Solano counties' central warehouse in Fairfield.
As the pandemic drags on, these support facilities are also struggling with supply chain problems to meet the seemingly endless demand. It presents even more challenges as supplies and workers grow more scarce. Joel Sjostrom, president and CEO of the Food Bank of Contra Costa and Solano counties, has watched the food bank's demand grow to 300,000 people at the height of the pandemic from 178,000 before the pandemic began. He is now still trying to find support for 240,000 clients each month.
Almost immediately after the March 2020 shelter-in-place order was instituted, he said, his organization lost 35 percent of its volunteer workforce because it depends so heavily on older volunteers who were scared to work before they were vaccinated. He had to call in members of the California National Guard, two of which remain.
"To meet those volume increases, we have had to step up facilities and transportation," Sjostrom added. "I had heard of the National Guard being helpful to others in Southern California."
At one point, there were as many as 25 soldiers working to help this one bank. In California, the National Guard, as of Thursday, still had 140 soldiers deployed to food banks across 16 counties, down from a high of 767 in April 2020, according to Lt. Col. Jonathan M. Shiroma, a California National Guard spokesperson. But the National Guard is gradually trying to cut those numbers back and deploy these workers to other missions.
In addition to help from the National Guard, Sjostrom has hired more full-time staff. But even now, even with 16 drivers, he still would like four more "Class A" drivers who can operate big rig trucks. In order to stay competitive with other outfits that employ drivers, he said he has had to raise his rates from $28 per hour to $30 per hour.
"It's truly market pressure," Sjostrom said. "Amazon has ads out, as does Hello Fresh, and driver demand is everywhere."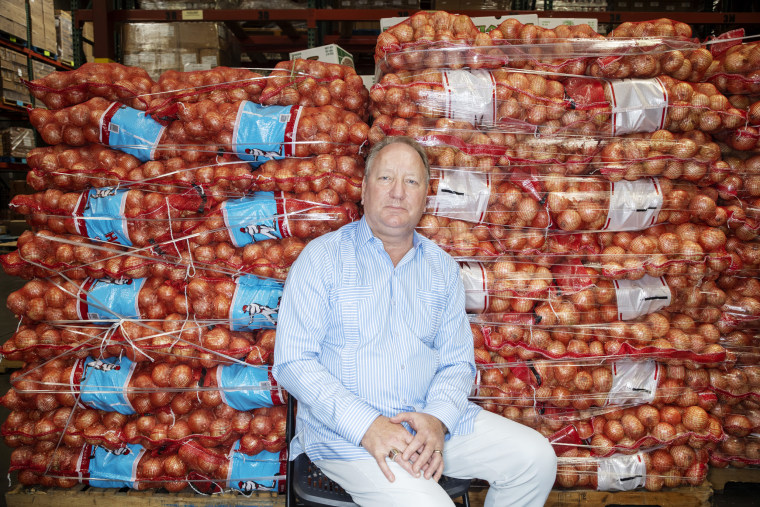 In many ways food banks can't compete, especially in one of the most expensive parts of the country, where the world's largest technology companies made record profits in the past 18 months.
"Even if people begin to go back to work, working in these low wage jobs, now that many people have completely wiped out their savings — it's going to take awhile to get back to that financial stability again," said Leslie Bacho, director of Second Harvest, a Silicon Valley area food bank.
Demand for food from Second Harvest has doubled compared to before the pandemic, jumping from around 250,000 people per month to over half a million, Bacho said. Now, she says, that number has fallen slightly to around 480,000 people. But consequently, she had to expand her paid staff from 190 workers to 260 workers. The new hires include over 30 drivers. In order to store all of the food that their clients need, she has had to contract for four refrigerated trucks that act as giant stationary coolers — and they remain there to this day.
"You never want to be doing that," she said.
Just north of Santa Clara County, Regi Young, the director of the Alameda County Community Food Bank in Oakland, said that his food bank is also serving nearly twice as much food it was 18 months ago.
"What we are going to see is that, even as we go forward and away from the pandemic, we are going to see some decrease," he said. "But it's not going to be at pre-pandemic levels."
"Particularly here in the Bay Area, the reality is that the cost of living is dramatically high. For low-income people to be able to pay their rent and live their life, it's going to be more challenging here. The impacts are going to take longer for some people to rebound from."
Tanis Crosby, the head of the San Francisco Marin Food Bank, said that it too consistently needed to serve nearly double the number of people it served before the pandemic. The food bank's research also showed that they are reaching many families that did not previously have a relationship with the organization.
"We surveyed over 7,000 program participants and upwards of 50 percent indicated that they had not received food from a pantry before the pandemic," she said.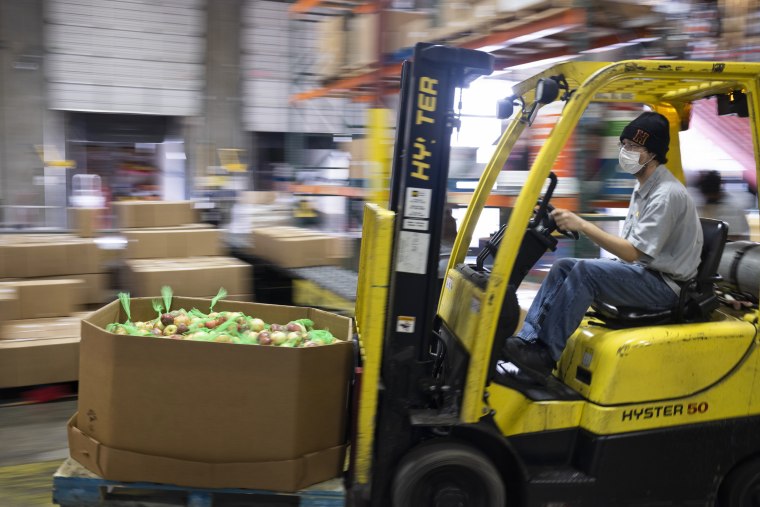 National problem
In some ways, food banks across the San Francisco Bay Area are experiencing a microcosm of what is playing out at food banks nationwide.
A recent report from the U.S. Department of Agriculture found that in 2020, families with children were hit harder with food insecurity and experienced an increase in hunger.
But the recovery is not occurring equally across cities, regions and communities, according to Diane Whitmore Schanzenbach, an economics professor and poverty expert at Northwestern University, who also serves on the board of the Greater Chicago Food Depository.
"We're seeing that in Chicago, too," she said by email. "I think that's telling us that many families are still deeply hurting economically. That's not surprising — recoveries are always uneven, and historically low-income families are hurt both worse and for a longer period after recessions."
Feeding America, the umbrella organization to the largest food banks nationwide, provided 6.1 billion meals in 2020 — a 44 percent increase over the year before — and is on track to bump that to 6.6 billion this year, according to Vince Hall, the organization's chief government relations officer.
"All of these infrastructure requirements have sorely taxed the charitable food system at a time when demand is still extraordinarily high," he said.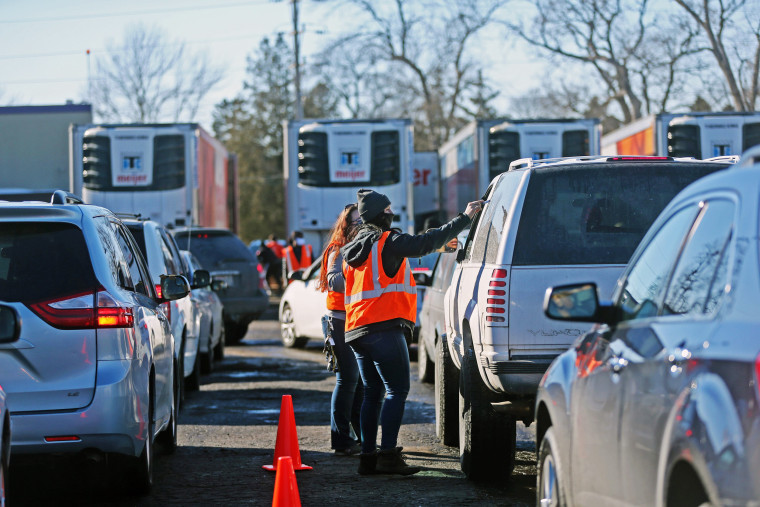 In Virginia, Karen Joyner, the head of the Virginia Peninsula Foodbank, said that while demand for food briefly "leveled off" to pre-pandemic levels, "now we are seeing levels creep up again."
For the first time, Joyner had to rent self-storage space near the food bank's offices in Hampton to serve as makeshift dry storage. To attract staff, Joyner also recently raised hourly wages from $12 to $15, but she still needs to hire more. She said she recently hired a child nutrition specialist and a worker in the finance department, but they never showed up.
"I guess you call that ghosting?" she said. "It's happened twice in the last two months — this has never happened before."
Growing challenges
This demand for staff is extending beyond food banks in the Bay Area to homeless shelters and domestic violence programs as well. HomeFirst, a homeless services agency that serves Santa Clara County, at the heart of Silicon Valley, has doubled staff and its budget through the pandemic. It also opened four additional shelters and a bridge housing site, and tripled the size of its outreach program. All of its shelters have now been converted for the first time to operating 24 hours a day, 7 days a week.
"We are working, as my grandmother would say, 'at a full-tilt boogie,' now and for the foreseeable future," said Andrea Urton, HomeFirst's director.
Similarly, Adriana Caldera, the CEO of the YWCA Golden Gate Silicon Valley, which has offices on opposite sides of the Bay Area, said that demand for sexual assault and domestic violence-related services has more than doubled during the pandemic.
"I would say that Covid exasperated domestic violence that was already occurring," she said.
As a result, she wants to expand her group's offerings with more services like therapy and child care for victims. She said that as children return to in-person school, there is more opportunity to report such abuse to authority figures and other school leaders. But even expanding in-person care has been difficult because it's so difficult to build new spaces.
"We have a facility that we are hoping to open in Palo Alto to be a walk-in center. We can't get materials for a remodel in fast enough," she said, noting that because of shipping delays for lumber, the remodeling cannot finish, and the center cannot open in January 2022 as planned.
"The idea was to make it an additional site for sexual assault and domestic violence — wood is in short supply right now."
YWCA Golden Gate Silicon Valley, which has offices in San Jose and San Rafael, north of San Francisco, and provides child care, therapy and even crisis intervention in situations including domestic violence and sexual assault, has also seen a drastic increase in demand.
"We have overwhelmingly seen an increase in requests for our services," Caldera said, noting that she has had to increase her organization's workforce by more than 10 percent, and still would like to hire more child care teachers.
Her organization, she said, has never been so stressed for resources. She noted that as the largest rape crisis center in Santa Clara County before the pandemic, her group would see two to three cases a weekend for forensic exams. She said that on one recent weekend her staff handled nine cases.
"It just keeps coming. We are still experiencing that demand and high level of service," she said. "I feel like with our work with domestic violence and sexual assault that we are still at that peak level."