Economists have debated the reasons why the American middle class is shrinking for years now, and a new study highlights one key reason: The jobs that pay enough to support a middle-class lifestyle are disappearing.
Although the total number of American jobs is projected to increase by around 7.2 million over the next five years, this growth largely leaves behind the middle of the income spectrum.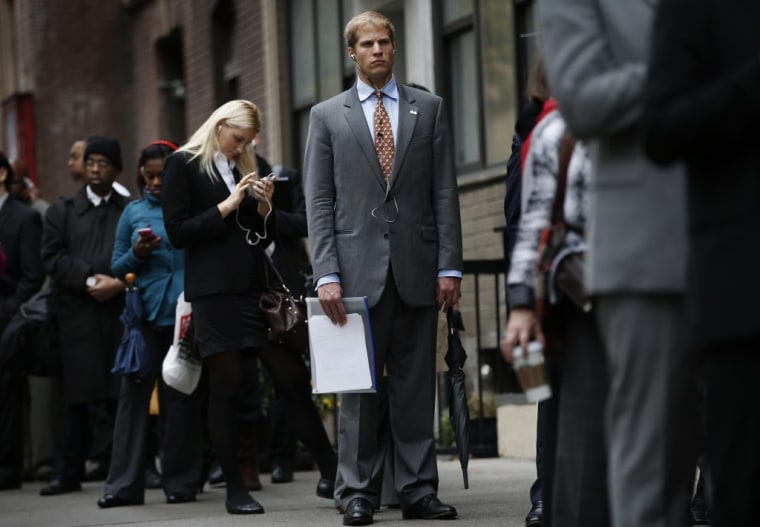 More than 60 percent of 173 occupations projected to decline through 2021 are middle-class jobs, according to a new analysis by CareerBuilder's Economic Modeling Specialists International. Between now and 2021, the number of low-wage jobs will increase by 5 percent, but middle-income jobs will only grow by 3 percent. (CareerBuilder defines middle-income jobs as those that pay between roughly $14 and $21 an hour.)
"What we see in the mid-range is, really, technology taking over," said Mike Erwin, senior career advisor at CareerBuilder.
The good news is that high-income jobs are also projected to grow by 5 percent over this time period, but most if not all of these positions require skills and training that, practically speaking, are out of reach for the middle-class employees whose jobs are vanishing.
The fastest-growing high-paying jobs require technological, research or management skills. The middle-income jobs on track to grow the most within the next five years are ones that can't be outsourced or automated: medical assistants, customer service representatives, maintenance and repair workers, tractor-trailer drivers and office clerical workers.
"Jobs that have a lot of routine aspects are easy to automate and those are going away," said Glassdoor.com chief economist Andrew Chamberlain. "Those jobs are just disappearing, and that's the hollowing-out we're seeing," he said.
For middle-income workers, a combination of automation and wage erosion Chamberlain attributes to the weakening power of unions erodes the economic stability of the middle class.
"There are really two middles — one requiring few skills and one requiring more," Harry Holzer, Public Policy professor at Georgetown University and author of Where Are All the Good Jobs Going, said via email. "The former has shrunken quickly," he said, and higher-skill jobs that deliver a middle-class income just haven't been able to pick up the slack.
"We need to invest in programs that are going to reskill workers," Erwin said. The problem is, that's easier said than done once the question of who pays for these kinds of initiatives.
"That's a major problem right now," Erwin said of corporate America's reluctance to invest in worker training. He suggested any solution will probably need to come from a combination of government, academic institutions and private enterprises working together — and the sooner, the better.
"Middle-wage workers will become increasingly susceptible to unemployment or will have to move into lower-paying roles that may not support them and their families," CareerBuilder CEO Matt Ferguson warned in a statement. This isn't just bad news for middle-class families, he said; it also can weaken consumer spending, the housing market and Americans' ability to invest in the stock market and save for retirement.
Not only will a low-paid, low-skill workforce keep companies from performing at their peak, but it also will deprive those companies of the consumer base many depend on to thrive.
"Companies are sitting on more money than they ever have been," Erwin pointed out. "I think companies got hit so hard in the recession that they're being very cautious… Unfortunately, I think that's hurting them in the long run."