President Donald Trump's plans to promote natural gas while protecting coal jobs may be nothing but a pipe dream.
On the one hand, he's pledged regulatory rollbacks on fracking and opening federal lands to boost natural gas production. But he also has said he's going to "save coal."
This Thursday he doubled down on a Trumpian paradox, saying at a GOP retreat in Philadelphia, "We're going to put our coal miners to work." Yet in a 2012 tweet he promoted lower natural gas prices, saying, "Fracking will lead to American energy independence."
He stoked the burning contradiction within the same speech this September as well.
"The shale energy revolution will unleash massive wealth for America," Trump told a meeting of natural gas industry executives in Pittsburgh. "And we will end the war on coal and the war on miners." Trump has stated his actions will help the country unlock an additional $50 trillion in untapped energy reserves.
There's just one problem. Both coal and natural gas are in the business of lighting American homes — and one can't win without the other losing.
"Unless the Trump administration wants to constrain natural gas production or drive up gas prices, coal will continue to fall behind cheaper and cleaner energy sources," Matt Lee-Ashley, a senior fellow at the left-leaning Center for American Progress, told NBC News.
In the past decade, natural gas has been on a winning streak, with production increasing 10 trillion cubic feet between 2005 to 2015. That's lowered prices and made it the top choice for power plants across America.
A Cleaner Power Plan
Experts say energy from coal production could hold steady instead of dropping, if Trump repealed the Clean Power Plan, which aims to reduce carbon dioxide emissions from power plants — especially those burning coal.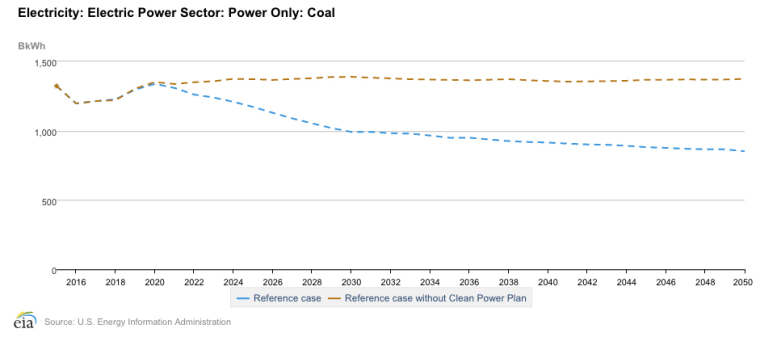 "Without the Clean Power Plan, coal basically flatlines, rising ever so slightly all the way out to 2050," said Doug Vine, a senior fellow at the Center for Climate and Energy Solutions.
But even if Trump is able to pause coal's death spiral, that is a far cry from "bringing coal back." There are no plans being considered for new coal plants, except one "clean coal" plant in Mississippi.
"I've suggested to Mr. Trump that he temper his expectations," top coal executive Robert Murray told CNN Money.
Coal jobs, he said, "can't be brought back to where it was before the election of Barack Obama."
Fracking Boom
Boosted by a fracking boom, natural gas has killed miner jobs and mothballed coal plants.
Related: Could Trump Really Bring Back Manufacturing Jobs?
"Trump as an antithesis to climate policies will be quite helpful with coal," said Ben Zycher, a resident scholar at the American Enterprise Institute, a conservative think tank. He predicted there could be new coal mines dug in the western United States as a result.
However, "Reducing the regulatory burden on natural gas, particularly with fracking fields, will make life harder for coal producers."
It seems not even Trump can overcome macroeconomics with a pen or a tweet.
"He's going to permit pipelines, take away some restrictions on shale drilling, make it easier to drill, probably remove some restrictions on digging coal, but in the end this is the market that even he cannot control by edict," said Irwin Seltzer, a scholar at the Hudson Institute, a conservative think tank.
And while presidents have large powers over things like international tariffs, they can't order utilities to burn coal.
"The name of the game is natural gas," said Seltzer. "The game is over."