The United States and China have reached an agreement on phase one of the trade deal, Chinese officials said Friday. President Donald Trump confirmed the news in a tweet shortly afterward. The announcement comes after almost a year and a half of posturing between the world's two largest economies that centered on trade imbalances, access to markets and concerns about intellectual property theft.
The precise conditions of the agreement are still being negotiated, but the U.S. will begin to remove some of the tariffs it has levied on Chinese goods, China's Vice Commerce Minister Wang Shouwen said Friday during a press conference.
The U.S. will continue to levy a 25 percent tariff on approximately $250 billion of imported Chinese goods, the Office of the U.S. Trade Representative said Friday. Tariffs on another $120 billion would be reduced to 7.5 percent, according to a statement from the USTR.
The agreement also delays the implementation of a 15 percent tariff on $156 billion in Chinese imports, primarily consumer goods such as toys, clothes and electronics, which had been scheduled to take effect on Sunday.
The 86-page document, which U.S. Trade Representative Robert Lighthizer said he hoped would be signed in China in January, includes a commitment from China to buy $200 billion in U.S. goods, and up to $40 billion in agricultural products, though Beijing will make its "best efforts" to reach $50 billion.
Download the NBC News app for breaking news and politics
Washington and Beijing initially reached an agreement in October to implement a "Phase One" deal, under which China would purchase $40 billion to $50 billion of U.S. agricultural products, Trump said at the time. The agreement also included commitments by China related to its currency, intellectual property and access to Chinese markets, Trump noted.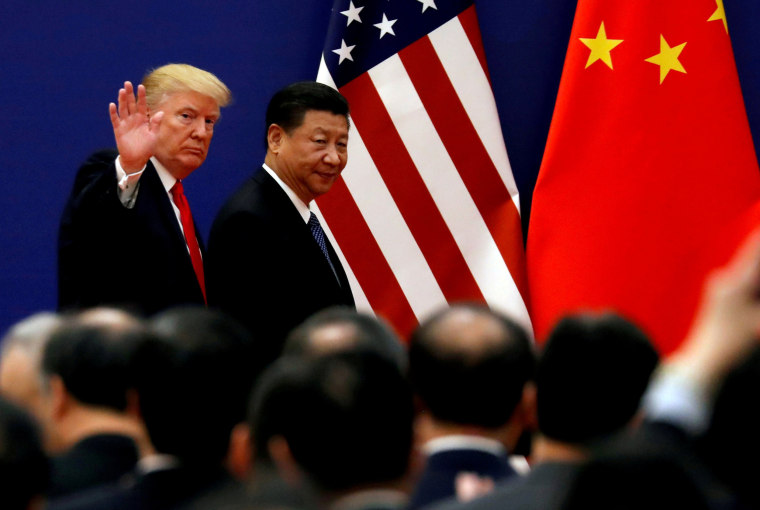 The protracted tit-for-tat over tariffs between the two sides has weighed heavily on markets and on business sentiment over the past 17 months. While Trump dismissed the standoff in May as nothing but "a little squabble," global markets have been roiled and organizations such as the International Monetary Fund predicted the trade war would damage global growth by 0.1 percentage points this year and next.
American companies and investors initially viewed Trump's protectionist stance as a negotiating ploy, but fears began to mount over the summer that the stalemate would drag on indefinitely. Those concerns multiplied after Trump said this month that he saw no particular deadline for a resolution. "In some ways, I like the idea of waiting until after the election for the China deal," Trump told reporters at the NATO summit this month.
Wall Street hit all-time record highs Friday after China made the announcement, but settled lower upon learning that Beijing had not committed to specific purchases of agricultural goods.
Despite the brief elation, some market observers say much of the damage has already been done.
"Firms will be postponing investments not just until we find out what the next deal is, but much longer than that, until future policies become clearer," said Peter Petri, a professor of international finance at the Brandeis International Business School.
"That will hurt the outlook for investment and growth well beyond the next few months."