The Federal Reserve approved another rate hike on Wednesday, bumping up the nation's benchmark interest rate by one-quarter of a point. It's the second time Fed Chairman Jerome Powell has raised rates since he took over the nation's central bank in February.
The increase, announced at the conclusion of the Federal Open Market Committee's two-day monetary policy meeting, continues the Fed's cautious approach to steering the economy away from potential inflation while balancing a number of newer geopolitical risks that could threaten America's nine-year growth streak.
The new short-term interest rate now sits at a range of 1.75 percent to 2 percent.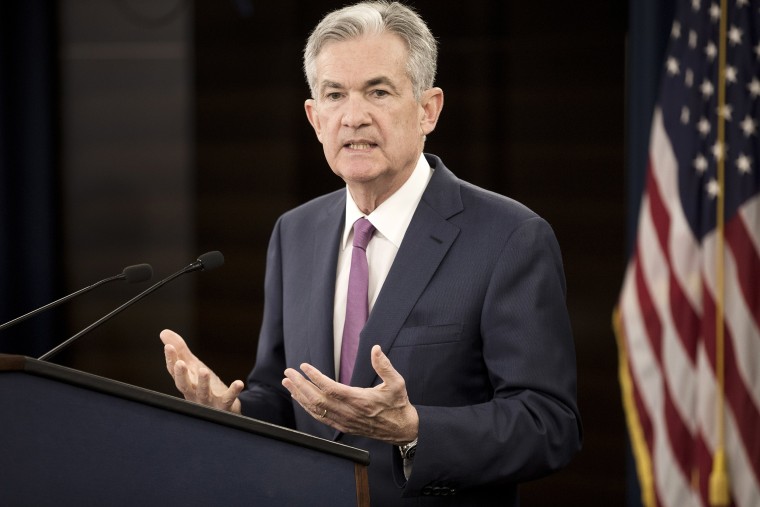 The Fed also released its economic outlook for the year, including the famous "dot plot" that lays out the projected path for rate hikes as estimated by all 15 voting Fed members.
Wednesday's updated projections included consensus on four rate hikes this year, but at the last policy meeting, in March, the vote was split down the middle. The more aggressive board members were pushing for four rate increases this year, pointing to the nation's high employment as a sign that the economy had the potential to overheat. At 3.8 percent, America's jobless rate is the lowest in almost 50 years. This is bound to put upward pressure on wages and, as incomes rise, so will prices — and therefore inflation, which is already close to the Fed's 2 percent annual target.
Those same hawkish members also pointed to the fact that Washington's fiscal stimulus — both an increase in government spending and an overhaul of the tax code — is likely to boost the economy even more, and require a pullback in the form of higher interest rates.
More cautious members of the committee cited unknown risks in the form of global tensions such as tariffs, a potential trade war with America's closest trading partners, and struggles in emerging markets as reasons to stay the course without hiking rates.
"The data since March is pretty much in line with the outlook, and the rate path clearly remains a gradual one," Ellen Zentner, chief U.S. economist at Morgan Stanley, told Marketwatch.
For now, staying ahead of the curve on inflation is likely to remain Powell's greatest challenge as he attempts to raise rates slowly but surely, without trip-wiring the economy. The current consensus of economists predicts that the Fed will hike rates to 3.4 percent by 2020 in order to keep inflation under control.