Allegations of price-fixing at America's largest chicken producer have Tyson CEO Tom Hayes "excited to defend the company in court."
The executive went on CNBC Tuesday morning and denied all accusations of collusion with other big poultry suppliers as "baseless" and "grasping at straws." Instead he is "excited" to tell investors about the company's "growth story."
Related: You're Getting Skinned on Chicken Prices, Suit Says
Tyson disclosed two weeks ago that the SEC had subpoenaed the company.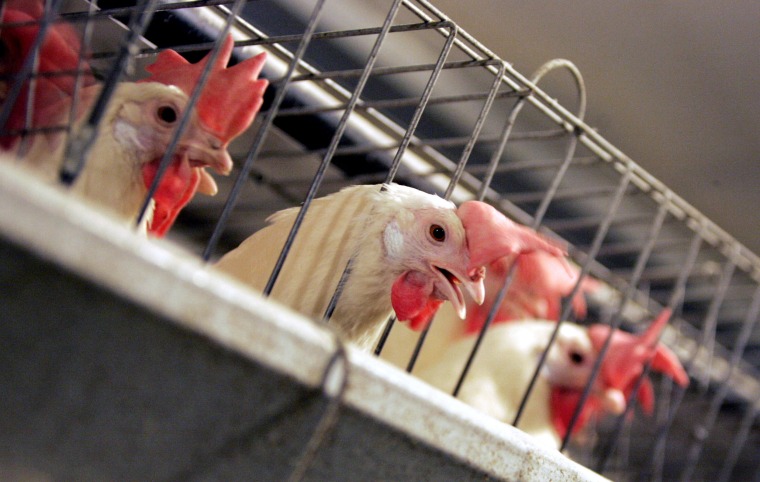 The federal agency's investigation follows the filing of class action lawsuit on the part of chicken wholesalers and consumers.
The suit alleged that Tyson and other dominant chicken suppliers had kept the prices of chicken artificially propped up even as the price of feed was dropping.
It named the "Big Four" as defendants -- Tyson Foods, Pilgrim's Pride, Perdue, and Sanderson Farms -- along with almost a dozen other chicken producers. It also named a data services division of Eli Lilly known as "AgriStats" as an agent or co-conspirator.
In AgriStats, suppliers submit detailed information from their poultry plants and get back reports on how their competitors are doing. They're supposed to be anonymous, but you can reverse-engineer the data and figure out who is doing what and keep them in check, the suit alleged.
"This permits the defendants to share, on a weekly and/or monthly basis, their confidential production and pricing information, including forward-looking production information, which is easily forecasted on broiler breeder flock data that is reported and shared," according to the complaint.
"It's very unlikely that these guys stroked their chins and said 'let's find a way to collude,'" Tim Ramey, an analyst at Pivotal Research Group, a stock research firm, who follows the poultry market closely, told NBC News.
"They didn't meet in a hotel room or may not be fully aware that what they did was collusive... they may have been participating in something where the information was too good," said Ramey.
Christopher Leonard, a reporter who has tracked the poultry industry for the past 15 years and exposed its inner workings in his book, The Meat Racket, is perhaps the only outsider to have seen a copy of the AgriStats report.
He says unmasking the anonymous data would take "intention" and "hard work."
"You're going to have industry knowledge. You've got to know a lot of math. You have to start backing out the numbers of stuff in there to figure out how large the plant is. You match that against your local knowledge," Leonard told NBC News. "It takes a couple days and it's not a no-brainer, but it definitely can be done."
The suppliers' motion to dismiss called the accusations of collusion a "conspiracy theory" and the companies have vowed to fight them in court.