The nation's unemployment rate fell to 3.9 percent for the first time since 2000, with the economy gaining 164,000 jobs in April, according to data released Friday morning by the Department of Labor.
But the number of jobs added was lower than expectations set by economists, who were anticipating that the monthly report from the Bureau of Labor Statistics would show 192,000 jobs had been added.
April's job number follows an unusually slow March, when job gains lingered at 103,000 due to unseasonable weather, and a robust February, when 326,000 people found work. The economy needs to create about 120,000 jobs each month in order to absorb new workers and balance out the unemployment rate.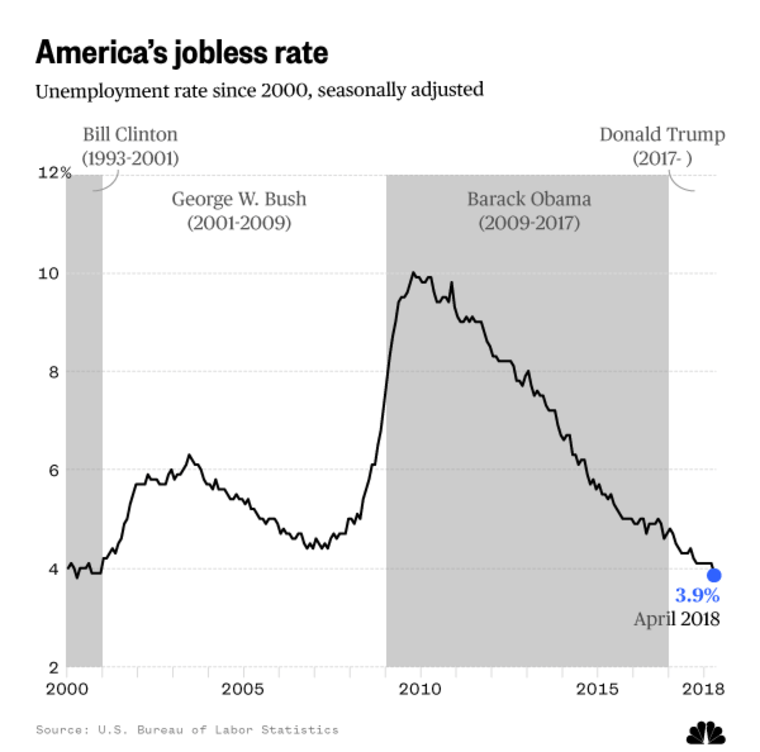 Wage growth remained sluggish in April, with hourly pay inching up at a rate of only 2.6 percent. However, the slow-but-steady growth rate may still be enough to convince the Federal Reserve to keep raising rates to keep inflation in check.
The Fed left its benchmark rate unchanged in its policy meeting this week; the central bank last raised rates in March.
"We expect faster wage growth will prompt the Fed to raise rates three more times this year," Michael Pearce, a senior U.S. economist at Capital Economics, told Reuters.
Response on Wall Street was muted, with pre-market trading moving the needle slightly lower on all three indices, compounded by the fact that trade talks between the United State and China weighed on markets worldwide.
Stocks have swung wildly in both directions in the past few weeks after President Donald Trump introduced additional tariffs on steel and aluminium for certain countries. Many of those trading partners have since threatened retaliatory tariffs.
Treasury Secretary Steven Mnuchin is wrapping up talks this week with officials in Beijing. He has reportedly been having "very good conversations" about the trade tensions.
"Businesses are facing a rising level of uncertainty, due in large part to the sharp escalation of trade tensions which in some cases are resulting in higher prices or reduced access to markets," said Mark Hamrick, senior economic analyst at Bankrate. "The midterm elections are now just six months away, meaning that political risk, including a change in party control of Congress and all that follows from that, must also be factored into the range of potential variables."
Friday's figures continue the economy's record growth streak, with 91 straight months of job gains.