Commercial truck driving has a reputation for grueling hours, weeks away from home, and a burly machismo that isn't particularly welcoming to women. It's high time that reputation got a makeover. A 2017 report by the American Trucking Association noted that the industry needs to hire almost 900,000 more drivers to meet rising demand, while the latest jobs report noted that 185,000 jobs have been added over the past four months alone. Bottom line: this sector is getting desperate for talent, and the problem is only worsening.
"The shipping infrastructure is facing a tight capacity crunch this year, and the small- to-mid-sized business shipper will feel the upward pressure in raised rates due to the lack of drivers and trucks available," said Tim Story, EVP of freight operations at Unishippers. "The new mandate could result in a 4-8 percent loss in capacity (available trucks on the road).
And the workers prized by many of these companies aren't getting any younger.
"The average age of commercial truck drivers is 55 and rising rapidly," said Jon Gilbert of PLG Consulting. "The concern is that older, qualified truck drivers are retiring, and we are not getting adequate replacement drivers."
A tough sell to young people
Young people looking at a first or new career may be disenchanted by commercial trucking not only because of what Gilbert describes as an "arduous lifestyle," but because they need a special kind of license (CDL) to qualify. Though some companies offer free training (tuition can cost up to $8,000), that's hardly the standard, and either way it's a solid investment of time. You also need to meet physical and health requirements, and, in what is perhaps the biggest obstacle the industry sees here, be at least 21 to cross state lines.
"Right off the bat we're knocking a significant portion of potential workforces out with that age restriction," Brian Andalman, director of carrier sales and client services at AFN, told NBC News. "If kids aren't interested in doing college but can't attack this arena, that's a big hurdle."
Neil Abt, senior editor at Fleet Owner, noted that there are efforts in the industry to "create graduated licensing programs that would allow 18-20-year-olds into the industry, as opposed to them starting a career elsewhere and being gone by the age of 21."
"It is common for a speaker at a trucking conference to ask the crowd to raise their hands if they hope their children become truck drivers. Few, if any, ever raise their hands."
However, the larger issue in appealing to younger adults seems to point to deeper roots.
"It is common for a speaker at a trucking conference to ask the crowd to raise their hands if they hope their children become truck drivers," said Abt. "Few, if any, ever raise their hands."
Abt notes that in recent years there has been more recruiting from companies via social media, which is "a good start", but Story observes that companies are struggling to lure fitting candidates — and it's hurting their wallets, especially if they're shelling out higher pay to retain top talent.
"Carriers are having to spend more money on advertising to get people to apply, but only getting one to two drivers out of each 100 applications they receive," said Story. "Between the training required, predominantly male-dominated field, age hurdles and more, carriers are having to pay drivers higher rates that will continue to increase. Right now, there aren't enough qualified drivers in the applicant pool to satisfy the needs of the industry. Until a recruitment solution is identified, it will continue to be a problem."
One company that seems to have found a solution, at least for itself, is UPS. Dan McMackin, public relations manager at UPS and a former truck driver himself, told NBC News that while the company does have to get creative during the Christmas season to bring in new workers, the company isn't facing any general shortage of drivers.
"We have roughly 127,000 drivers, and about 20,000 of those are tractor/trailer," McMackin said, adding that the majority of the drivers work in delivery. "About 12,000 or so are over the road, but most just go out in one day for around five hours and then return that distance. This makes it a very unique and attractive job offering because you don't have to sleep in a truck cab or berth or eat at truck stops. We're one of the largest users of rail in America, so any ground shipments going beyond about two states away from origin go on the rails."
Though UPS does recruit outside the company, most of its drivers come from the UPS pipeline and, like McMackin, have held other internal positions before they work up to being a driver, where the perks are cushy. "They get a better package than I do: full pension, full healthcare, and a 401(k) that the company matches."
McMackin adds that while he's not certain of the stats, the job does skew mostly male, but that said, some of the best drivers he's ever worked with have been women, and he hopes to see more taking the wheel.
That most truck drivers are men is a critical point, and an area where the sector has the most advancements to make.
Driver perks can include full pension, full healthcare, and a company-matched 401(k).
Ellen Voie, president and CEO of the Women In Trucking Association (WIT) is working to bring a sense of community to women drivers, as well as to foster initiatives that could attract more female truckers. Right now, only seven percent of the commercial trucker workforce is female. That number may have perhaps made sense 20 years ago, when you needed some brawn to navigate these massive vehicles, but trucks are so much more efficient today.
"There's very little physical exertion anymore," Voie told NBC News. "Even the hood releases and the dollies are hydraulic. You just push a button. There aren't any challenges that women have that men don't when it comes to the job. But they do prioritize differently. Women are much more concerned about safety, both in terms of the safety of the equipment and their personal safety. The [former concerns] mostly maintenance, but personal safety, that is huge. Women are much more situationally aware and cautious. They don't park in the back where it's dark. They will often have a dog in the truck with them, and a personal safety device like a can of hornet spray because it can reach up to 15 feet."
Currently WIT has over 4,000 members, mostly in North America. The organization touts a Facebook group, a weekly newsletter, a quarterly magazine, various workshops and events, and an annual conference. Additionally, WIT works with manufacturers to provide women's feedback and suggestions.
"We work with the manufacturers on design and ergonomics so that women can feel as comfortable as men, given that they generally have shorter arms and legs," said Voie, adding that women often want their truck not to feel more like a home. Some manufacturers like Peterbilt, Voie notes, are paying attention. "We're excited about their porta-potty and security alarm system."
WIT is also optimistic about highlighting the job for the youngest generation. "In a few weeks, we're coming out with a truck driving doll," she told NBC News. "We're just really trying to introduce this field as an option to girls."
Autonomous vehicles are actually a plus
A subject that has been sending jitters through the trucking industry at large is the slow but certain rise of self-driving vehicles. Drivers worry that these will replace their jobs, and this only deters young people more. Why join a workforce that will be obsolete in a decade?
"The talk of autonomous vehicles is creating a fear of truck driver extinction," said Story. "More truck drivers are migrating to lucrative job positions in construction or manual labor remediation, where there is no current automation threat."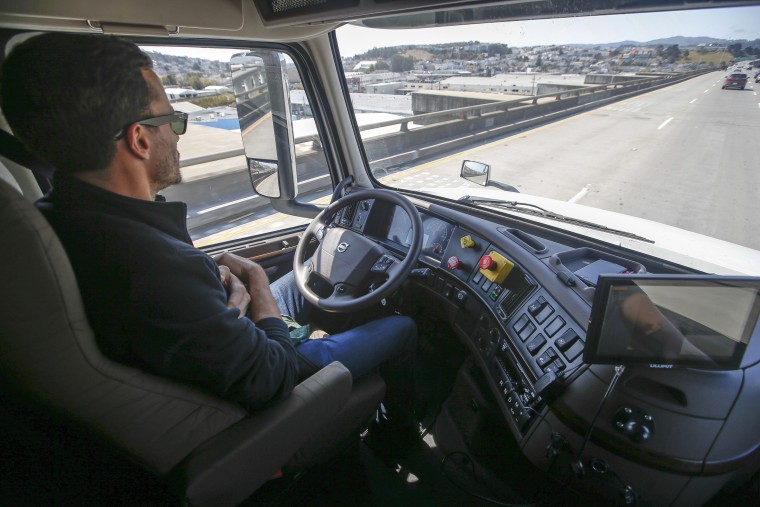 But some experts think that autonomous trucks could only help solve just about every problem the trucking industry has right now, including those of employees.
"Autonomous technologies could be the key," said Abt. "This does not mean completely driverless, I cannot stress this enough. It is about making the job of driving easier, safer and maybe even more fun. A driver would still be needed in the vehicle, for emergencies, for handling the exit or entrance from the interstates, and for actually driving on the local roads. Additionally, there are technology limitations with weather, quality of road markings, and other issues."
Also, a truly autonomous vehicle isn't going to be standard anytime soon — not when you consider just how much is involved for safety and security.
"You may see them here and there in the next two years, but it will be at least 10 to 15 years before autonomous trucks can capture a significant portion of the industry," said Vibhanshu Abhishek, assistant professor of information systems at Carnegie Mellon University's Heinz College. "You need a ton of data to assess the optimal way to respond to whatever a truck is seeing or sensing to have the safest and best running vehicle. It will take a long time to get data for every kind of situation, and intuition is a difficult thing to build in."
With self-driving trucks, maybe the driver won't have stare out of the window all the time.
But even when it does happen, drivers shouldn't think it means they'll be out of work. If anything, they'll just work differently, and perhaps more enjoyably.
"Maybe the driver won't have to be staring all time out the window, and can do other things," said Abhishek. "I can't predict the exact business model, but I am certain that the whole trucking experience will change such that it will be appealing to young truck drivers. They'll be attracted to the technology, and because the truck has so many safety features, they won't need as much experience."
"I also think that it will open the market up to more women," said Abhishek. "It could really help solve this shortage, which is not just an American problem, but a global problem. Solving it could grow the economy worldwide."