Much like the uneven recovery that is slowly pulling the U.S. economy out of a deep recession, your chances of finding job depend a lot on where you live and what industry you're hoping to work for.
The patchy pace of job creation is reflected in the latest jobs data.
Private employers added 158,000 jobs in March, the smallest gain in five months and short of economists' expectations, a report by a payrolls processor showed on Wednesday. The biggest job gains were in finance and professional and business services, while construction and manufacturing hiring remained weak, according to the ADP National Employment Report
The government will report its latest monthly employment data on Friday. Economists are projecting that non-farm payrolls grew by about 200,000 in March and the unemployment rate held steady at 7.7 percent.
For the past two years, the economy has been adding about 175,000 new jobs a month, barely enough to produce a gradual decline in the unemployment rate.
Despite that sluggish hiring pace, some occupations like engineering and health care seem to have dodged the Great Recession's heavy layoffs.
Related: Have you been hit hard by a career mistake?
One strong indicator of the shortage of those highly-skilled workers is the surge in applications this year for so-called H-1B visas. Under current immigration law, some 65,000 such visas are issued to foreigners who want to work for companies who can demonstrate they're having a hard time filling those jobs.
On the other hand, millions of workers in occupations like construction and manufacturing remain stranded outside the workforce. As of last month, more than one in seven construction workers was looking for a job.
Job prospects – much like the uneven housing market rebound that is helping to sustain the recovery – also vary widely from one region of the country to another.
In North Dakota, an ongoing energy boom has cut the jobless rate for the state's tiny labor force to just 3.3 percent. In California, which has the largest pool of workers of any state in the nation, nearly one in 10 is unemployed as a lingering housing recession weighs on many parts of the state.
"Areas where housing is coming back more quickly and with more force are areas that are likely to see some of the strongest job gains," said Aaron Smith, a labor economist at Moody's Analytics.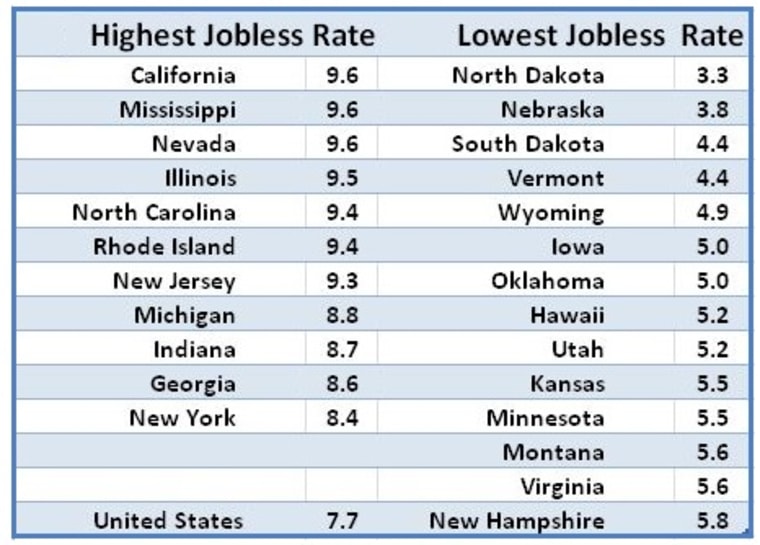 In Florida, for example, a surprise rebound from a deep housing slump has helped pare the state's jobless rate to 7.7 percent – from 9.0 percent a year ago. The state is also benefiting from a pickup in tourist and industries unrelated to housing.
"Miami has a very strong demand for marketing and sales managers," said Joanie Ruge, President of TACK Partners, an employment advisory firm. "Whereas we're seeing growth in Tampa in Web developer and more technical IT positions like network and system administrators."
Other metro areas showing strong job demand include Dallas and Houston, thanks in large part to the strong growth in U.S. oil and natural gas production, she said.
Some occupations have been all but immune to the job downturn.
For doctors and other health care practitioners, the jobless rate in December stood at just 2.5 percent, the lowest of any occupational category tracked by the Bureau of Labor Statistics.
The doctor drought, which has been building for decades, is only expected to get worse. Aging baby boomers are driving more visits to health care providers and the Affordable Care Act will soon send tens of millions of new patients to their offices in need of care.
For other workers, job gains tied to the nascent housing rebound have been showing up in related areas – from building materials to heavy equipment manufacturing to mortgage lending.
"You've also had increased lending in other areas besides housing - business lending, even consumer non-housing lending - that's picking up," said Smith. "So you should start to see a quickening in the pace of job growth in financial services. "
Though unemployment remains high in construction, the rate has dropped substantially in the last 12 months, a trend that may soon begin to accelerate, said Smith.
That may be because construction activity fell even further than construction payrolls when the recession struck in 2007, leaving significant slack in the industry's capacity. Once that extra labor capacity has been absorbed by the ongoing increase in building activity, the pace of new hiring should also pick up, according to Smith.
"There's typically a lag there," he said. "And we're right at that point where we should start to see some significant job gains in construction that will really help the overall monthly job numbers."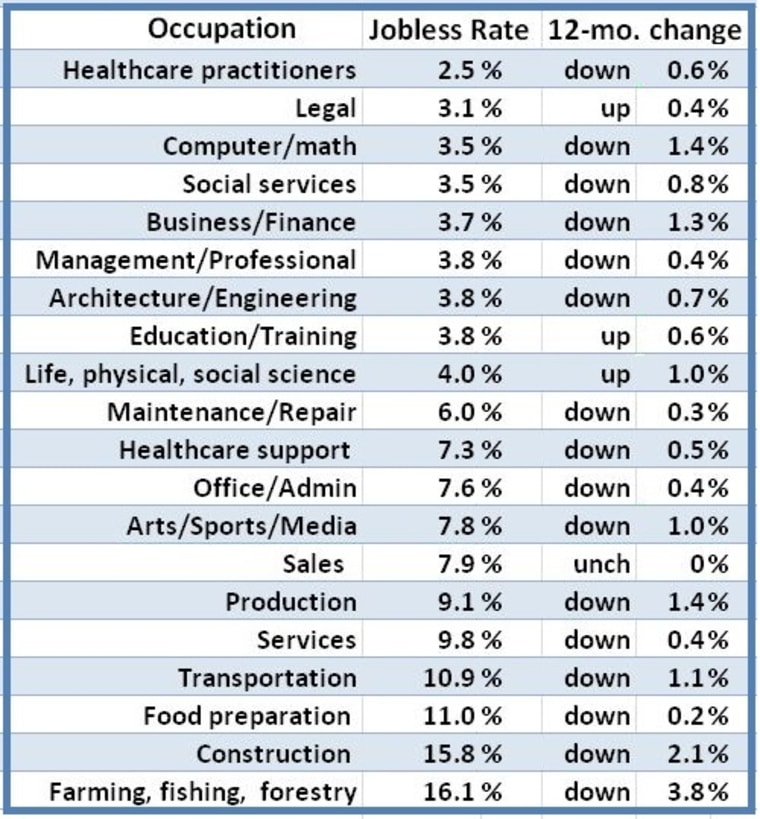 Manufacturing is also picking up as a boom in car sales and a boom in energy production has lowered energy costs. The expansion is benefiting industries that are heavy consumers of natural gas – like fertilizers, chemicals plastics, steel and glass.
These companies are investing tens of billions of dollars in new plants and upgrades, spurring hiring in construction, engineering and other related services. They're also investing in high-tech equipment to boost productivity and to further drive down costs to better compete with low-wage overseas manufacturers.
That means that new manufacturing jobs typically require much higher skills than factory workers historically have had to show a hiring manager.
Lower-skilled workers are also losing out on entry level jobs that might otherwise have required only a high school diploma. With so many recent college grads looking for work, many of them have had to settle for lower-skilled jobs, displacing low-skilled workers.
"Employers say, 'I can find a higher-skilled individual for the same salary or same wage who didn't have the same qualifications two or three years ago,'" said Brent Rasmussen, president of job site CareerBuilder's North American unit.
Even as the economy has picked up, some employers remain leery about the outlook for 2013 as the European economy continues to contract and U.S. lawmakers continue to haggle over federal spending and tax policy.
As a result, many of them have held off creating new jobs even as business has picked up, relying on existing staff to pick up the extra work.
That's produced another sign of an improved job market – an increase in the "quit rate" of workers who've had enough of those demands and moved on to another job.
Many more are looking. Monster.com, for example, is now seeing a million new resumes added to its database every month, according to Ruge.
"A lot of employees that are still employed have been asked to take on more work or work more for less money," she said. "So as the job market improves were seeing more and more seekers looking for a better job."