Let's say you're the boss, and you have an opening for a widget maker.

Are you going to choose the person who has been making widgets at your competitor's plant every day for the past two years, or the one who's made a lot of widgets in the past — but hasn't had a job of any kind for the past two years?
Economists say one big problem with the nation's weak economic recovery is that too many employers have the luxury of choosing the person who's already making widgets — and that's leaving behind those who are already out of a job.
"If you're not working — and you're not improving your credentials — it's harder to find a job. That's just simply reality," said Joel Naroff, chief economist with Naroff Economic Advisors.
President Barack Obama met with the chief executives of many large companies Friday to address one of the most enduring problems of the Great Recession: how to get those long-term unemployed Americans back to work.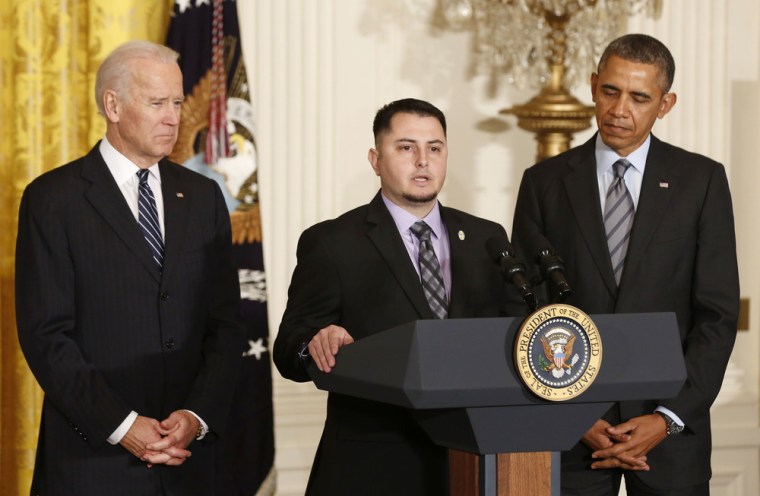 The effort comes as the unemployment rate has been steadily improving, hitting a new low of 6.7 percent in December, according to the Bureau of Labor Statistics.
The median duration of unemployment — or the midpoint in the number of weeks an unemployed person stays out of work — has improved as well, but it remains unusually high, at 17.5 weeks as of December.
It's been a particularly big problem for people who are later in their careers. In general, older workers have enjoyed a lower unemployment rate than younger workers — but if you're unlucky enough to lose a job late in life, it's a tough slog back into the job market.
The median duration of unemployment for 55- to 64-year-olds was 25.9 weeks in December, compared to 15.9 weeks for 20- to 24-year-olds, according to the BLS.
Naroff, the economist, said another vulnerable group are younger workers with a high school degree or less. These folks may lack the skills to get a new job, making it difficult to convince a new employer to take a risk on them.
The question of how to get the long-term unemployed back to work is complex because there are so many variables.
A person who has been out of the job market a long time may have rusty skills or skills that are too specific for the job available, or may command a higher salary than most employers are willing to pay.
In addition, the weak housing market has meant that some people can't afford to move for a new job, curtailing job prospects.
Another problem: Many complain that employers are just too picky, because the job market has been so weak for so long.
Naroff expects that long-term unemployment will ease as the unemployment rate drops and employers no longer have the luxury of being inundated with resumes for every job posting.
Still, the recovery so far has been slow and stubborn, and that means the long-term unemployed may need to continue to have something that is probably in short supply right now: Patience.
Allison Linn is a reporter at CNBC. Follow her on Twitter @allisondlinn or send her an e-mail.