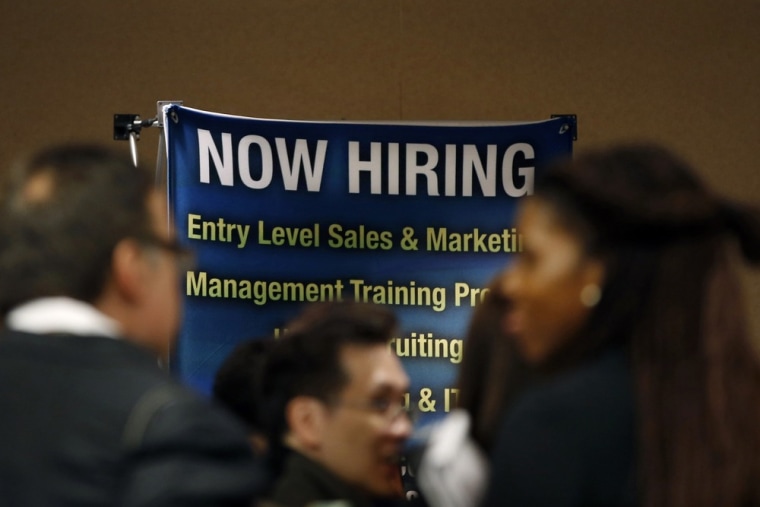 The jobs picture looked a bit brighter Thursday after two pieces of data showed businesses picked up hiring and cut back on layoffs in December.
U.S. private-sector employers added 215,000 jobs last month, well above economists' expectations, a report by payrolls processor ADP showed. And planned layoffs dropped for the first time in four months, according to a separate report from consultants Challenger, Gray & Christmas, Inc.
Jobless claims bucked the trend by rising in the latest week, but the data was distorted by the holidays. 
"All the labor market data….has held up very, very well so (there is) no sign of the fiscal cliff impact on the job market," said Mark Zandi, chief economist at Moody's Analytics.  
Economists surveyed by Reuters had forecast the ADP National Employment Report would show a gain of 133,000 jobs. 
November's private payrolls were revised upward to show a gain of 148,000 from the previously reported 118,000. 
The report is jointly developed with Moody's Analytics.
Separately, employers announced 32,556 job cuts last month, the second lowest monthly total of 2012 and down 43 percent from 57,081 in November, according to the report from Challenger. In 2012, the only month with a lower job-cuts tally was August, with 32,239. 
December's job cuts were also down 22 percent from the 41,785 seen a year ago. 
During 2012, employers announced 523,362 cuts, down 14 percent from the 606,082 job cuts announced in 2011 and the lowest level since 1997 when employers announced 434,350 cuts. 
"We saw a few spikes in monthly job cuts in 2012 and there were some significant mass layoffs that definitely reminded us that not every industry is enjoying the fruits of recovery. However, the overall pace of downsizing was at its slowest since the end of the recession," said John A. Challenger, chief executive officer of Challenger, Gray & Christmas. 
"In fact, we have not seen this level of job cutting since before the dot-com collapse and subsequent 2001 recession," Challenger said in a statement. 
The Labor Department said initial claims for state unemployment benefits increased 10,000 to a seasonally adjusted 372,000. The prior week's figure was revised to show 12,000 more applications than previously reported. 
Claims data reported for the week ended December 22 had been artificially depressed by the holidays, which resulted in data for 19 states being estimated. 
The four-week moving average for new claims, a better measure of labor market trends, rose 250 to 360,000. The claims data has no bearing on December's employment report, scheduled for release on Friday. 
Employers are expected to have added 150,000 jobs to their payrolls last month, little changed from 146,000 in November, according to a Reuters survey of economists. 
Reuters contributed to this report.