As college acceptance letters go out in the next few weeks, prospective students and their parents are in for another round of sticker shock.
And while tuition costs keep rising, the roughly three out of every four students headed to state colleges and universities in the fall may not find all of the courses and services they sampled on their college tour.
Faced with continued budget cuts at the state and federal level, state universities continue to raise tuition and cut offerings, according to a recent analysis by the Center of Budget Policy and Priorities.
On average, states are now spending more than $2,500 less per student than they did five years ago, when the Great Recession blew a large hole in most state budgets.
That 28 percent spending cut has forced an average tuition increase of $1,850 per student over the same period. It's also forced schools to continue to look for ways to cut back, according to Phil Oliff, a CBPP policy analyst who prepared the report.
"They've eliminated faculty positions and increased class sizes, frozen staff salaries and instituted furloughs, cut course offerings and even entire departments, closed down computer labs and cut library services, among other cost-saving actions," Oliff said.
Open Channel: Caught cheating: Colleges falsify admissions data for higher rankings
In the last year alone, the total "sticker price" of a four-year public degree has risen a little over 4 percent to $17,860 for in-state students and $30,911 for those from out-of-state, according to the College Board. A private four-year degree, on average, costs nearly $40,000.
Public and private universities have also been hit by cutbacks in state and federal research funding, according to the National Science Board. Research grants now make up about a quarter the average budget among the top 101 public research universities – down from 38 percent two decades ago.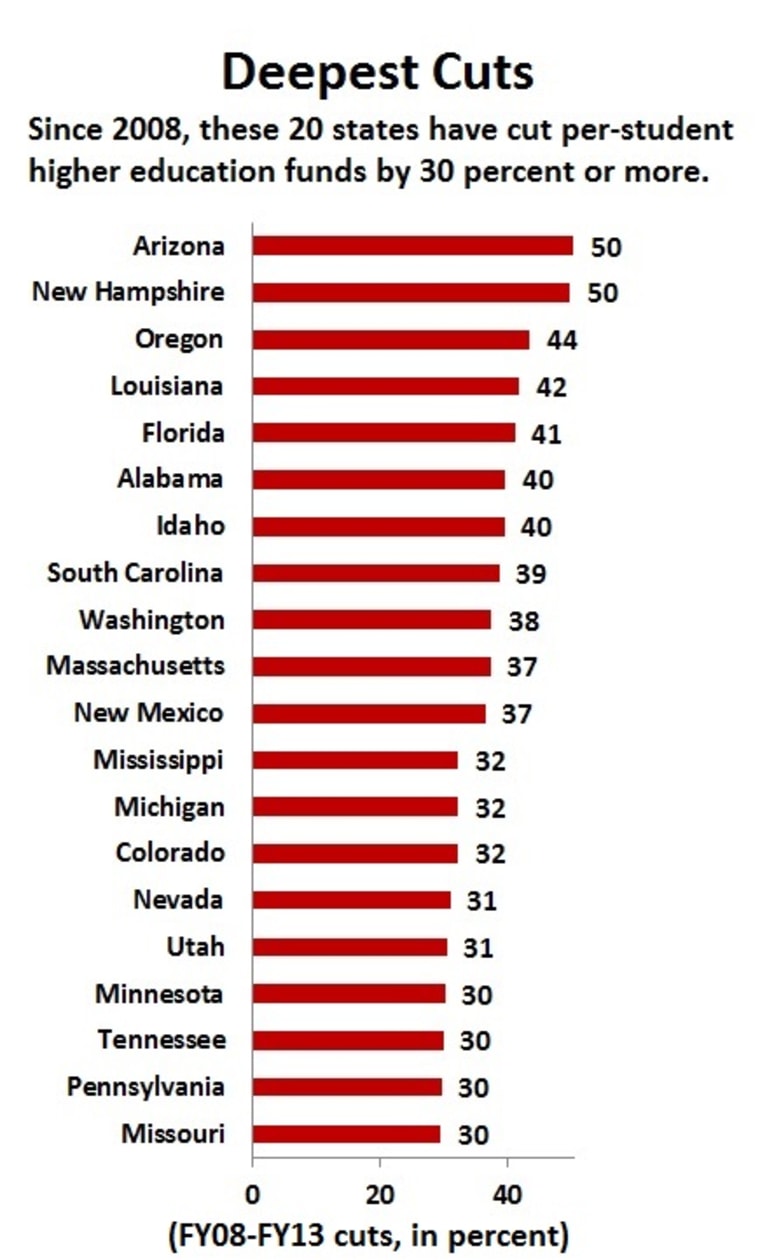 The recent round of federal budget cuts known as the "sequester" have only made matters worse. Those cuts – which took effect March 1 – sliced some 5 percent from federal research and development spending, taking a $6 billion bite out of federal research spending, according to the American Council on Education.
The sequester is also cutting federal spending on various programs to help students pay the higher costs of a degree.
Because Congress and the White House continue to haggle over the budget cuts, students getting financial aid letters will need to take those numbers with a grain of salt. But unless Congress makes changes, college-bound students can expect to pay higher origination fees on loans and see smaller grants from various programs.
For those most reliant on aid, the sequester could cost as much as $876 a year, according to the Student Aid Alliance. Those cuts include military tuition assistance, federally supported work-study programs and so-called Supplemental Education Opportunity Grants for low-income students. (Pell grants – which helped roughly a third of all college students in 2011-2012 - were spared this year, but could be cut in the future.)
With costs rising and financial aid drying up, college students and their families are leaning ever more heavily on debt, which now stands at roughly $1 trillion outstanding. Last year, total student borrowing amounted to $113 billion – up 24 percent from five years ago, according to the College Board.
As the national housing and markets show convincing signs of recovery, higher income and property tax revenues are helping to stabilize state budgets. But Oliff says there is little sign states are reversing cuts to higher education.
"Funding has continued to go down," he said. "The rate of decline of has moderated somewhat, but we don't see any sign that states are re-investing in their higher education systems. And they're coming out of an enormously deep hole."