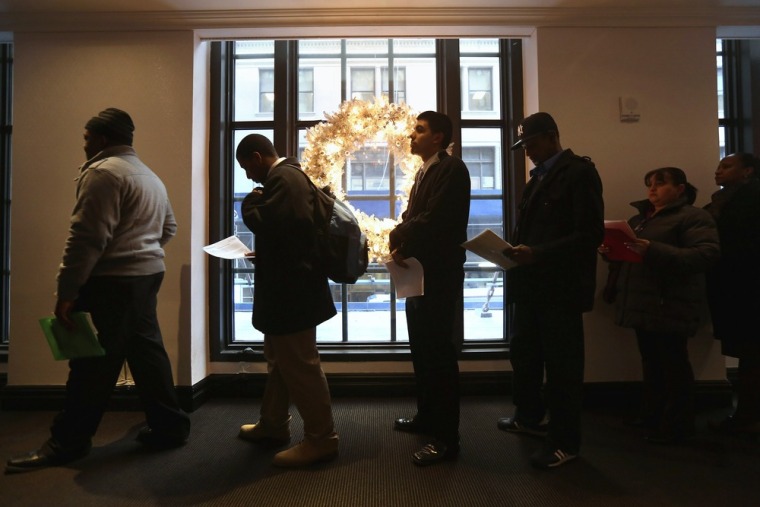 Despite a late October wallop from Superstorm Sandy and Washington's ongoing pummeling of business and consumer confidence, the U.S. economy isn't down for the count.
The fiscal cliff, though, could still deliver a knockout punch.
The U.S. economy generated a stronger-than-expected 146,000 jobs in November, helping to trim the jobless rate to 7.7 percent, a four year low, the government reported Friday.
"It looks like the job market is holding firm," said Mark Zandi, chief economist at Moody's Analytics. "That's encouraging in light of the fiscal uncertainties."
The dark cloud in the Labor Department's report, however, was a drop in the size of the work force, which signaled that some people may have given up looking for work.
Economists had expected non-farm payrolls to rise about 93,000 and the jobless rate to hold steady at 7.9 percent. Friday's report included revisions to both the September and October data showing that 49,000 fewer jobs were created than first reported.
President Barack Obama's chief economist gave an upbeat assessment of the report, but warned that more needs to be done, as he has done for several months.
"While more work remains to be done, today's employment report provides further evidence that the U.S. economy is continuing to heal from the wounds inflicted by the worst downturn since the Great Depression," said Alan Krueger, chairman of the White House Council of Economic Advisers.
The government said Superstorm Sandy which slammed the densely populated East Coast in late October did not have a substantive effect on employment last month.
"Our analysis leads us to conclude that Hurricane Sandy did not substantively impact the national employment and unemployment estimates for November," said John Galvin, acting commissioner at the Bureau of Labor Statistics.
But analysts noted that the report may be revised in coming months as more complete data is available. The mid-month government survey may have missed some Northeast households still displaced by the superstorm.
"I think these numbers will be revised as they get more information," said Zandi. "The survey responses probably were very weak coming from New York and New Jersey."
Analysts say the latest monthly jobs data is one more sign that the U.S. economy is holding its own after four years of the weakest recovery from a recession in half a century.
"Pent-up demand is forcing the housing market higher, pent-up demand is forcing the vehicle market higher. Consumer finances are very much improved, said David Kelly, chief global strategist at JP Morgan Funds. "Everything is actually pretty primed here. It's still a 2 percent economy but it has the potential to do more than that if we can reduce the amount of uncertainty in Washington."
Given the ongoing political gamesmanship over a two-year budget battle, that may be a tall order. Congressional Republicans and White House officials continue to spar over competing plans to head off a looming half-trillion-dollar package of tax hikes and spending cuts that could send the recovery back into recession.
Concerns about that have sapped some consumer confidence even as the economy is in the midst of the crucial holiday shopping season. The Thomson Reuters/University of Michigan's preliminary reading of the overall index on consumer sentiment plunged to 74.5 in early December, the lowest level since August. It was far below November's figure of 82.7 and the median forecast of 82.4 among economists polled by Reuters.
The uncertainty stems from a variety of scenarios that could unfold well into next year, including another debilitating Congressional debate over raising the government's borrowing authority. Last July's battle over the debt ceiling that left the Treasury within days of default was resolved by the agreement that produced the fiscal cliff package. The government is expected to reach its current borrowing limit sometime early next year.
"The worst outcome would, of course, be complete stalemate, so that we go off the fiscal cliff and hit the ground hard," said Nigel Gault of IHS Global Insight. "The resulting fiscal contraction — worth around 3.8 percent of GDP — would be sufficient to drive the economy back into recession."
Beyond overcoming their corrosive political differences, Congress and the White House are trying to strike a balance that demonstrates real progress toward balancing the budget without the recessionary extremes of the package set to take effect in a few weeks. Even if a deal is reached, though, it will include more modest cuts in federal spending and taxes increases, which will represent some tightening of fiscal policy.
First Read: Boehner says 'no progress' toward resolving fiscal cliff
To help offset to contraction of money flowing through the system, the Federal Reserve, meanwhile, has its foot hard on its accelerator, pumping new cash into the economy at the rate of $40 billion a month. Fed officials launched the latest round of pump-priming in September, saying the economy isn't making jobs fast enough. Lower rates on home mortgages have allowed millions of Americans to refinance their mortgages, cutting their money payments and pumping more cash into household budgets.
Fed policymakers meet on Tuesday and Wednesday next week and aren't expected to change course, given the ongoing threat of the budget stalemate
"The Fed will want to do what it can to keep monetary policy easy. They would not want to do anything right now that would be a monetary tightening," said Jerry Webman, chief economist at Oppenheimer Funds in New York.
Reuters contributed to this report.