When most people think of unionized workers, they picture a guy in a hard hat walking out of a factory. A more accurate picture might be of a second-grade teacher walking out of a classroom.
Public-sector union members such as teachers, firefighters and other government workers now make up more than half of total union membership in the United States, due mainly to steady declines among private sector union jobs.
The shift means that public-sector unions are increasingly taking on the mantle of representing the fight for broader worker's rights – beyond just their membership base – on issues as far-reaching as tax cuts and the fiscal cliff.
"I think we have to be advocating for more than just unions. I think we have to advocate for this whole concept of middle class," said Dennis Van Roekel, president of the National Education Association, a union representing more than 3 million teachers and other education workers.
They're also increasingly in the spotlight on more far-reaching union issues, such as the union-weakening "right to work" legislation that passed last week in Michigan.
But at the same time, public-sector unions are defending themselves against charges that their salaries and benefits cost taxpayers too much money, and are a drain on scarce government resources.
"Fundamentally, in the public sector, the resentment to unions is about taxes," said Henry Farber, an economics professor at Princeton University. "In the private sector, it's about international trade and about companies wanting higher profits."
The efforts to weaken both public- and private-sector unions are expected to continue in coming months, as experts predict that those who oppose unions work to curb their power in other traditionally labor-friendly states.
About 14.8 million people, or 11.8 percent of U.S. workers, belonged to a union in 2011, according to the Bureau of Labor Statistics. Of that group, about 7.6 million were public-sector workers, while about 7.2 million worked for the private sector.
The ranks of private-sector unions have been decimated over the past few decades by losses in traditionally union-heavy industries like manufacturing. But union membership among government workers has held relatively steady.
About 37 percent of public-sector workers belonged to a union in 2011, compared with just 6.9 percent of private-sector workers.
Politicians who have taken on public-sector unions say the cost of providing government workers with the salaries, health benefits and pensions they were promised has simply become too high. Wisconsin Gov. Scott Walker, whose successful effort to curtail collective bargaining rights was met with fierce protests and even a recall effort, said he was motivated by state budget woes.
"I'm just trying to balance my budget," Gov. Walker, a Republican, told The New York Times in 2011.
But others argue that these battles are really about curbing union clout and resources, and note that unions have traditionally been powerful Democratic allies at election time.
"The fight over right-to-work and collective bargaining is really, I think, designed to take away the power that public employees' unions have over the ballot box," said Michael Hicks, director of the Center for Business and Economic Research at Ball State University.
Experts say there are legitimate concerns about how state governments will be able to pay for the benefits they have promised workers, especially as the population ages and retirees live longer.
Matthew Finkin, a law professor at the University of Illinois and an expert in labor issues, said that over the years a common tactic for keeping government workers happy while also balancing state budgets has been to offer longer-term benefits, such as health care for retirees, in lieu of perks that would be costly in the short-term, such as big salary bumps.
That also was an attractive option to politicians, he said, because chances were low that they would still be in office when the bill actually came due.
"It's cheap for this legislature to let some other legislature 10 years from now worry about (it)," Finkin said "They can just push these costs – kick the can, as they say, down the road. Well, you can't do that forever."
The recession and weak recovery has been a severe blow to many state and local budgets, thanks to years of high unemployment and the housing bust. Meanwhile, some believe the gap between what governments have promised workers and what they actually have set aside has topped $1 trillion.
For the 2010 fiscal year, the Pew Research Center estimates that states have set aside about $757 billion less than they need for pension obligations, and about $627 billion less than they need for promised health benefits.
Joshua Rauh, a finance professor at Stanford University, argues that the gap could actually be around four times higher than what Pew estimates. He said that's because many states use very optimistic models for forecasting their expected returns on investments.
Union advocates like Van Roekel, the president of the NEA, argue that the state governments got themselves in trouble by not setting aside enough money to pay for the things they promised. He argues workers have paid the share they agreed to and should not be asked to do more.
"I think they have some legitimate problems that were created by not putting in what they should every year," Van Roekel said. "But that doesn't mean (the problems) can be solved."
But not everyone thinks the financial challenges facing state and local governments can be fixed without workers making a sacrifice. The most high-profile fights have come in states like Wisconsin, which passed legislation severely limiting union workers' bargaining rights, and Ohio, where similar legislation ended up being repealed by a public vote.
Those challenges, along with the anti-union legislation passed in Michigan last week, were backed by Republicans. But in Rhode Island, a Democratic general treasurer, Gina Raimondo, has led an effort to overhaul the state's pension system. Several unions have challenged the changes in court.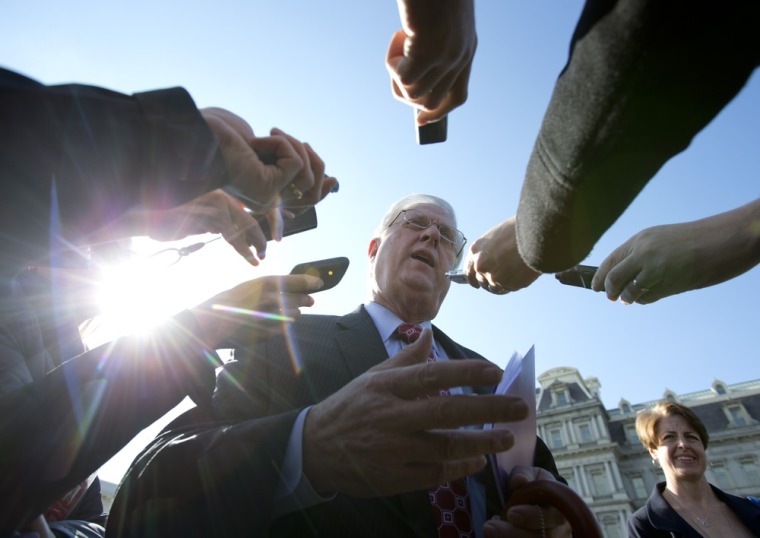 Even some former union members have now become proponents of cutting union jobs and benefits in order to balance budgets.
Greg Goodnight spent six years as the president of the United Steelworkers Local 2958, following in the footsteps of his father, who had also spent years as president of a local union chapter.
Now that he's the mayor of Kokomo, Ind., Goodnight finds himself on the other side of the bargaining table.
Since taking office in 2008, Goodnight said he has reduced personnel costs from about 78 percent of the city budget to about 64 percent of the budget that is funded by tax dollars. A big chunk of that has come from sharply cutting the number of city employees, from 521 to 436, and asking employees to pay more for things like health care. He froze his own salary at $74,000 as well.
Goodnight said the strict cutbacks were necessary to keep the city solvent. Kokomo is largely reliant on auto manufacturing and hit a peak unemployment rate of 20 percent in June of 2009.
The Kokomo metropolitan area's unemployment rate is now around 8 percent, and he said the city is on firm enough financial footing to have recently invested in two new fire stations, two new fire trucks and eight new police cars.
Still, Goodnight admits that cutting jobs and benefits was risky, especially during the bleakest economic times.
"If had to face re-election in that first 10-11 months in office, I probably would have gotten beat 80-20, but fortunately I had four years to address some of these things," Goodnight said.
He was re-elected in 2011.