NEW DELHI -- India is getting ready to open up commercial coal mining to private companies for the first time in four decades, with the aim of shifting the world's third-biggest coal importer toward energy self-sufficiency.
Anil Swarup, the country's top coal bureaucrat, told Reuters on Friday the government has identified mines it plans to auction, and is now finalizing other terms such as eligibility criteria for companies to take part and whether and how to set up revenue sharing.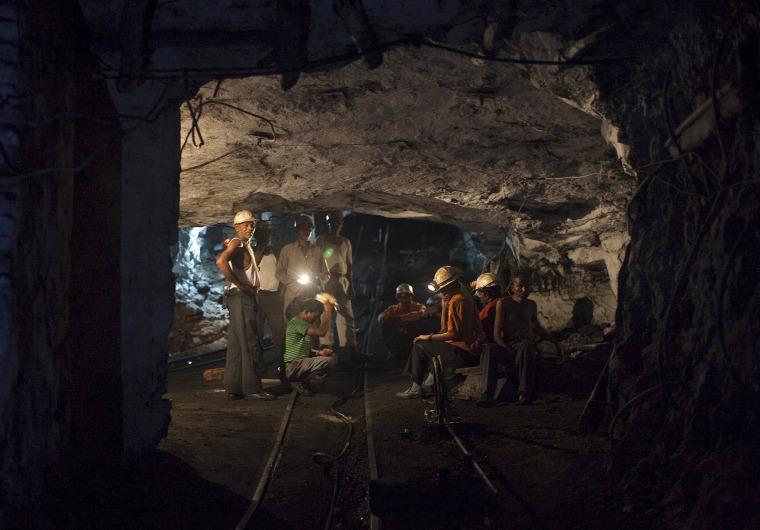 He said a plan should be ready in the 2-3 months, setting a clear timeline on a plan that has previously only been sketched out.
India has an ambitious plan to double its coal production to 1.5 billion tonnes (about 1.63 U.S. tons) a year by 2020, as part of Prime Minister Narendra Modi's push to bring power to 300 million people who live without electricity, and give a boost to manufacturing.
World Leaders in Paris Agree to 'Historic' Deal on Climate Change
It would also support the government's efforts to develop eastern parts of the country, which are resource-rich and hold most of India's coal reserves but have lagged the western states in development.
State-owned Coal India is on track to produce 1 billion tonnes a year by the end of this decade, and India is counting on private firms to produce the remaining 500 million tones - which may prove a tough target to achieve.
As of now, only Coal India and a small government-owned company are allowed to mine and sell coal in India.
"It's imperative that India opens up the sector so that private companies can bring in new technologies and the efficiencies that we keep talking about," said Dipesh Dipu at energy-focused Jenissi Management Consultants. "But I don't think private companies will be able to produce more than 100 million tonnes this decade as the process has yet to start."
The move is likely to attract coal block bids from Indian conglomerates such as the Adani Group and GVK, but the government may find it harder to lure big multinational miners such as Rio Tinto, BHP Billiton, Anglo American and Peabody Energy. Rio Tinto did not respond to requests for comment.
Coal prices are at multi-year lows amid global oversupply, and foreign companies have faced obstacles to investing in India, such as problems in getting land and environmental approvals.
Some private companies also worry that the best quality mines would be left for Coal India.
Finalizing terms
Swarup was handpicked by Modi to lead a turnaround in the coal sector soon after the prime minister came to power in 2014.
Under Swarup's watch, Coal India has seen record production growth, and the government auctioned off a series of coal blocks successfully. Coal imports fell for a sixth straight month in December.
As Industry Crumbles, Some Try to Change the Conversation in Coal Country
Until last year, India spent around $16 billion a year importing foreign coal, even though it sits on the world's fifth-biggest reserves of more than 300 billion tonnes.
Swarup said there were still some aspects of the plan to bring in private players that needed to be examined carefully.
The government, for example, has to make sure that companies do not under-report sales if a revenue-sharing model is adopted, he said.
Companies can do that by selling coal to their units at discounted rates, and by calculating the government's share based on that instead of the market price.
Swarup declined to say where the identified mines were located. Most of India's coal is in the eastern states of Jharkhand, Odisha and Chhattisgarh.