Energy startups are trying to get power where no one has gone before: hundreds of feet up in the air, harnessing wind that blows steadier and stronger than on the ground.
But along with technical challenges that come on the cutting edge of the renewable energy industry, they now must factor in cheap natural gas — an obstacle for all kinds of alternative power technologies, say experts.
Altaeros Energies, a 10-person enterprise out of Boston, is a case in point. Started by MIT grads, the company is already four years into developing its BAT (Buoyant Airborne Turbine) — a 40-foot diameter, helium-filled blimp wrapped around a wind turbine — and weighing in at around a ton.
The goal: Float BATs some 2,000 feet up, in 30- to 45-mph winds, in order to generate power sent down a cable that tethers each to the ground.
CEO Ben Glass, an aerospace engineer, tells NBCNews.com that the BAT's beauty is that it repurposes proven blimp and wind technology — combining them to get two to three times more electricity than turbines on the ground since the BAT can adjust its height and alignment as winds change.
"We try to invent as little as possible," he says, and instead "take mature technology and combine it to make a useful product."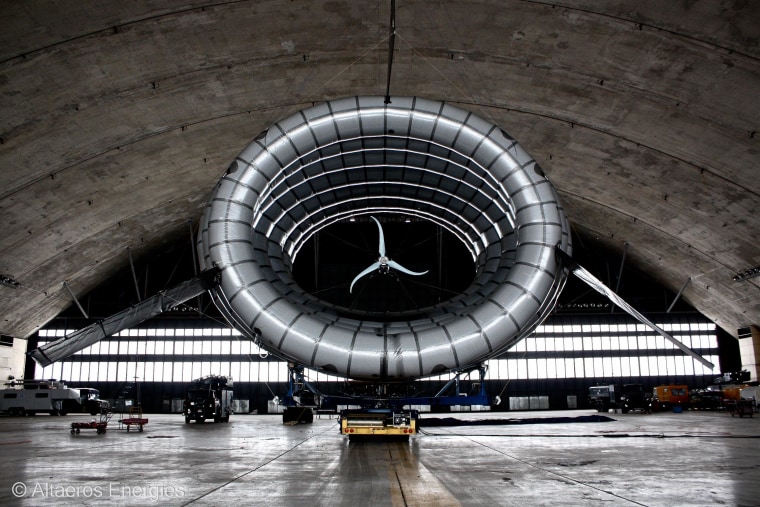 But combining those technologies at altitude and in high winds translates into engineering challenges. And these ideas are so new that getting permits from government agencies just for testing is its own labyrinth.
Altaeros did get a $740,000 grant from the Alaska Energy Authority, which is always looking for ways around the expensive and dirty use of diesel generators in remote parts of the state.
By the end of next year, Glass says, a BAT should be flying outside Fairbanks, adding enough power to the local grid to supply a dozen homes as part of an 18-month pilot project.
The Alaska Energy Authority will monitor not just how the BAT handles the elements, says emerging energy program manager Alan Baldivieso, but also key logistics like the "ease of anchoring the device, and time and effort to raise, lower and stow the device."
Altaeros' brethren in this niche known as airborne wind energy include KiteGen of Italy and Makani, a Bay Area startup bought by Google in 2013. Both have radically different designs and aim for much larger power generation than Altaeros.
KiteGen this month unveiled its "Power Wing," which has the wingspan of a jetliner and aims to produce power by flying figure-8 patterns 1,000 feet or higher while tethered to the ground. The pull from the wind would activate a generator to produce electricity, but KiteGen acknowledged its road to viability is "still long." (See KiteGen's animated video of how the system would work below.)
Makani, which declined to comment for this story, is developing a tethered glider that flies in circles hundreds of feet above ground, with wind currents turning four rotors that drive a generator on the ground.
And it's not just startups that are looking at airborne wind — NASA has a small team developing a a system of three rotors moving around a stationary hub to capture energy at around 1,000 to 2,000 feet, while also being used to monitor anything from crop conditions to sharks along miles of beach.
"It's the multifunctionality that could make them affordable," says project manager Mark Moore, adding that his next steps include a test flight hopefully by yearend. Having watched this niche from his NASA seat over the last five years, Moore also sees a big obstacle in cheap natural gas.
"That makes it difficult for new wind energy to get established," he says.
It's a hindrance, agrees Dan Kammen, director of the Renewable and Appropriate Energy Laboratory at the University of California, Berkeley, because "most markets are rushing to gas without using it to enable renewables" by creating cogeneration systems that use gas when solar or wind are unavailable.
Kammen's take on airborne wind is that its "great potential" also could be undermined by the issue of where to site these tethered devices.
That could be especially problematic for a company envisioning fleets powering at large scale, but Altaeros says its model — serving remote areas — takes care of that as well as the natural gas issue.
In Alaska, for example, many remote areas have no access to natural gas-fired power plants and diesel power can cost up to $1 per kilowatt hour.
Altaeros says it can easily beat that and even a recent target of 18 cents a kWh.
"We're pretty confident we can get well below 18 cents in the medium term," says Glass.
Altaeros also envisions supporting areas hit by natural disasters, and selling to mines and oil sites where power is needed only as long as a resource is being extracted.
Expecting commercial sales to begin in 2016, Glass plans to hire a few more people soon and, in the meantime, rely on private investors as well as federal and state grants.
"You have to be patient and let the technology mature. If you push it too soon, the perception, while not true, is that the technology failed."
What bodes well for cutting-edge companies like Altaeros is that energy is shifting from the hub-spoke system of large power plants feeding wide areas, says Dana Christensen, deputy director for science and technology at the National Renewable Energy Laboratory in Golden, Colo.
"One can envision, in the not too distant future, a lot more energy storage in the home" and a choice of where to get it from, he says. "It will be driven a lot by personal preference."
But Christensen also has a warning based on hydrogen fuel cells, which have yet to live up to the hype a decade ago about revolutionizing cars.
"You have to be patient and let the technology mature," he says. "If you push it too soon the perception, while not true, is that the technology failed."
Up in Alaska, high hopes exist for technologies like airborne wind — BAT is one of 20 cutting edge projects funded with $11 million. "Alaska faces some of the highest energy costs in the nation and, as a result, we continue to push the boundaries of innovation in the search for more affordable energy," says Baldivieso.
But there plenty of unknowns, starting with how many communities might be served by the BAT or similar devices.
"We just don't know at this time," says Baldivieso, citing issues like permits, "realistic operating altitudes" and reliably getting BAT power to the grid. "There are many unanswered variables."