Extreme weather poses one of the biggest risks to the global economy, experts warn, with some of world's largest cities in danger of being caught off-guard.

In its recent Global Risks report for 2014, the World Economic Forum ranked extreme weather events – such as floods, storms and fires – at sixth in its top 10.
It comes after "exceptionally high losses" from weather-related catastrophes in 2013, according to European reinsurer Munich Re. One of the strongest cyclones in history — Haiyan in the Philippines — pushed global losses to $125 billion for the year, the group said.
In 2012, global losses came in at $160 billion and were boosted by Hurricane Sandy which caused massive flooding in New York City and along the New Jersey coast. The storm accounted for $50 billion in losses, left millions without electricity and destroyed thousands of homes and businesses.
Much of the United States is currently suffering through extreme cold which essentially shut down the city of Atlanta this week. Evan Gold, of Planalytics, a business weather consultant, estimated the economic cost of just one 4-day cold spell earlier this month at $5 billion.
The potential damage caused by a storm on a city is weighing on investors' minds, according to Jacques Gordon, global strategist at LaSalle Investment Management, a real estate investment manager with $47.6 billion of assets under management.

"New York was a big wake-up call, as was the Philippines' typhoon," he told CNBC. "We're not done with this. Volatile weather is going to be a major news story looking ahead."
As the world's cities get more and more crowded, these weather events — known as "perils" in the insurance industry — pose an increased danger to built-up urban areas. And cities are especially vulnerable to one of the most damaging weather risks: floods.

"If we look at where major cities are located, they are frequently found along coasts and rivers - mainly because of transport links," Peter Hausmann, head of catastrophe peril for Europe at reinsurer Swiss Re, told CNBC.
"Coastal areas are at high risk of the impact from the sea, storms, storm surges, or tsunamis; while cities on the world's largest rivers are at risk of major floods."
And as cities get more crowded, so the risk of damage from natural catastrophes increases.
"You have this growth of mega-cities and a rapid urbanization of smaller cities… which puts an added strain on infrastructure and institutions, which are often poorly prepared to cope with natural hazards," said Richard Hewston, principal environmental analyst at risk analysis company Maplecroft.
And it is Asia's megacities that are generating the most concern about their ability to cope with extreme weather.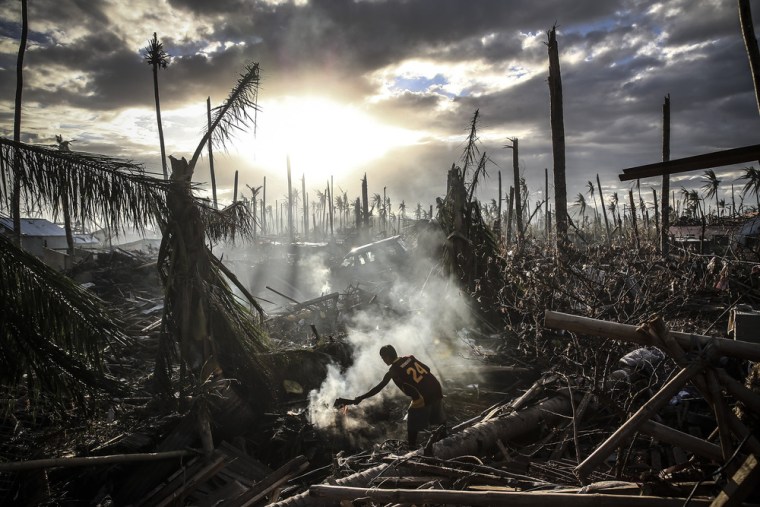 Japan's capital, Tokyo, Manila in the Philippines and China's Pearl River Delta region — one of the most densely urbanized areas in the world — top Swiss Re's list of cities most at-risk in terms of population. Only one non-Asian city, Los Angeles, made the top 10.
The insurer named the Pearl River Delta — which includes Hong Kong, Shenzhen, Dongguan, Macau and Guangzhou — as number one when looking at the number of people potentially affected by storm, storm surges and river floods.
Over 17 million people in the region could be affected by an extreme storm, for example – that's over 40 percent of the people that live in the metropolitan area.

Meanwhile, the value of working days lost as a result of a strong typhoon, for instance, which Swiss Re said could reach up to a "low two-digit billion dollar" figure, —1-2 percent of the region's annual gross domestic product.
"It's really important to point out that Asia has a huge risk if we look at a whole globe - that's my key message," Hausmann said.
"Unfortunately, protection measures are limited there, and also the insurance penetration is in parts really low. We expect there — sooner or later — to be another major event (in the region), and the impact will be terrible."
But although many European and U.S. cities have smaller populations, Swiss Re warned that a number could face huge economic repercussions in the event of a major disaster. The Amsterdam-Rotterdam area in the Netherlands, Los Angeles, New York and Paris all make Swiss Re's top ten when the potential value of working days lost as a result of nature disasters is calculated.
Because of the amount of damage — and the cost of repairs — that a natural disaster can cause on a city, experts warn that natural disasters have serious implications on a national level, especially in emerging economies.

Take Typhoon Haiyan, for example, which tore across the southern Philippines last November, killing over 6,000 people. The cost of the storm was $10 billion, according to Munich Re – around 5 percent of the country's GDP.
By contrast, the overall loss from Sandy was significantly higher at $50 billion, but accounted for 0.3 percent of the U.S.'s annual GDP in 2012.
This is because in emerging economies, cities often dominate a country's GDP, Hausmann explained. Economies were particularly at risk if key industries were concentrated in one place, Hewston added.